A politics degree from Sheffield can set you apart from everyone else. You'll have many opportunities across all levels of your course to add valuable work experience and transferable skills to your CV.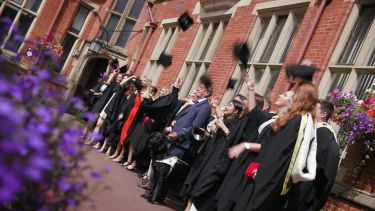 Increase your employability
The Department of Politics and International Relations offers students several ways to get involved in extra curricular activities, projects and work opportunities so that you can set yourself apart from other graduates in the future job market. 
Degree with employment experience (undergraduate)
Work based learning dissertation (undergraduate) 
PREPPE (Postgraduate Research Experience Programme in Political Economy) 
Careers support in the department
---
Degree with Employment Experience
A degree with employment experience incorporates a placement year spent in employment and provides an excellent opportunity to apply the knowledge, understanding and skills that you have developed during the earlier stages of your degree. It also sets you apart from everyone else, as you will have "with employment experience" included in your degree title.
You will gain transferable skills, become more commercially aware and will have built key connections and networks with organisations and employers which may secure your entry onto the graduate career ladder. 
I spent a year as a Social Researcher for the Department for Work and Pensions, which gave me brilliant insight into the world of policymaking and research, as well as giving me an opportunity to learn about new policy areas including racial labour market and education disparities. It led to some brilliant opportunities, including being with a government minister when the snap election was called - very exciting!"

Michael Berry

BA Politics with employment experience
---
Work-Based Learning Dissertation
This option gives you the chance to work closely with an outside organisation to conduct research that they really need. It's a great thing to put on your CV - proving you can apply your Politics degree in a real workplace setting.
I completed the work-based learning dissertation (WBLD) in conjunction with Sheffield Citizens Advice Bureau. I went and spoke to the CEO at the end of second year and we agreed on an area of research that I found interesting and would benefit their team. I found the work so much more enjoyable because I knew it would make a genuine difference to the organisation. I would completely recommend the WBLD to anyone considering it. It's hard work, as all dissertations are, but it's easily the most rewarding piece of work I completed whilst at university."

Hannah McLennan

BA International Relations and Politics Graduate
---
PREPPE
PREPPE (the Postgraduate Research Experience Programme in Political Economy) offers opportunities for students on the SPERI-affiliated MA in Global Political Economy to participate in a new research project, in the context of an on-going commitment to research-led learning. You can see an example of their work in the video below:
---
Skills and careers
A degree in politics provides you with key transferable skills that are sought after by employers. You will develop these skills through your timetabled lectures and seminars, and from workshops that the department arrange throughout the year. As a politics student at Sheffield, you will: 
Gain key analytical and methodological skills.
Become an independent learner.
Develop a broad knowledge of all key fields in politics.
Examine different approaches and perspectives.
Develop and carry out your own independent research.
Our degree programmes are designed so that students can tailor their course to their own interests and career aspirations. They also provide students with the foundation to go on to work in a wide range of professional, political and administrative organisations across the world, including:
Barnardos
British Foreign Policy Group
Cancer Research UK
Chatham House (Royal institute of International Affairs)
Civil Service Fast Stream
Climate Action
Development and Empowerment for Women's Advancement (DEWA)
Department For Transport
Department For Work and Pensions
Durham County Council
Foreign Office 
House of Commons
Ministry of Defence
Oxfam
Parliamentary and Health Service Ombudsman
People and Planet
Torfaen County Borough Council
WaterAid
YouGov
(Source: 2016/17 Destination of Leavers from Higher Education survey)
Find out what our alumni have gone on to do since graduating See undergraduate alumni and student profiles
See postgraduate alumni and student profiles
---
Internships and volunteering
Internships can be a great way to work alongside your degree. These opportunities can be paid or unpaid and do offer valuable experience that looks great on your CV.
Volunteering is also a great way to meet new people, help the community and support causes that you are passionate about, whilst gaining key transferable skills that will be sought after by potential employers.
The University of Sheffield has one of the biggest volunteering programmes in the UK, and our careers service helps put you in touch with organisations who look for volunteers and interns. 
Find out more about part-time work and placements
Find out more about volunteering
---
Careers support in department
As well as all of the support services within the university, we also have staff in the Department of Politics and International Relations that students can go to for help. Whether that's for career advice, setting up a placement year or for expanding your networks, the department has:
Personal tutors
Learning and teaching support officer
Academic staff contact hours
Employability officer
A world-class university – a unique student experience
Sheffield is a research university with a global reputation for excellence. We're a member of the Russell Group: one of the 24 leading UK universities for research and teaching.