Dr Clara Sandelind releases new policy report on reforming Sweden's future asylum policy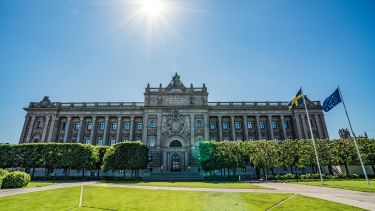 A parliamentary committee in Sweden is working towards developing Sweden's future migration policy, focused in particular on refugee policy. The aim is to develop long-term policy. Normative questions are therefore particularly important. In a new policy report, Dr Clara Sandelind addresses some of the key policy concerns of the committee, based on research on the normative foundations of refugee policy. Key recommendations include making permanent residency the norm and facilitating family reunification. The report is written in Swedish and based on research funded by a Leverhulme Trust Early Career Fellowship.
---
Den parlamentariska migrationskommittén ska ta fram en migrationspolitik som är human, rättssäker, effektiv och långsiktigt hållbar.  De etiska frågorna är därför av största vikt. I en ny rapport skriver Clara Sandelind, doktor i statsvetenskap, om vad lärdomar från den normativa forskningen om flyktingpolitik innebär för ett antal centrala policy-frågor. De huvudsakliga policy-rekommendationerna är att permanenta uppehållstillstånd bör vara regler och familjeåterförening bör underlättas.  Rapporten baseras på forskning finansierad av ett Leverhulme Trust Early Career Fellowship.
Flagship institutes
The University's four flagship institutes bring together our key strengths to tackle global issues, turning interdisciplinary and translational research into real-world solutions.