Dr Amy P Smith
Department of Politics and International Relations
University Teacher in British Politics/Public Policy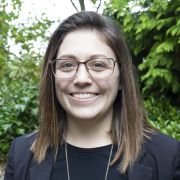 amy.p.smith@sheffield.ac.uk
+44 114 222 0667
1.1, Elmfield Building
Office hours: Monday and Tuesday 11am - 12pm
Full contact details
Dr Amy P Smith
Department of Politics and International Relations
1.1
Elmfield Building
Northumberland Road
Sheffield
S10 2TU

Profile

I joined the department in September 2018 following the completion of my PhD in Political Science at Royal Holloway, University of London, funded by the ESRC (2013-2016). My research interests are in political communication, British politics, journalism, elections and campaigning, media and technology, and agenda setting.
Research interests

My PhD thesis, Commodification and Control: Setting the news media agenda in the 2015 UK General Election Campaign, explored how the process of agenda-setting has changed in the UK's hybrid media system.

The research drew on case studies from interviews and observations at the BBC and ITV, and information flow analysis of news stories across mainstream and social media. I demonstrated how political and media elites were able to retain control over the news media agenda setting process by harnessing power in both networked and hierarchical structures.

This research was funded by the ESRC's South East Doctoral Training Consortium.
Teaching activities

POL118 British Politics (Co-convenor with Andrew Hindmoor)
POL2000 - The Left: Past, Present & Future (Module leader)
POL3129 Parliamentary Studies (Module leader)

I believe that teaching is a reciprocal process. Knowledge exchanges occur not just between the tutor and students but also amongst the students themselves. I aim to give students facts and information about a topic and enable them to apply it to a real-world context. I facilitate sessions where students can draw on their own experiences of politics to apply and ground their understand of theory.