Dr Anastasia Shesterinina
Department of Politics and International Relations
Senior Lecturer in Politics/International Politics
UK Research and Innovation Future Leaders Fellow
Director, Centre for the Comparative Study of Civil War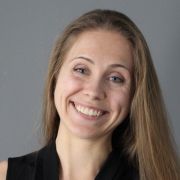 a.shesterinina@sheffield.ac.uk
Elmfield Building
Full contact details
Dr Anastasia Shesterinina
Department of Politics and International Relations
Elmfield Building
Northumberland Road
Sheffield
S10 2TU

Profile

Dr Anastasia Shesterinina joined the Department in January 2017 as a Lecturer in Politics/International Politics. Prior to taking up this position, she was a Social Sciences and Humanities Research Council of Canada Postdoctoral Fellow (2015-2016) at Yale University, affiliated with the Program on Order, Conflict, and Violence at the Whitney and Betty MacMillan Center for International and Area Studies.

She holds a PhD (2014, first class) in Political Science from the University of British Columbia and an Honours Double Major BA (2008, summa cum laude) in Political Science and European Studies from York University in Canada. 

Dr Shesterinina's interests lie at the intersection of international relations, comparative politics, and qualitative methodology. Her field-intensive research explores the internal dynamics of and international intervention in contemporary armed conflict, with a focus on social mobilization, ex-combatant demobilization and reintegration, and civilian protection norms and practices.
Research interests

I pursue two lines of research on contemporary armed conflict based on extensive fieldwork in conflict areas and rigorous qualitative analysis that has been supported by nationally competitive scholarships and published in high-impact journals, such as American Political Science Review.

My work on the internal dynamics of armed conflict examines mobilization across the pre-, civil war, and post-war stages. My dissertation, Mobilization in Civil War: Latent Norms, Social Relations, and Inter-Group Violence in Abkhazia, asks why ordinary people mobilize in the face of high risk in civil war. Based on fieldwork over 2010-2013 in Abkhazia, Georgia, and Russia, I develop a socio-normative theory of individual decision-making and introduce a threat framing mechanism to explain the variation in mobilization roles adopted by individuals in civil war. I demonstrate that under the conditions where strong norms develop toward a collectivity, a norm triggering mechanism has greater explanatory power in accounting for mobilization than personal safety calculations.

My article in American Political Science Review, "Collective Threat Framing and Mobilization in Civil War," builds on and extends my dissertation research by focusing on how individuals come to perceive threat involved in civil war and how variable threat perceptions affect mobilization decisions. These aspects of my research form the foundation of my book manuscript Mobilizing in Uncertainty: Collective Identities and War in Abkhazia (Cornell University Press, 2021). This work contributes to studies of conflict processes in diverse societies, with academic and policy implications for conflict prevention and management.

My second line of research examines international intervention in armed conflict, focusing on the norms and practices of civilian protection in the United Nations peacekeeping operations. As part of this research, I worked at the Peace Research Institute of Frankfurt on the links between peacebuilding, democratization, and violence. My single-authored and collaborative research with Brian Job explores the evolving international norms of the Protection of Civilians in Armed Conflict, the Responsibility to Protect, and the Protection of Nationals Abroad. This research extends my regional area of expertise to cases including Somalia, Côte d'Ivoire, and more recently Libya and such global actors as China. The norm-shaping aspects of the civilian protection agenda at the United Nations and the novel theoretical framework we label as particularized protection are among our main contributions to research on international intervention and global governance of conflict.

I currently lead a major research project Civil War Paths - Understanding Civil War from Pre- to Post-War Stages: A Comparative Approach, funded by a £1.2m UK Research and Innovation Future Leaders Fellowship that combines my two lines of research on internal dynamics and international intervention in armed conflict.
Publications

Journal articles

Chapters
Teaching activities

Among other modules, I designed and taught the postgraduate modules:

POL6606 International Political Sociology of Civil Wars,
POL6007 Research and Dissertation Preparation,
POL6618 Doctoral Training in Politics.

and the undergraduate module: 

POL117 Introduction to International Relations.
Professional activities

Dr Shesterinina held a leadership role as part of the Working Group on Evidence from Research with Human Participants in the Qualitative Transparency Deliberations, an inclusive dialogue among political scientists sponsored by the American Political Science Association's Organized Section for Qualitative and Multi-Method Research. To download to Dr Shesterinina's talk on transparency and human subjects at APSA 2017 Qualitative Transparency Deliberations Roundtable, click here (10.7MB).

She is affiliated and actively engaged with a number of research networks, including:

Dr Shesterinina has been invited to speak at a range of seminars and conferences, including:

Book presentations 

Workshop on International Politics, University of Chicago, June 2019;
 Workshop on Civilian Self-Protection, European University Institute, December 2018;
School of Governance Research Seminar, Technical University of Munich, December 2018;
Department of Methodology Seminar Series, LSE, November 2018;
Post-Soviet Politics Seminar, St Anthony's College, Oxford University, February 2018;
Central and East European Studies Seminar, Glasgow University, February 2018;
Centre for Global Constitutionalism Speaker Series, University of St. Andrews, February 2018;
Russia Institute Seminar Series, King's College London, January 2017;
Political Violence Workshop, Weatherhead Center for Int'l Affairs, Harvard, November 2016;
Politics and Protest Workshop, Graduate Center, City University of New York, October 2016; 
 Asia Pacific Centre for R2P Seminar Series, University of Queensland, July 2016.

Participant, Qualitative Metaketa Workshop: How Do Communities (Re-)Build the Social Contract in Conflict and Post-Conflict States? UCL London, May, 2020.

"Ethics, Empathy and Fear in Research on Political Violence," Women Network on R2P, Peace and Security: Research and Impact Workshop, University of Leeds, December 2017; APSA 

Annual Meeting, San Francisco, CA, September 2015.

"Paths to Civil War" (with Gilles Dorronsoro), Colloque ERC Dynamiques sociales des guerres civiles, Université Paris 1 CESSP, December 2018.

"In and Out of the Unit: Social Ties and Insurgent Cohesion in the Abkhaz Army," Workshop Rebel Governance, De Facto States and Conflict Dynamics, University of York, June 2017. 

"How Ideologies Form, Whose Ideas Matter: The Case of Abkhaz Mobilization in the Georgian-Abkhaz War," Workshop on Ideology and Armed Groups, ISA Annual Convention, Baltimore, MD, February 2017; University of Montreal, June 2017.

Dr Shesterinina has served as a reviewer for American Political Science Review, European Journal of International Relations, Global Governance, International Studies Quarterly, Journal of Conflict Resolution, Journal of Peace Research, Macmillan Publishers, New Political Economy, Perspectives on Politics, PS: Political Science & Politics, Qualitative & Multi-Method Research and World Politics.
Supervision

I supervise PhD students working on political violence and civil war, including but not limited to questions of pre-war conflict and violence onset, civil war dynamics and outcomes and post-war potential for peace and recurrence of violence. I am especially keen on supervising students conducting field-based research.