Dr Benedict F Docherty
Department of Politics and International Relations
University Teacher in International Relations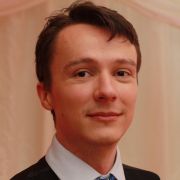 b.docherty@sheffield.ac.uk
Elmfield Building
Office hours: Tuesday 3pm - 4pm, Thursday 1pm - 2pm
Full contact details
Dr Benedict F Docherty
Department of Politics and International Relations
Elmfield Building
Northumberland Road
Sheffield
S10 2TU

Profile

Benedict joined the Department in September 2017. His PhD research – 'Liberal vanguards and the sustainability of the solidarist international society typified by the Responsibility to Protect' – was completed at the University of Leeds (2017) and funded by a POLIS Award (2012-2015) as well as British International Studies Association Founders' Fund Award (2015).

He locates himself at the interface between the English School and Social Constructivism and broadly speaking his research interests are Humanitarian Intervention, the Responsibility to Protect and the United Nations Security Council. He has a BA (Hons) in History and Politics from the University of Strathclyde (2008), and a MA in Comparative & Transnational History from Central Michigan University (2010).

Benedict has been an active member of the British International Studies Association having served two terms as a Co-convenor of the Postgraduate Network (2013-2015) and as the PGR representative on the Intervention & R2P Working Group (2015-2016).

During 2013-2016 he worked with colleagues on an ESRC funded seminar series, 'The Responsibility to Protect and Prosecute: The Political Sustainability of Liberal Norms in an Age of Shifting Power balances' and subsequently assisted with the launch of the European Centre for the Responsibility to Protect in December 2016.
Research interests

My research examines how the P3 states (France, the UK and USA) practically resolve tensions between their liberal preferences for or practices of intervention, and the humanitarian solidarism of contemporary international society typified by the Responsibility to Protect (2005). I specially examined the crises in Côte d'Ivoire, Libya and Syria (2010-2012), as cases in which there was a tension between intervention and interference, between humanitarian intervention under the auspices of Responsibility to Protect (R2P) and liberal intervention combining civilian protection/mass atrocity prevention with democracy and human rights promotion.

I am especially interested in international society's sense of where legitimate intervention becomes illegitimate interference. I attempt to examine (using documentary evidence from UN meetings and interviews with diplomats) how such tensions play out in practice and the consequences for the sustainability of the solidarist society typified by R2P. That is, how states – especially Great Powers – practically navigate the boundaries of legitimacy and consensus in difficult cases of mass atrocity prevention with regard to the norms of the R2P normative framework: sovereignty, humanitarian intervention, non-interference, limits on the use of force and multilateralism.

Within the English School framework I developed the original concepts of 'sustainability' and 'liberal vanguardism' so as to argue that the sustainability of the solidarist international society typified by R2P is threatened if powerful liberal states behave in practice as liberal vanguards. Applying the work of Hedley Bull (1977) and Ian Clark (2005, 2009, 2009) I argue that the society of states is sustained by everyday discourse and iterative practice by states with regard to its principles of legitimacy and their commitment to international consensus both horizontally (among the great powers) and vertically (between them and the rest of the society).

Based in part on the work of Barry Buzan (2004, 2010) 'liberal vanguardism' conceptualises how liberal states respond in practice to dissonance between their values/goals and the norms of international society by considering how they interpret international norms, source legitimacy and approach international consensus.

Essentially my research is motivated by a sense that often, the more the P3 states try to do – liberal forms of intervention – the less international consensus there is, so how have and how should they respond to this? I suggest – to paraphrase Robert Burns (1786) – that the P3 would do well "to see themselves as others see them", and recall that whilst international society needs to adapt to remain legitimate and effective, liberally probing its limits of legitimacy – the existing humanitarian solidarist R2P framework of international society – and acting on such interpretations in practice, regardless of any ensuing international discord, can threaten the sustainability of the solidarist contemporary international society typified by R2P.
Publications
Teaching activities

In addition to Undergraduate and Postgraduate dissertation supervision, my teaching for 2019-20 includes:

POL117: Introduction to International Relations
POL230: Contemporary Security Challenges
POL6004: Understanding Politics
POL6005: Contemporary Global Security
POL6007: Research & Dissertation Preparation
POL6614: Terrorism & Political Violence
POL6970: Debating International Relations

I have previously taught: Contemporary US Foreign Policy; Terrorism, Violence and the State; Explaining Politics; and War, Peace and Justice. For 2019-20 I am the Department's Teaching Assistant Coordinator. I am not available for PhD supervision.