Clara Sandelind
Department of Politics and International Relations
Post Doctoral Research Fellow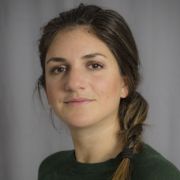 c.sandelind@sheffield.ac.uk
+44 114 222 1707
1.28, Elmfield Building
Full contact details
Clara Sandelind
Department of Politics and International Relations
1.28
Elmfield Building
Northumberland Road
Sheffield
S10 2TU

Profile

Dr Clara Sandelind joined the Department in 2016 as a Leverhulme Early Career Postdoctoral Research Fellow, with the project "Trust and Solidarity in Scandinavia: Immigration and Narratives of Bounded Communities".

Prior to joining the Department, Clara worked as a Lecturer in Politics at the University of Huddersfield. She previously undertook doctoral research in the Department and finished her PhD "Nationalism and Attitudes to Immigration" in 2015.

She has previously worked at a think tank (FORES) and in journalism, contributes frequently to public debates on immigration, and produces the podcast Talking Migration.
Research interests

Clara is currently undertaking a three year Leverhulme Early Career Fellowship project entitled: "Trust and Solidarity in Scandinavia: Immigration and Narratives of Bounded Communities". Trust and solidarity is believed to flourish only in bounded communities of citizens, making immigrants potential threats to egalitarian societies. Yet similar welfare states have responded in radically different ways to immigration.

This project will scrutinise this "progressive dilemma", conducting a comparative study of the ways in which narratives of bounded communities and welfare in Sweden, Denmark and Norway relate to immigration policy. It will employ experimental methods drawing on insights from the cognitive sciences to investigate how those narratives influence behavioural trust and solidarity. It will contribute both empirically and theoretically to the question of whether progressiveness is compatible with openness.

Clara's research also investigates normative questions on immigration, refugees and borders. In particular, her research aims at scrutinising the relationship between rights to collective self-determination, on the one hand, and the rights of refugees and migrants, on the other hand.
Teaching activities

In the academic year 2016/2017 Clara will be teaching the following modules:

• POL3147 The Politics of Asylum