Dr Josh Milburn
Department of Politics and International Relations
British Academy Postdoctoral Fellow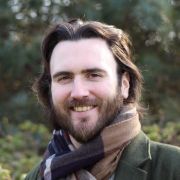 j.milburn@sheffield.ac.uk
2.20, Elmfield Building
Full contact details
Dr Josh Milburn
Department of Politics and International Relations
2.20
Elmfield Building
Northumberland Road
Sheffield
S10 2TU

Profile

Josh Milburn is an analytic philosopher interested primarily in moral and political philosophy. Much of his research concerns human-animal relations. Josh joined the Department of Politics in 2019 as a British Academy Postdoctoral Fellow. His research project is called Food Justice and Animals: Feeding the World Respectfully.

Before coming to Sheffield, he worked for two years as an Associate Lecturer in Political Philosophy in the Department of Politics at the University of York and for one year as a Postdoctoral Fellow in Animal Studies in the Department of Philosophy at Queen's University in Kingston, Ontario. He has a PhD in philosophy from Queen's University Belfast, and studied for his undergraduate and MA degrees at Lancaster University. He is a section editor of the journal Politics and Animals, and a member of the Research Advisory Committee of the Vegan Society.
Research interests

Josh is a moral and political philosopher whose work primarily addresses the ethics and politics of human-animal relationships, though he has interests in a wide range of other puzzles in applied philosophy. In addition to animal ethics, key research interests include food ethics and the philosophy of food; liberal and libertarian political theory; applied ethics and applied political philosophy; and the methodology and application of political theory.

At Sheffield, his research is at the intersection of animal ethics, food ethics, and political philosophy. His research project is called Food Justice and Animals: Feeding the World Respectfully. There's a straightforward sense in which a vegan state is the natural conclusion of animal-rights theory. Josh wants to challenge this. While taking animal rights seriously will mean that animal agriculture as we know it must come to an end, there might be ways that we can have our cow and eat her too.

Josh is exploring the viability of alternative sources of animal protein, including "clean" meat (and related technologies), unfeeling invertebrates, and animals conceptualised as workers (and thus afforded workers' rights). After all, vegan food systems may have their own problems, both from an animal-rights perspective and a broader food-justice perspective. Arable agriculture can be harmful to animals, and perhaps vegan food systems will be bad for the hungry, workers, and those who value non-vegan foods. In short, Josh is trying to conceptualise a food system that has it all: ample food, animal protein, and good jobs – all with full respect for animals' rights.
Publications

Journal articles

Chapters

Book reviews

Dictionary/encyclopaedia entries
Teaching activities

At Sheffield, Josh teaches on the second-year module Political Theory in Practice. At other institutions, he has taught on a range of modules addressing moral and political philosophy.