Dr Judith Verweijen
Department of Politics and International Relations
Lecturer in International Relations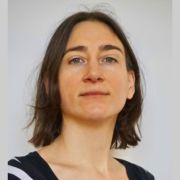 j.verweijen@sheffield.ac.uk
+44 114 222 1649
The Lodge, upstairs, Elmfield Building
Feedback and consulation hours: Thursdays, 2:00pm - 4:00pm
Full contact details
Dr Judith Verweijen
Department of Politics and International Relations
The Lodge, upstairs
Elmfield Building
Northumberland Road
Sheffield
S10 2TU

Profile

Judith Verweijen joined the University of Sheffield in September 2019, having previously held posts at the University of Sussex, the University of Ghent and the Nordic Africa Institute.

Her work is situated at the intersection of conflict studies, political ecology, and political geography. She examines processes of everyday militarization, the interplay between armed and social mobilization, and the micro dynamics of violence in areas of protracted armed violence, zooming in on conflicts around natural resources. She focuses on eastern DRC, where she has conducted intermittent fieldwork since 2010.
Research interests

Judith's work is situated at the intersection of conflict studies, political ecology, and political geography. Her current research orientations include:

Armed and social mobilization around natural resource conflicts

How do conflicts around natural resources, including resistance against large-scale extractive projects, feed into armed mobilization and violence? How do armed actors shape regimes of access to and the exploitation of natural resources? And how do narratives on resource conflicts come to constitute collective action frames that inspire social and armed mobilization? Focusing on eastern DRC, I have examined these questions in relation to a variety of resources–including cattle, gold (both artisanally and industrially mined), and charcoal, in particular in protected areas. In addition, I look at atmospheres of violence surrounding environmental defenders in the logging and agro-industrial sectors. 

Geographies and micro-dynamics of violence

Today, there is widespread recognition that conflict and violence are two separate–albeit inter-related– phenomena that should be analytically disaggregated. Yet in many zones of protracted armed conflict, the study of violence is lagging behind. My research intends to address this void by examining the micro-dynamics of (direct physical) violence in eastern DRC.  This entails studying patterns and logics of violence and the nature, modus operandi and motives of perpetrators. These detailed insights are crucial for understanding geographies of violence, including how physical violence interacts with structural and slow violence. 

"The colonial present" and violence in the Global South

Colonial structures and discourses deeply shape present-day conflicts in the Global South, as well as the production of knowledge on and representations of these conflicts. My research aims to uncover "the colonial present" in relation to different aspects of contemporary violent conflict. This includes legacies of the colonial-era territorialization and reification of ethnicity and how these are reproduced by contemporary peacebuilding interventions. In addition, I examine how colonial structures and tropes inform the militarization of nature conservation and conflicts between large-scale extractive corporations and local populations.
Publications

Journal articles

Chapters

Reports
Teaching activities

I am deeply committed to a diverse and non-Eurocentric curriculum that prominently features female, non-White, and non-Western authors on reading lists and in audio-visual materials. In addition, I emphasize active learning methods, both online and offline, including scenario-based exercises, small group work, discussion fora, and student blogs. 

At the University of Sheffield, I teach the following courses: Peacekeeping, Statebuilding and International Intervention (POL3137), Debating International Relations (POL6970), Human Rights, Power and Politics (POL237) and Research and Dissertation Preparation (POL6007). 

Before moving to Sheffield, I taught courses on contentious politics, violent conflict, security studies, and African politics at the University of Sussex and the University of Ghent.