Dr Laura Gutiérrez Gomez
LL.B, MA, Mphil, PhD
Department of Politics and International Relations
Research Associate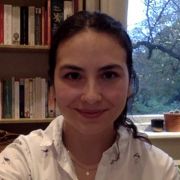 l.gutierrez@sheffield.ac.uk
Elmfield Building
Full contact details
Dr Laura Gutiérrez Gomez
Department of Politics and International Relations
Elmfield Building
Northumberland Road
Sheffield
S10 2TU

Profile

My research uses qualitative, multi-disciplinary methods to explore the ways in which global trends materialise in non-western contexts, paying particular attention to the complex relationship between the Global North and the Global South. My main fields of research so far have been policing studies and green criminology. Currently, I am a research associate in the ESRC-funded Beastly Business Project  which investigates the political ecologies of green-collar crime in the illegal wildlife trade (IWT) of European species. I will be studying the dynamics that drive and sustain IWT in European eels in order to inform better conservation policies. In addition to my research, I have undertaken advocacy work on the issues of mental health in academia, safety during fieldwork, equality, diversity and inclusion, and resistance to precarisation of work conditions in higher education.
Qualifications

Bachelor of Laws (LL.B) in European Union Law, minor on Criminal Justice and Human Rights at Maastricht University (NL); MA in Global Criminology (cum laude) at Utrecht Uniersity (NL); Mphil in Criminological Research at the University of Cambridge (UK); PhD in criminology at the University of Cambridge (UK).
Research interests

Critical criminological theories (green, southern, feminist, decolonial); socio-environmental conflict, particularly as fueled by the extractive industry; green collar state-corporate crime.
Grants

Selected grants and awards: National Award for Best Criminological Thesis, awarded on a unanimous jury decision by the Dutch Society of Criminology for my MA thesis; Manuel Lopez-Rey Studentship to partially fund MPhil; Trinity Hall Scholarship to fully fund PhD. 
Teaching interests

I have taught critical criminological theories (e.g. green, decolonial, radical), as well as specialist subjects (e.g. crimes of the powerful, police legitimacy, and socio-environmental conflict), and qualitative methodologies (e.g. document and discourse analysis, and basic principles of qualitative data analysis) in various formats (small syndicate groups, workshops, seminars, lectures) at undergraduate, Masters and PhD-level. I am particularly interested in teaching multi-disciplinary subjects and methodologies.