Dr Perla Polanco Leal
Department of Politics and International Relations
Postdoctoral Research Associate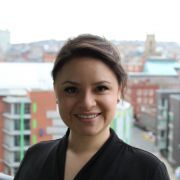 p.polancoleal@sheffield.ac.uk
Elmfield Building
Full contact details
Dr Perla Polanco Leal
Department of Politics and International Relations
Elmfield Building
Northumberland Road
Sheffield
S10 2TU

Profile

Perla Polanco Leal is a Postdoctoral Research Associate at the Department of Politics and International Relations.

Perla is part of two research teams led by Professor Genevieve LeBaron. The first project, funded by Humanity United, is entitled "Restructuring Business Models and Supply Chains to Promote Fair, Equitable Labour Standards and Worker Rights in the Face of Pandemic." This is a collaborative research project between the University of Sheffield, Yale University and Stanford University. It aims to develop an ambitious series of proposals for how to tackle the drivers of forced labour by re-imagining business models and supply chains to promote labour rights and guard against forced labour, human trafficking, and modern slavery in the face of the COVID-19 pandemic. The project team will seek to draw and build lessons across sectors – drawing on past work in seafood, agriculture, and garments – to identify the commonalities and differences in terms of the major obstacles and barriers to advancing labour rights and the possibilities for structural change amidst the pandemic and ensuring recovery process.

The second research project, funded by the UK Arts and Humanities Research Council (AHRC), is entitled "Understanding the Impact of Covid-19 on Modern Slavery in Global Garment Supply Chains." This project explores the immediate and medium-term ways that the pandemic is impacting employment and workers' livelihoods in global supply chains and on various forms of inequality. This project is conducted in collaboration with the Worker Rights Consortium.

Perla completed her PhD in the Department of Politics & International Relations at the University in Sheffield in 2019. Her doctoral thesis explored the construction of resource nationalism in Mexico and its impact on climate change policy. She worked at the University of Sheffield on various research projects on themes ranging from environmental politics, and political history, to prime ministerial leadership.
Research interests

Perla's research has broadly been focused on how the political and economic drivers behind extractive industries perpetuate postcolonial ideas. She explored the development of energy policy in Latin America which enables unsustainable extractive practices and inhibits the governments' ability to pursue ambitious climate change policy.

Her research interests include the understanding of how global supply chains and modern business models perpetuate postcolonial power dynamics. Furthermore, she is interested in the environmental impact of current market practices, as well as the analysis of domestic policies that enable unsustainable practices in the global economy. Perla's broader research interests include the themes of international relations, environmental policy, and political history.