Dr Peter Verovšek
Department of Politics and International Relations
Lecturer in Politics/International Politics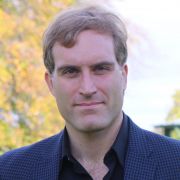 p.j.verovsek@sheffield.ac.uk
+44 114 222 1660
1.05, Elmfield Building
Full contact details
Dr Peter Verovšek
Department of Politics and International Relations
1.05
Elmfield Building
Northumberland Road
Sheffield
S10 2TU

Profile

Dr. Peter J. Verovšek is a Lecturer (Assistant Professor) in Politics/International relations. He studied Government (high honors) and German as a undergraduate at Dartmouth College (AB 2006, summa cum laude). He then conducted research on the continuing effects of the memories of World War II in the politics of the former Yugoslavia as a U.S. Fulbright Scholar (2006-07), before receiving his MA (2008), MPhil (2010) and PhD (2013) in Political Science from Yale University.

After completing his doctorate, he spent three years as Lecturer on Social Studies at Harvard University (2013-16), where he also served as co-founder and co-chair of the European Union Study Group at the Minda de Gunzburg Center for European Studies. He has also held appointments as a research fellow at the Institute for Advanced Studies in the Humanities in Bad Homburg, Germany, at the Jean Monnet Foundation in Lausanne, Switzerland, and at the Normative Orders Cluster of Excellence at the Goethe University in Frankfurt am Main, Germany.

In 2019-2020 Peter will be on leave on a British Academy Mid-Career Fellowship working on his new project on Jürgen Habermas as a public intellectual.
Research interests

Dr. Peter J. Verovšek is a critical social theorist interested in the interconnection between democracy, capitalism and the nation-state. Working within international political theory, his past work has focused on how socially mediated collective memories serve as resources for political innovation in the aftermath of broad historical ruptures.

Verovšek's book, "The Future of European Memory: Rupture and Integration in the Wake of Total War" (Manchester University Press, 2020) examines the role that the collective memories of the two World Wars played in the development of the European Union. He argues that the problems revealed during the Eurozone crisis can be traced to the fading of these memories, as the generations that understood the European Union as a moral project as a result of their experience of total war have passed away.

With the support of a British Academy Mid-Career Fellowship Peter is currently starting a new project on Jürgen Habermas as a public intellectual. This new direction in his work will also address the changes associated with the structural changes in the public sphere associated with the rise of the internet and the demands of citizenship in a digital age. He is also working on a series of papers on Marx and Marxism.
Publications
Research group

I am eager to begin supervising students interested in nineteenth and twentieth century political theory, international political theory, critical theory, phenomenology and existentialism, transitional justice and the normative issues surrounding international migration and the European Union.
Teaching activities

Building on my education in the theoretical tradition of the Frankfurt School, I believe that my job as an instructor is to help students to find new ways to understand the world around them. I seek to achieve this by presenting my students with texts and historical examples that force them to reevaluate their assumptions. I encourage them to engage with the thinkers and ideas they encounter, so that they can become active partners in an intellectual conversation. As a critical theorist, I want them to see the concepts they are learning not as abstruse constructs, but as tools they can use to analyze their social and political environment.

I do not see teaching and research as separate spheres of academic life; on the contrary, my teaching interests flow directly from my research. In addition to modules in the history of political thought and twentieth century continental political theory, my teaching interests also include on collective memory and historical justice, normative European Union studies, globalization and the end of the nation-state, and international migration. I also look forward to working with students on research and thesis projects at both the undergraduate and postgraduate levels.
Professional activities

Research Grant, ARRS (Slovenian Research Agency), Slovenia
Research Fellow, Jean Monnet Foundation for Europe, Switzerland
Junior Fellow, Institute for Advanced Studies in the Humanities, Germany
DAAD Graduate Fellowship, Goethe University, Frankfurt, Germany
Fulbright Research Fellowship, University of Ljubljana, Slovenia