Dr Sarita Panday
MPH, PhD
Department of Politics and International Relations
Global Challenge Fellow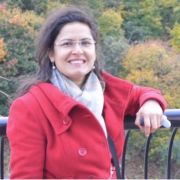 s.panday@sheffield.ac.uk
+44 114 222 1717
1.28, Elmfield Building
9am - 5pm
Full contact details
Dr Sarita Panday
Department of Politics and International Relations
1.28
Elmfield Building
Northumberland Road
Sheffield
S10 2TU

Profile

I am currently working as a Global Challenge Fellow in the Department of Politics and International Relations at the University of Sheffield. My research focuses on issues of equity and inclusion in maternal and child healthcare among women from marginalised populations in rural Nepal. Using participatory research approaches such as participatory videos and participatory policy workshops, my research aims to bridge the gaps between policy and practice designed to improve healthcare for the marginalised.
Qualifications

Prior to my current fellowship, I worked as a Postdoctoral Fellow at Shorenstein Asia-Pacific Research Center (APARC) in Stanford University and published my research work. After my current fellowship, I will be working as a post doctoral fellow in a project (the impact of federalisation on Nepal's health system: a longitudinal analysis). I am also a co-investigator on that project and my key roles will be co-facilitating Participatory Policy Analysis (PPA) workshops; conducting Key Informant Interviews (KIIs); analysing data from the workshops and KIIs and writing outputs for publications.
Research interests

My research interest is on equity and inclusion in maternal health services, community health workers, health policy and health systems in developing countries. I have skills in undertaking systematic reviews, qualitative research, mixed-method research and participatory research methods, inlcuding participatory videos and workshops.
Publications
Grants

•    Global Challenge Fellow (31/7/2019-30/07/2021) with research allowance (£25000), the Department of Politics, the University of Sheffield. 
•    Principal Investigator, 'Workshops for Writing Articles for Publication in International Peer-Reviewed Journals among Health & Social Sciences researchers in Nepal,' funded by the British Academy's Writing Workshops 2020, [31/01/2020-15/12/2020]. £17,313.00.
•    Co-investigator Quality Related Global Challenge Research Fund - Sustainable partnership award £39, 330, awarded 14/12/2018 to 31/7/2019. 
•    Principal Investigator QR- GCRF Pump Priming Award, £4500 on 14/12/2018.
•    Fellow Awarded 2018–2019 in Developing Asia Health Policy (Postdoctoral Scholar) at Stanford University. I received a total of $52,000 over 10-month appointment and $2000 as research allowance over 1/10/2018 to 31/07/2019.
•    Co-investigator, 'Resilience policymaking in Nepal: Giving voice to communities' funded by ESRC/DFID. 2017-2018. £239192.
•    Principal Investigator (100%), The World Health Organisation, Evidence based synthesis awarded on 15/3/2011 for a year. £ 26844 ($34,500).
•    Principal Investigator, University Grant Commission £892.
•    Faculty Scholarships to do a PhD in Public Health at the University of Sheffield. 
•    Australian Leadership Award to study a Combined Masters in Public Health & Masters in Health Management at the University of New South Wales, Australia. 
•    Academic Excellence Award for achieving the highest mark in the faculty of Nursing (76%).
Teaching activities

I am currently supervising undergraduate students in Global Public Health.
Professional activities

•    International Health Policy (IHP) Correspondent, South Asian Region, 2019 (written editorial and blogs).
•    Communication coordinator at Thematic Working Group Community Health Worker at Health System Global since 18/7/2017.
•    Member of Health System Global since June 2016, Member ID: 33053942, since 14/06/2016.
•    Nepal Nursing Council: Registered Nurse, Registration no. 6382, since 17/6/2018 valid until 16/6/2024.
•    Nepal Public Health Professional Council: Registration no. A-839 Jan PH since 2011.
•    Life Member of Association of Nepalese Alumni from Australia.