Teresa Lappe-Osthege
Department of Politics and International Relations
PhD research student/Research Assistant - BIOSEC Project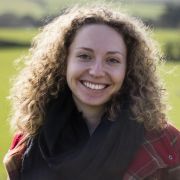 t.lappe-osthege@sheffield.ac.uk
Elmfield Building
Full contact details
Teresa Lappe-Osthege
Department of Politics and International Relations
Elmfield Building
Northumberland Road
Sheffield
S10 2TU

Profile

Teresa Lappe-Osthege is a Doctoral Researcher in the Department of Politics at the University of Sheffield. She is a Research Fellow with the ERC-funded Biodiversity and Security Project (BIOSEC) in the Department of Politics and a Visiting Fellow at the Marjan Centre for War and the Non-Human Sphere at King's College London. Teresa's research explores issues at the nexus of peace, conflict and the environment, with a regional focus on the Western Balkans.

Teresa is a member of the Environmental Peacebuilding Association and the International Studies Association.

Prior to her PhD studies at the Department of Politics (for which she was awarded with the University's Harry Worthington Scholarship), Teresa completed an MA in Conflict, Security and Development (awarded with the Lawrence Freedman Award for Best MA Student in the Department of War Studies) and a BA in European Studies at Maastricht University (The Netherlands).

Teresa has also been working with the Balkans Peace Park Project since 2013, and worked at the Institute for Strategic Dialogue, a London-based think tank, between 2012 and 2014.
Qualifications

MA Conflict, Security and Development, King's College London (UK)

BA European Studies, Maastricht University (NL)
Research interests

Thesis working title: Beyond Sustainable Development – The Role of the Environment in EU Peacebuilding in Kosovo

Supervisors: Dr Hayley Stevenson, Prof Jonathan Joseph & Prof Rosaleen Duffy

Funding: Harry Worthington Scholarship

Brief summary: Teresa's research aims to better understand the role of sustainable development and the environment in post-conflict peacebuilding. Using the European Union's peacebuilding policies in Kosovo as a case study, Teresa explores how injustices and unsustainabilities are institutionalised into post-conflict contexts under the umbrella of sustainable development, and how this sustains existing conflict dynamics rather than promoting 'sustainable' peace.

Drawing on insights from green political economy, political ecology and environmental peacebuilding, Teresa critically engages with concepts such as 'sustainability', and explores broader conceptions of human/non-human relations. Based on an iterative research strategy that focuses on qualitative methods, Teresa's research shows that peacebuilding policies built on an anthropocentric approach to sustainable development reinforce structural inequalities and strengthen a socially, politically, economically and environmentally unjust status quo.

Research interests:

Environmental peacebuilding
Political ecology
Green political economy
Western Balkans
(Environmental) security
Teaching activities

7SSWM0902 War and the non-human sphere (Department of War Studies, King's College London)

POL114 Introduction to Security Studies (Department of Politics, The University of Sheffield)

GEO251 Human Geography Level 2: Field Class Berlin (Department of Geography, The University of Sheffield)

Sheffield Teaching Assistant Certificate (The University of Sheffield)
Professional activities

Activities:

Co-organiser (with Sean Brennan, Queen's University Belfast) of panel on Environmental peacebuilding in a changing climate: 'greenwashing' unsustainability or building environmentally and socially just peace?. 1st Environmental Peacebuilding Conference, Irvine, California, USA (forthcoming, October 2019).

Co-organiser (with Lisa Trogisch, Wageningen University) of panel on The political ecology of environmental peacebuilding – exploring its values and critiques in the contexts of the green economy. Political Ecology Network POLLEN18 Conference, Oslo, Norway (2018).

Co-organiser of Sheffield Institute for International Development (SIID) 8th Postgraduate Conference, Sheffield (2017).

Selected conference papers:

Lappe-Osthege, T. (2019). Environmental Peacebuilding – New Research Trajectories for Post-Conflict Natural Resource Management. Participant on roundtable at the International Studies Association Conference, Toronto, Canada (27-30 March 2019).

Lappe-Osthege, T. (2018). A critical analysis of sustainable development in the context of peace and conflict – Exploring the role of the 'natural' environment in EU peacebuilding in Kosovo. Presentation at the Political Ecology Network POLLEN18 Conference, Oslo, Norway (20-22 June 2018).

Lappe-Osthege, T. (2018). Environmental peacebuilding and the immaterial environment: Understanding territorial conflicts through environmental sensemaking. Presentation at 'The Nature of Peace' Conference, Lund, Sweden (26-27 April 2018).

Lappe-Osthege, T. (2018). Exploring the linkages of biodiversity and security: The case of the illegal bird trade in the Western Balkans. Presentation at 3rd Adriatic Flyway Conference, National Park Fruška Gora, Serbia (19-23 March 2018).

Lappe-Osthege, T. (2017). Energy justice and the legacy of conflict: Assessing the Kosovo C Thermal Power Plant. Presentation at the Royal Geographical Society Annual Conference, London, (UK 29 August – 1 September 2017).

Lappe-Osthege, T. (2016). Creating alternative realities after conflict: Transboundary community-based conservation in the Balkans Peace Park. Presentation at the European Consortium for Political Research (ECPR) General Conference, Prague, Czech Republic (7-10. September 2016).