Dr Teresa Lappe-Osthege
Department of Politics and International Relations
Postdoctoral Research Associate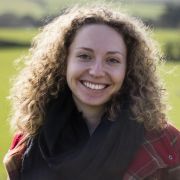 t.lappe-osthege@sheffield.ac.uk
Elmfield Building
Full contact details
Dr Teresa Lappe-Osthege
Department of Politics and International Relations
Elmfield Building
Northumberland Road
Sheffield
S10 2TU

Profile

Teresa Lappe-Osthege is a Postdoctoral Research Associate on the ESRC-funded Beastly Business Project. Her research is informed by political ecology and green political economy, and focuses on environmental politics in peace and conflict, wildlife crime and conservation, with a regional focus on the EU and the Western Balkans. Her current research on the Beastly Business Project examines the links between corporate businesses and green-collar crime in the illegal wildlife trade in Europe. She is a founding member of the Environmental Peacebuilding Association (EnPAx), and a member of the International Studies Association (ISA) and the Political Ecology Network (POLLEN).

Teresa joined the Department in June 2021, having previously worked as Programme Manager at The New Institute, an Institute of Advanced Study in Hamburg, Germany (2020-2021). Prior to that, Teresa was a Research Associate on the Biodiversity and Security Project (BIOSEC; 2017-2020) at the University Sheffield, where she also gained her PhD in 2020.

She holds an MA in Conflict, Security and Development from King's College London and a BA in European Studies from Maastricht University (NL). Teresa currently acts as a trustee of the NGO Conflict and Environment Observatory, and previously worked with the Balkans Peace Park Project (2013-2019), and the Institute for Strategic Dialogue, a London-based think tank (2012-2014).
Research interests

Teresa's research sits at the nexus of EU politics, political ecology, and peace and conflict studies, and aims to better understand the socio-ecological injustices and inequalities that are entangled with environmental politics. Her research critically engages with broader questions of the distribution of power and knowledge, examining in particular the dynamics that influence how policies are designed and implemented, and how they – often unevenly - impact on humans and nature.

(Un)sustainability in peacebuilding

Engaging with current research in the emerging field of environmental peacebuilding, Teresa is interested in understanding the processes through which unsustainabilities are institutionalised into post-conflict contexts under the umbrella of sustainable development, and how this sustains existing conflict dynamics rather than promoting 'sustainable' peace. As part of her PhD, Teresa examined these dynamics in the EU's peacebuilding process in Kosovo, and she previously conducted research on transboundary community-based conservation as a tool for peacebuilding in Albania, Kosovo and Montenegro.

Green crime and the illegal wildlife trade

Teresa's work also brings together political ecology and green criminology. As part of the Beastly Business project, her research focuses on deconstructing the power dynamics and inequalities that underlie environmental harms. By exploring the role of corporate or green-collar crime in the illegal wildlife trade in Europe, Teresa's research explores the socio-economic drivers of supply and demand for illegal wildlife products in Europe with the aim of sharpening policy and enforcement initiatives. This work builds on her previous research on the political economy of the illegal wildlife trade in the Western Balkans, where she examined dynamics surrounding the illegal bird trade into the EU.
Teaching interests

At The University of Sheffield, Teresa previously taught both undergraduate and postgraduate courses on Security Studies, Human Geography, and Environment and Development. She also taught on a postgraduate module on Environment and Conflict at King's College London.