The Advisory Board is key to the department as it provides an opportunity for staff, students and members to benefit from a collaborative approach to the discipline.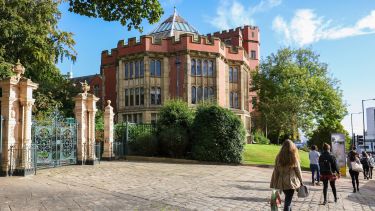 These Advisory Board includes the following members:
---
David Blunkett
Labour MP for Sheffield Brightside and Hillsborough since 1987. He was appointed as a Sheffield City Councillor at the age of 22 and he served on the Council from 1970 to 1988, acting as Leader from 1980 to 1987. Following Labour's victory in the 1997 general election,  he served in the Cabinet as Education and Employment Secretary, Home Secretary and Work and Pensions Secretary.
He is an alumnus of the Department of Politics and International Relations (BA Political Theory and Institutions).
---
Linda McAvan 
Former Member of the European Parliament since May 1998, representing Yorkshire and the Humber from June 1999.  She was Head of the European List for Labour 1999, 2004 and 2009 European Elections and the current Chair of the European Parliament Committee on International Development
Previously, she has acted as spokesperson for the Socialist Group Environment, Climate Change, Food Safety and Public Health (2009-2014) and was Deputy Leader of the European Parliamentary Labour Party (1999- 2014). Her specialist areas of interest are Climate Change, Tobacco Control and Medicines Safety.
Linda holds a BA Hons in Languages (Interpreting/Translating) from Heriot Watt and an MA (maitrise) International Relations, Universite Libre de Bruxelles.
---
Anne Posthuma
A Senior Specialist in Employment and Labour Market Policies at the International Institute for Labour Studies, ILO (Brasilia). Prior to this she has held various posts with the ILO in Geneva and Santiago and has been the Director of UNITAR (United Nations Institute for Training & Research) in Brazil. 
She holds a PhD in development studies, an MSc in Science, Technology and Industrialization (both Sussex) and a BA in Social Anthropology from Stanford.
Anne is a founding member in an international research network entitled 'Capturing the Gains', which aims to conduct comparative international research concerning the economic and social dimensions of upgrading in global production networks. She also participates actively in an internal group of ILO staff concerned with enhancing the opportunities that globalisation offers to improve earnings and labour conditions for workers in global production networks.
---
Owain Service 
Former Managing Director, The Behavioural Insights Team (BIT). Often referred to as the 'Nudge Unit', BIT is part of the Cabinet Office and applies insights from academic research in behavioural economics and psychology to public policy and services.
Owain has previously worked in the Prime Minister's Strategy Unit, the Foreign Office and the European Commission, leading work on Strategic Defence and Security, energy, public services reform and local government strategic review.
He holds degrees from Cambridge (Social and Political Sciences) and the LSE (MSc in International Relations).
---
Will Somerville
UK Programme Director for Unbound Philanthropy, a private foundation based in New York. He also works part-time as a Senior Policy Analyst for the Migration Policy Institute (MPI), a think tank based in Washington DC, which he joined in 2006.
Prior to joining MPI, Will worked at the Commission for Racial Equality, the U.K. Prime Minister's Strategy Unit, Cabinet Office, and the Institute for Public Policy Research (IPPR). He has authored over sixty policy papers, chapters and journal articles. His most recent book is Immigration under New Labour (2007, Policy Press).
He holds a degree in History (First Class) from Leeds University, a Master's degree (with distinction) in Social Policy from the London School of Economics and is a Fellow of the Royal Society of Arts (FRSA).
---
Joe Twyman
Director at Deltapoll and frequently provides expert analysis for both the national and international media, including BBC television and radio, Sky News, ITN, Reuters, Bloomberg, CNN, Good Morning Britain and CNBC.
He was previously Head of Political and Social Research for Europe, the Middle East and Africa at YouGov having begun as a research director at the very start of the company back in 2000.
Joe is an alumnus, and long standing friend, of the department (BA Politics). He has been an active supporter of alumni events and a sponsor of an undergraduate prize, and annually he provides employment advice to our final year students.
---
David Marsh
Managing Director and Co-Founder of the Official Monetary and Financial Institutions Forum (OMFIF). He is Senior Adviser to London-based asset management company, Soditic.
Previously, David worked for City merchant bank Robert Fleming, corporate finance boutique, Hawkpoint and German management consultancy, Droege. Between 1978 and 1995, he worked for the Financial Times in London, France and Germany, including a spell as European Editor.
David is a Board Member of Henderson Eurotrust, the British Chamber of Commerce in Germany and German-British Forum. He was made Commander of the British Empire in 2000 and was awarded the German Order of Merit (Bundesverdienstkreuz) in 2003.
He is a frequent media commentator in Europe and the US. Additionally, he has published several books that have contributed to academic debates, such as on Germany and Europe, the creation of the euro and the euro-zone crisis (the latter two with Yale University Press).