George Asiamah
Department of Politics and International Relations
PhD research student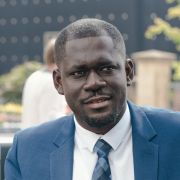 george.asiamah@sheffield.ac.uk
Elmfield Building
Full contact details
George Asiamah
Department of Politics and International Relations
Elmfield Building
Northumberland Road
Sheffield
S10 2TU

Profile

George is an interdisciplinary doctoral researcher and a Grantham scholar at the Department of Politics of the University of Sheffield. His current research (PhD.) spans across multiple disciplines including Politics, Science and Technology Studies, Geography and Public Policy. Prior to his PhD., he served as Research and Policy Analyst for the SEED Centre – a non-profit organisation that champions rural sustainability and local economic development in Ghana.

With a very diverse academic background, George has a broad knowledge in the use of both qualitative and quantitative research methods. He is conversant in the use of a number of statistical packages and data mining software – including SPSS, STATA, ArcGIS,and NVivo

His current research interests are in the areas of:

Regulatory Science, Sustainable Agri-food Systems and Policy.
Environmental Economics and Politics.
Global Political Economy, Regional Integration and Development.
Qualifications

MSc. Leadership for Sustainable Rural Development – Queen's University Belfast, UK, 2015. 

B.A. Economics – Kwame Nkrumah University of Science and Technology, Ghana, 2013.
Research interests

Ph.D. Title: Assessing the Implications of Brexit for Evidence, Expertise and Agri-food Regulatory Governance in the UK.

Primary Supervisor: Professor James Wilsdon 

Secondary Supervisors: Professor Charlotte Burns, Dr. Ruth Little.

Date started: October 2018

---

Project Outline:

The UK's agri-food sector has long operated within the institutional and regulatory framework of the European Union (EU). EU regulations and policies like the Common Agricultural Policy (CAP) have shaped most agri-food related activities in the country. Hence, the anticipated departure of the UK from the EU – popularly referred to as "Brexit" – puts the sector and its regulatory regime on an unstable future trajectory.This research seeks to explore the broad implications of Brexit for the UK's agri-food regulatory regime with especial focus on expertise and the scientific advisory landscape.

This project is funded by the Grantham Centre for Sustainable Futures.
Teaching interests

George served as a Teaching Assistant (TA) for "Econ 355/356: Development Economics" at the Department of Economics of the Kwame Nkrumah University of Science and Technology (KNUST) from 2013 to 2014.
Professional activities

Conferences Attended:

Dec. 2019: COP25 – UN Climate Change Conference, Madrid, Spain.

May. 2019: UK Agriculture Policy: Sustainability in post-Brexit Britain Conference, Leicester, UK.

Feb. 2019: Researching Brexit Conference, Belfast, UK.

Nov. 2018: INGSA 2018 – The International Network for Government Science Advice Biennial Conference, Tokyo, Japan.

Scholarships and Awards:

2018: Grantham Ph.D. Scholarship, The University of Sheffield.

2014: Commonwealth Shared Scholarship, Queen's University Belfast
Publications

Book Chapter:

Asiamah G. (2020) Pro-Poor Development Strategies. In: Leal Filho W., Azul A., Brandli L., Lange Salvia A., Özuyar P., Wall T. (eds) No Poverty. Encyclopedia of the UN Sustainable Development Goals. Springer, Cham. https://doi.org/10.1007/978-3-319-69625-6

Blogposts: