If you want to start a business in the UK for the first time, you can apply for a Start-up visa.
As a student or recent graduate, you can apply for a 2 year Start-up visa to set up a business in the UK for the first time. The visa also allows you to work in the UK whilst developing the business.
To apply, you must have an 'innovative, viable and scalable' business idea.
It's a two-stage process - you must first obtain an endorsement from a relevant endorsing body before you can make the visa application.
The University of Sheffield is a UKVI approved endorsing body and can usually endorse a limited number of graduates each year.
---
You can set up a business and be self-employed if you hold the new Graduate Immigration Route visa.
This does not require endorsement and could be an alternative to the Start-up visa.
You must have successfully completed your degree and be in the UK with a valid Student Visa.
The Global Talent visa will also permit self-employment.
---
Endorsement
You and your business idea must be endorsed by a UKVI approved endorsing body.
If you're a current student or recent graduate, we can endorse you to apply for the Start-up visa.
The endorsement will need to confirm that your business venture meets all of the following requirements:
Innovation: you have a genuine, original business plan that meets new or existing market needs and/or creates a competitive advantage.
Viability: you have or are actively developing the necessary skills, knowledge, experience and market awareness to successfully run the business.
Scalability: there is evidence of structured planning and of potential for job creation and growth into national markets.
You must also:
have not set up a business in the UK previously;
be either the sole founder of the business or an instrumental member of the founding team (more than one applicant can be endorsed for the same business as long as each applicant is a founding member);
be relying on your own business plan or have generated the ideas in the plan (or made a significant contribution to those ideas) and be responsible for executing the plan.
Maintenance requirement
You must hold £1270 in a bank account for 28 days prior to the date of application.
You do not need to show this evidence if:
you're applying from inside the UK and have been a resident in the UK for over 12 months; or
the endorsing body confirms they have provided you with funding (if we are your endorsing body, we will not award funding to meet maintenance requirements)
You should also consider how you'll fund your start-up business and ensure that you can support yourself whilst developing the business.
Further details can be found in the Appendix finance of the immigration rules.
English language requirement
You must be at B2 level CEFR. This is lower than the level required for a Student visa.
If you're a current student or previously held a Tier 4/Student visa it's likely that you will already meet the English language requirement.
This is met if any of the following apply:
You're a national of a majority English speaking country.
You have a degree taught in English (from a UK University or UK Naric approved degree taught in an overseas institution).
You have passed a Secure English language test (as per Appendix O Immigration rules) and achieved at least B2 level.
You have already met the requirement in a previous successful application (e.g. Tier 4, Student visa or previous visa application).
For further information on meeting English Language requirements, visit the Appendix English Language in Immigration Rules.
---
As well as developing your business, you can:
work (apart from as a professional sportsperson or coach)
have dependants
There is no restriction on working hours, but if you're endorsed by the University of Sheffield we recommend working part-time.
We must also be satisfied that you'll be spending the majority of your time in the UK developing your business. Your endorsement could be withdrawn if you're failing to make satisfactory progress.
You cannot:
access public funds
extend this visa and it does not lead to settlement.
---
You can apply for endorsement from us if you're:
an international or EEA national who does not have pre settled or settled status in the UK
a student/graduate who has been awarded or will be awarded a University of Sheffield degree (Bachelors, Masters or PhD) in the last three years
a student/graduate who has an innovative, viable and scalable business idea
a student/graduate who meets the current Home Office immigration requirements for the Start-up visa (this is checked by the International Student Support, Advice and Compliance Team)
We will not endorse students/graduates from other institutions but it may be possible for you to be endorsed by other endorsing bodies.
We will not endorse business in the following sectors:
Alcohol
Smoking/tobacco
Dating/social media
Gambling
Housing/property rentals/construction/renovation
Any business which does not have significant growth potential
Any business which we consider may bring the University's reputation into disrepute
A business which is a franchise/subsidiary/transfer/extension/replica of an existing business in the UK or overseas
You can apply as part of a Start-up team/partnership as long as you apply at the same time. Each person will need to have an individual endorsement.
Apply
We're conducting a review of the Start-up visa programme in 2022-23 and will only be issuing new endorsements to students and recent graduates who are engaged with the various entrepreneurial programmes offered by our Enterprise team. Places are limited.
If you think you have an innovative business idea and would like to express an interest in the Start-up visa, please contact the Enterprise Team at enterprise@sheffield.ac.uk.
To increase your chances of endorsement, we strongly advise you to make contact with the Enterprise team in good time before your current visa expires and participate in the Entrepreneurial programmes on offer. This could also provide you with valuable business development skills.
You must also submit an application and detailed business plan before any endorsement is agreed.
If your application for endorsement is successful
You'll receive an endorsement letter issued by the International Student Support & Advice Team (ISSAC), subject to meeting visa eligibility requirements.
The endorsement letter is valid for up to 3 months from the date of issue. You'll need to submit this with your visa application.
If you're endorsed by the University, you must attend compulsory 6 monthly progress meetings with the Enterprise team. They will also provide ongoing business support advice.You can also participate in the activities and programmes run by the Enterprise team.
Failure to make satisfactory progress with your business idea can lead to the endorsement being withdrawn. This could lead to your Startup visa being curtailed.
---
You can switch to the Start-up visa from your Tier 4 or Student visa, or apply from outside of the UK.
Fees

| | | |
| --- | --- | --- |
| Who you're applying for | Apply (outside the UK) | Switch (in the UK) |
| Yourself | £378 | £508 |
| All dependants | £363 each person | £493 each person |
 You'll also have to pay an Immigration Healthcare Surcharge (IHS) for two years, at £624 per year. You must pay this upfront as part of the visa application.
Supporting documents required:
Endorsement letter
A current passport or other valid travel identification
Bank statements showing you've had at least £10945 in savings in your bank account for 90 consecutive days before you apply
Your tuberculosis test results if you're from a country where you have to take the test
Proof that you meet the English language requirement
Police registration document if applicable
You may need to provide additional documents depending on your circumstances
You may need to provide additional documents depending on your circumstances.
For visa advice and support, please contact our International Student Support and Advice Team.
---
I have a student visa, am I allowed to work on the business before I get the Start-up visa?
If you hold a Tier 4 student visa issued before 19 October 2019, it's safer to wait until you receive the Start-up visa.
The Home Office's student route guidance says that if you're switching from Student permission, you can set up and operate your business as soon as you've made the Start-up application. However, the separate guidance for Start-up endorsing bodies says that if you're switching from Tier 4 leave that was granted before 19 October 2019 you must wait until the Start-up leave is granted before starting work.
Even if you can't undertake business activities before the Start-up leave is granted, the guidance for Start-up endorsing bodies confirms that you can undertake the following related activities while your application is pending:
Preliminary activities such as writing business plans or negotiating contracts
Incurring pre-trading costs with a view to deciding whether to start their businesses
The following specific business activities must wait until you can work on your business:
Registering with HM Revenue & Customs as self-employed
Working for companies in which they are controlling shareholders
Working for companies in statutory roles, such as a director
Trading or establishing a trading presence (including test marketing)
Can I extend this visa?
No, it cannot be extended.
After 2 years, you may be able to progress into the Innovator visa route if you want to continue developing your business. We don't offer endorsements for the Innovator visa, so you would need to find an alternative endorsing body.
The Innovator visa requirements (especially around funding) are also very different from the Start-Up visa. Looking at these may help you decide if your business idea will be suitable and understand what you'll need to do over the next 2 years to prepare.
Our ISSAC team can't help with the Innovator visa application. Please seek specialist legal/immigration advice if you want to apply.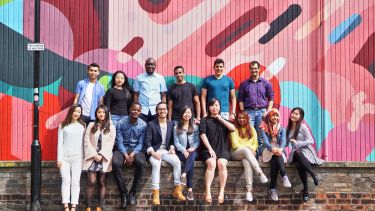 Information for students
The Student Services Information Desk (SSiD) answers a range of general student related enquiries