Funding for pre-registration healthcare courses
Some postgraduate pre-registration healthcare courses have different fee and funding arrangements to other postgraduate courses.

The information on this page is for home students considering the MMedSci Speech and Language Therapy or MMedSci Nursing Studies (leading to professional registration as an Adult Nurse).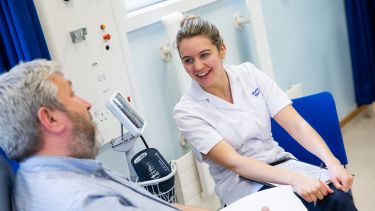 Fees
You can search for a fee using our postgraduate fee calculator.
If you can't find the fee for a course then get in touch with the department directly using the contact details at the bottom of each course listing page.
Funding
Student Finance
Eligible English domiciled students can access the undergraduate financial support package from Student Finance England. You can access this support even if you have received loans to study an undergraduate or postgraduate course before. 
Depending on your household income you may also be eligible to receive support from the University of Sheffield Bursary Scheme. 
Further information about the support available can be found on our undergraduate funding pages.
As a postgraduate student you can not apply for undergraduate scholarships.   
---
Students who live in the EU can apply for an undergraduate tuition fee loan from Student Finance England to cover the full cost of the tuition fees. 
Further information about the tuition fee loans can be found on our undergraduate funding pages.
---
Students who live in the devolved nations can access postgraduate support from their funding providers. Awards and eligibility criteria vary.
Student Awards Agency Scotland
Student Finance Northern Ireland
---
Learning Support Fund
Eligible students may also be able to apply to the Learning Support Fund (LSF). This is additional funding administered by the NHS Business and Services Authority (NHSBSA) to support students and includes:
Child Dependants Allowance
Exceptional hardship funds
Reimbursement of additional travel and accommodation costs over normal daily travel to clinical placements
Further information can be found from the NHSBSA website.    
---