School of Clinical Dentistry, Faculty of Medicine, Dentistry and Health

Advance your career in orthodontics with our DClinDent. You'll develop an evidence-based, critical approach to this specialism and to general clinical dentistry.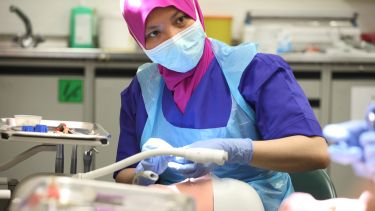 Course description
This course is not running in 2020. The application window for September 2021 entry will open in August 2020.
This course teaches the academic and clinical skills you need to practise orthodontics. You'll develop an evidence-based, critical approach to this specialism and to general clinical dentistry. A focus on research skills will give you the confidence to complete future clinical or laboratory-based research programmes.
The course includes all the features of the first two years of the Curriculum and Specialist Training Programme in Orthodontics approved by the UK General Dental Council.
Once you've graduated, you'll be able to diagnose and manage most conditions related to orthodontics, and understand the role of orthodontics in developing a comprehensive treatment strategy and plan for an individual patient. You'll also be able to demonstrate critical appraisal skills when evaluating information in dental literature.
The flexible modular structure means the course meets a wide range of student needs.
Additional costs
The following costs aren't included in your course fees:
dissertation binding

essential textbooks

postgraduate membership of the British Orthodontic Society , and all registration, travel and accommodation expenses for this

registration, travel and accommodation expenses for any external conferences and meetings

examination fees and related expenses for the MOrth examination (if you decide to sit this)
Information about applying
Places at Sheffield for UK nationals are appointed through the UK national recruitment process.
There is currently no entry to either the MClinDent or DClinDent Orthodontic programmes for September 2020 entry. We will confirm details of when applications open in the future.
Modules
Core modules
Research Methods in Clinical Dentistry
Principles of Clinical Management
Introduction to Statistics
Principles of Clinical Orthodontics II
Orthodontic Case Studies
Systematic Reviews and Evidence Synthesis Principles
Research Project Literature Review
Principles of Clinical Orthodontic Practice I
Clinical Orthodontic Practice Programme I, II and III
Orthodontic Thesis
Teaching
Lectures
Tutorials
Seminars
Online learning
Demonstrations
Clinical sessions
Laboratory and typodont exercises
Working with a number of patients, you'll get extensive practical clinical experience in the use of fixed, removable and functional appliances.
Assessment
Continuous assessment, final examination with clinical and academic components, dissertation based on research project, presentation of selected patient records.
Duration
3 years full-time
Entry requirements
You need a primary university dental degree from a recognised institution, and a minimum of two years' post-qualification clinical experience. You must also meet our health and Disclosure and Barring Service requirements for clinical courses.
English language requirements
Overall IELTS score of 7.0 with a minimum of 6.5 in each component, or equivalent.
Fees and funding
If you're an NHS employee or a Deanery nominated student then the fee could be different. Contact the Student Fees team for more information.
This course is not running in 2020. If you have have any questions, please contact the department.
The course information set out here may change before you begin, particularly if you are applying significantly in advance of the start date.