Graphic design and digital design
Creative design is the key to successful communication. Our professional design team create innovative designs for print, digital media and motion graphics.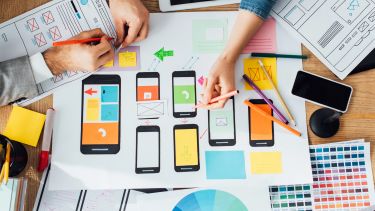 Our designers are highly trained and experienced, and use their creative expertise to produce inspiring designs to your requirements.
From concept to completion, we create designs across a range of products including:
logos
promotional literature
brochures
exhibition material
brand creation and development for print and digital platforms
animation and motion graphics
video editing and production
presentations
digital adverts
Our knowledge of the University's vision and identity promotes a collaborative approach to produce marketing, research and teaching material for a world-leading university. 
We are open to commissions from private clients and will work within your corporate guidelines. Our designers will work directly with you throughout your project.  
If you would like to know more about our services, or to request an estimate, please email print.estimating@sheffield.ac.uk.