Thesis and dissertation printing and binding
You have worked hard all year to produce your dissertation or thesis, so it is important to do it justice when it comes to printing and binding.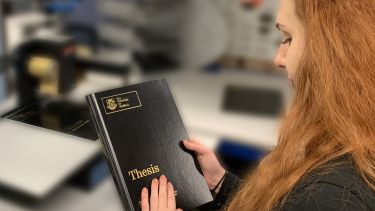 We offer three packages to University of Sheffield students for thesis and dissertation binding. These packages include two bound copies and a CD, and all meet the University regulations for thesis first submissions and full resubmissions (with or without viva):
Comb Binding Pack (£13.85)
Wire Binding Pack (£13.85)
Hardback Binding Pack (£62.50)
One Hardback Bound Book (£30.00)
To order your printing and binding visit myPrint, our online store. Each binding package has a set price and the price of your printing will be calculated based on your file and printing choices.
Visit this Research Services page for further information about formatting and binding your document.
---
What if I need to rebind my document?
If you need to rebind your dissertation or thesis, we can do this for you by removing the metal channel spine, so that you can make any page changes.
Once you're satisfied with your changes we can re-bind using the existing cover and spine, all for only £6.
To arrange for this service please email us at: print.enquiries@sheffield.ac.uk.
---
Disclaimer
Print and Design Solutions reserves the right to refuse to bind any copied material that has not been acquired legally under the terms of the Copyright Designs and Patents Act 1988, or any current licensing agreements of the University.
A surcharge of 50 per cent is added to all prices for non-members of the University and for binding of work not prepared as part of a course of study at the University of Sheffield.
---
Please note: Links to myPrint will take you to a third-party website. All information is accessible by yourself and Print and Design Solutions administrators. Please see our privacy policy for further information.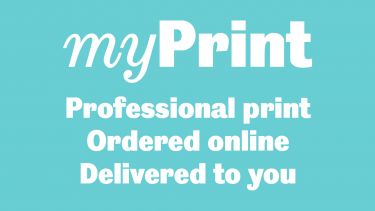 myPrint online ordering
myPrint provides a secure, quick and easy to use online printing service for University staff, students and external customers. We have created products specifically with you in mind.