Professor Aarti Iyer
Professor of Social Psychology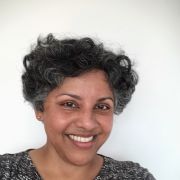 Profile

I am a social and political psychologist with expertise in group processes and intergroup relations. My research investigates challenges to social inequality on the part of individuals (e.g., political attitudes and political behaviour) and institutions (e.g., equal opportunity policies and affirmative action).

During the 2021-22 academic year, I am on leave from the Department of Psychology to take up the James Marshall Public Policy Fellowship awarded by the Society for the Psychological Study of Social Issues (SPSSI). I am based in Washington DC as a scholar-in-residence, using social science theory and research to inform the development and implementation of federal policy.
Qualifications

1999: BA (Hons) in Psychology and Sociology, Swarthmore College (USA)
2001: MA in Psychology, University of California—Santa Cruz (USA)
2004: PhD in Social Psychology, University of California—Santa Cruz (USA)
2010: PGDip in Higher Education, University of Queensland (Australia)

Awards and Honours:

James Marshall Public Policy Fellow (2021-22), Society for the Psychological Study of Social Issues
Elected Fellow (2018), Society for Personality and Social Psychology
Elected Fellow (2013), Society for Experimental Social Psychology
Featured in the Rising Star series (2011), Association for Psychological Science
Early Career Award for Research Excellence (2008), European Association of Social Psychology
Research interests

Around the world, status differences between social groups have been institutionalized to create systems of inequality. My research program investigates responses to social inequality on the part of individuals and organizations, with studies conducted in various countries (e.g., USA, China, Australia, UK) using a range of methodologies (e.g., surveys, experiments, focus groups, interviews).

I am currently involved in three lines of work:

Identifying the perceptions and emotions that predict individuals' efforts to challenge inequality and injustice, for instance through political activism and support for government policy.
Documenting the factors that improve the design and implementation of institutional Equality, Diversity, and Inclusion (ED&I) policies such as affirmative action.

Understanding how social networks can improve immigrants' transitions to new countries, with implications for social integration, academic performance, and economic mobility.
Publications

Journal articles

Chapters

Conference proceedings papers
Grants

2022-2024: The University of Sheffield Centre for Equity and Inclusion. Funded by Research England and Office for Students.
2022-2023: Racial discrimination in healthcare settings and the nocebo effect. Funded by The British Academy.
2020-2023: The impact of social frontiers on the social mobility and integration of migrants. Funded by NordForsk and the Economic and Social Research Council.
2019-2022: The impact of political humour on emotions, attitudes, and behaviour. Funded by the Economic and Social Research Council.
Teaching activities

I teach research methods and statistics in the undergraduate BSc course (PSY1005: Psychological Research Methods 1) and a postgraduate MSc course (PSY6122: Current Issues in Psychological Research Methods). I also supervise student research projects (dissertations) in the BSc and MSc courses.
Professional activities

Associate Editor, Journal of Personality and Social Psychology (2020 – 2021)
Associate Editor, Journal of Experimental Social Psychology (2017 – 2018)
Associate Editor, European Journal of Social Psychology (2012 – 2014)

Leadership/Administrative Roles:

2016 – 2021: Department Director for Equality, Diversity, & Inclusion (ED&I)
2019 – 2021: Race Equality Lead, Faculty of Science
2018 – 2021: Executive Committee Member, University of Sheffield Black, Asian, and Minority Ethnic (BAME) Staff Network
Keynotes, Invited Addresses and Media

2020: Invited Address: Racial Diversity in the Environmental Movement. Grantham Centre for Sustainable Futures, University of Sheffield.
2020: Keynote: How exposure to political memes shapes affective polarisation. European Association of Social Psychology Virtual Summer School.
2020: Invited Address: Understanding responses to inequality and injustice. ChangeMaker Speaker Series, University College London.
2019: Invited Address: Borders and Divisions – Brexit and Beyond. University of Sheffield.
2018: Keynote: Using social psychology to address crises in society. Annual Conference of the British Psychological Society, Social Psychology Section.

Public Engagement and Media:
2020: interview about the contemporary movement for race equality in Mazarelos Magazine: https://bit.ly/3DzoubA

Note: Scroll down to the middle of the website for the English language version.