Dr Saima Eman
CPsychol
Postdoctoral Research Associate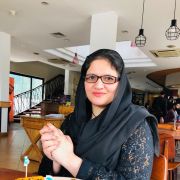 Profile

Saima Eman is a Chartered Member of The British Psychological Society (BPS), UK, Commonwealth Alumni Advisory Panel Member, UK, APA, MFP Fellow & International Affiliate, Div 41 AP-LS member and conference reviewer, Commonwealth mentor and Advisory council member at Global network of Psychologists for Human Rights. She is a social psychology and a human rights/humanity/environmental psychology researcher and an advocate. She has an intensive teaching and a scientific career. She is also a Publons Peer Reviewer. She is a freelance Psychology Tutor and founder of Khan Bahadur Visionaries. She is a poet, artist, writer, and an ideator. Previously, she was a Lecturer and then an Assistant Professor and Associate Editor JRP, at Department of Applied Psychology, Lahore College for Women University (LCWU). She also worked as a researcher at Training Impact, Gallup and Khoj Society for People's Education.
Qualifications

PhD Psychology (The University of Sheffield)
M.Sc. Applied Psychology (Middlesex University)
Certified Human Resource Professional (National University of Science and Technology, Pakistan)
MSc. Applied Psychology (University of the Punjab)
BA Psychology, Education, Sociology (University of the Punjab)
B.Sc. Home Economics (College of Home Economics, Lahore)
Matric in Science (Beaconhouse Public School) 
Research interests

Human rights (environmental psychology, social psychology, animal psychology, educational psychology, dementia, antisocial behaviours, cyberbullying, health literacy, test anxiety, prejudice, discrimination, racism, peace and conflict studies, personality psychology, emotions, informal adoption, health psychology, psychopathology, psychology of adolescence, humanistic psychology, space psychology, organisational psychology, coaching psychology, English Literature and Psychology, etc).
Publications
Grants

Part of Many Happy Returns research team-2022
APA Minority Fellowship 2021
Commonwealth Scholarship for PhD study in the UK- 2012
I was part of a research grant paper on Dementia funded by University of Manchester, UK: Leroi, I., Chaudhry, N., Daniel, A., Dunne, R., *Eman, S., Farina, N.,...Zadeh, Z. (2019). A roadmap to develop dementia research capacity and capability in Pakistan: A model for low- and middle-income countries. Alzheimer's & Dementia: Translational Research & Clinical Interventions, 5, 939-952. doi: 10.1016/j.trci.2019.11.005
Professional activities

​​​​​​Joined The Bridge creative writers community on 24 October, 2021: https://bridge-the-nations.com/ 
Joined APA Div 41, AP-LS on 13 October, 2021 
Appointed as Associate Editor of Journal of Research in Psychology-2021 to present-LCWU 
Member of Quality Enhancement Cell at LCWU August 2021
British Alumni Association- 2021 to present 
Joined Global Network of Psychologists for Human Rights on 6 December, 2020 
Chartered member via teaching route and member of Division of Academics, Researchers and Teachers of Psychology at British Psychological Society, UK-14 July 2020 to present 
International Affiliate ofAmerican Psychological Association-14 April, 2020 to present 
Member of Workload, result, and scholarship committees-2019 
Appointed Member board of studies, Human Development, UHEL, 1st October, 2019 to 30 November, 2019 
Appointed Commonwealth Scholarship Commission Alumni Advisory Panel member for 2 years -12 September, 2019 
Member of editorial board, Journal of Applied Psychology, LCWU, 2018 to present 
Women Action Forum, 14 April, 2019 
Member TeachersFirst, UK 2015 to present 
Member of UREC, 2014-2016 
University of Sheffield Islamic circle 2013-2019 
Members team at PCSIR Phase 2, Lahore, 2016 to 2020 
Member of a pan-University panel of judges for a legacy of Professor Sir Harry Kroto in the form of an international prize for children and young people's creative communication of science named "Kroto Research Inspiration: Championing the creative communication of research"- May-June 2017 
Commonwealth alumna-2016 to present 
Middlesex University alumna 2008 to present 
University of the Punjab alumna 2005 to present 
University of Sheffield alumna 2019 to present 
Amnesty International 2017 to present 
Sheffield Interpersonal Violence Research Network, 2017 to present 
Broomhill community library-2015 
Affect, feelings and emotion network-2015 
Advanced quantitative methods network- 2013 
Gender research network, 2013 
Lion's club, 2013 
Pakistan Psychological Association 2013 
Member of Result and information sharing committees, and Scientific review committee, workshop committees and scholarship committees at LCWU-2017 
Member dengue prevention committee, 2018 to present 
PsyPAG, 2013 to 2018 
Race research network- 2013
Sheffield University International Women's club, 2013 to present 
Women TUoS, 2013 to present 
iCog, 2013 to present 
International resource center/DFDI, LCWU, 2012 to present 
Alzheimer's Pakistan, 2011 to present 
Languages Sheffield, 2013-2017
Society for the Scientific Study of Psychopathy, 2014-2016 
British Psychological Society, MBPsS, 2013-2015 
American Psychological Association for Graduate Students, 2004-2008 
Lahore HR Forum, 2005-2006 
Society for Industrial and Organisational Psychology, 2004-2005 
Kyokushinkae Karate Organisation, 1999 to 2002 
DeSOM, Defense Services Club, 1997-2000 
French language, English Dramatics, Knitting and Lawn Tennis and cooking clubs, 1992 to 1996 
Children Complex Alhumra, 1989 to 1993 
The British Library, 2007-2008; 2013-2015 
Beaconhouse School System Alumni-1998 to present 
Home Economics Alumni- 2002 to present

 
Invited talks and public/media appearances

Invited Talks and Lectures: 

Invited as guest speaker by Children Assembly on Facebook Live to speak on webinar series on Climate change and Impact of COVID-19 on children and the topic was "Human Rights in the Age of Climate Emergency and Toxic Air"- 27 December, 2021
Interviewed by the Bridge Team at Department of English Literature as a creative writer on 20 November 2021
Interviewed by Sheffield Careers service UoS as a career mentor on 28 October, 2021
Invited Webinar guest speaker on stress at Facebook Live to people from Kenya at Mombasa Mental Health Awareness Group on 17 April, 2021 
Invited as a guest speaker at University of Strathclyde webinar on What is the BPS and What can I do after my Psychology Degree? on 19  February, 2021: https://www.strathunion.com/events/8040/1887/ 
Invited seminar talks on Commonwealth Scholarships at LCWU, organised by Department of Faculty Development and Internationalisation (paid lecture).-3 December, 2019 and then 28 December, 2020
Invited talk at International Women's day to an audience of women from 18 different countries at Sheffield International Women's club-2013  
Invited psychology expert talk on radio FM 99.6 on effect of brand marketing on youth- 15 December, 2011

Media/Public Appearances

Events