Using radio to address misinformation about COVID-19 amongst Internally Displaced Persons in Burkina Faso
Social media and the internet has created ideal conditions for false information and conspiracy theories to spread rapidly, making it difficult to tell fact from fiction. In many cases fake news disappears as quickly as it arrived, but sometimes it can cause serious harm.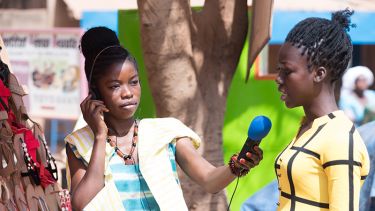 In Burkina Faso, an unprecedented humanitarian emergency is taking place. Fighting between opposing armed groups and the national army and their allies has resulted in 848,000 internally displaced persons (IDPs) being housed in camps and host communities. Burkina Faso now has the highest growing rates of IDPs in the world. Covid-19 has only worsened the problem and attempts to provide information on this front have been undermined by rumour and the spread of misinformation. 
A nine-month urgent response project, led by Dr Emma Heywood, a Lecturer in Journalism, Politics and Communication at the University of Sheffield, are now working with IDPs in Burkina Faso using online messaging platforms to tackle misinformation. 
The team, comprising researchers and radio experts, collects data on information about Covid-19 that's circulating in camos and host communities. It's then fact-checked and addressed in local radio broadcasts over the course of several months to ensure IDPs receive accurate, up-to-date factual information. 
"This will impact the activities of humanitarian and other media actors in delivering information on containing the virus because misinformation will have been addressed and greater trust will have been built through the provision of accurate and regular information. Populations will value their voices being heard via the data collectors, reinforcing the cycle of information. This is particularly important for IDPs in Burkina Faso as marginalised members of Burkinabe society. It also contributes to better inter-community understanding and helps prevent tensions exacerbated by misinformation, stereotyping and rumours," explains Dr Emma Heywood.
Flagship institutes
The University's four flagship institutes bring together our key strengths to tackle global issues, turning interdisciplinary and translational research into real-world solutions.