What is the Henry Royce Institute?
The University of Sheffield's world-leading Department of Materials Science and Engineering is a founding partner of the Henry Royce Institute, the UK's national centre for the research and innovation of advanced materials.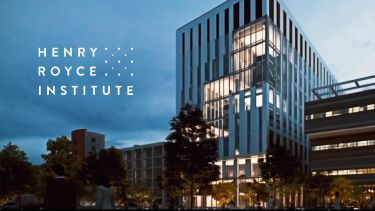 The Henry Royce Institute brings together the UK's leading materials scientists from the Universities of Leeds, Liverpool, Cambridge, Oxford and Imperial College London - as well as the UK Atomic Energy Authority (UKAEA) and the National Nuclear Laboratory (NNL) - with the purpose of supporting the Government's industrial strategy to drive economic growth.
Our knowledge and experience in the field of powder metallurgy means that we are best placed to lead on the Institute's theme of Advanced Metals Processing, but we also have specific expertise in the other Royce themes of Biomedical Materials and nuclear Materials.
Supported by our global leading academics and engineers, the Henry Royce Institute in Sheffield offers state-of-the-art facilities for research and development into advanced materials development and manufacturing - all in one place. Our unique range of industrial-grade machines are capable of delivering research activities that span Technology Readiness Levels (TRL) one to six. 
We collaborate with local, regional and national businesses, sharing our knowledge to enable them to take product and process ideas from initial concept through development, testing and optimisation, to the point where they are ready to be trialled by industry. While we can facilitate end-to-end research activities, enterprises wishing to access particular equipment or services can work with us at any stage in the process.
Our Vision
Our aim is to establish a world-leading facility for metals discovery, processing, characterisation, upscaling and manufacturing, with a view to creating a link through to the digitally integrated, sustainable and resource-efficient factory of the future.
Our main focus will be on metals processing innovation that bridges the gap between small-scale laboratory research and industrial-scale manufacturing and processing.
The manufacturing and processing of materials to form components is one of the largest industrial sectors, with metals production consuming about 5% of global energy use and responsible for annual CO2 emissions of over 2Gton. So efficiency in manufacturing can significantly reduce its environmental impact. 
With the need to drastically reduce carbon emissions, lightweight design in the aerospace and automotive industries has become an absolute must. The move towards low carbon technologies will, therefore, rely heavily on the discovery of new materials that are stronger and lighter, with lower manufacturing carbon footprints.
Key objectives
To deliver a step-change in the discovery and making of new material systems
To develop new materials processing strategies to enable us to make components that are right first time
To design new alloys with higher performance, better manufacturability, greater flexibility and reduced cost
To develop lighter-weight materials solutions
To maximise design properties and minimise waste in production
To increase the recyclability of materials, reduce CO2 and minimise whole life cycle carbon footprint
To utilise agile and lean manufacturing: near net shape parts tailored to customer requirements
Connect with the Henry Royce Institute
To discuss how we could work together to develop the next generation of materials for a sustainable world, contact us by email or find us on Twitter and LinkedIn.
Flagship institutes
The University's four flagship institutes bring together our key strengths to tackle global issues, turning interdisciplinary and translational research into real-world solutions.