Royce has developed capabilities to deliver a step-change in the discovery and making of new material systems, enabling concepts development from early, fundamental research right through to translation to industry and, crucially, covering Technology Readiness Levels (TRL) one to six.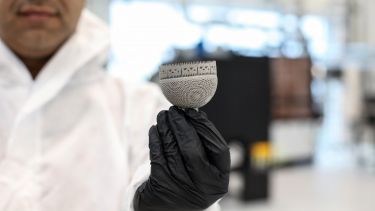 Our strengths include alloy development, powder processing, post production powder optimisation, additive manufactured part design and build, microstructural modelling, and materials characterisation and testing.
We work with industry on real-life production issues, transferring our knowledge to SMEs and larger companies active in the aerospace, automotive, medical, energy, manufacturing and construction supply chains.
In Sheffield, the Henry Royce Institute is able to facilitate end-to-end research activities in advanced materials development and manufacturing methods, allowing businesses to take product and process ideas from initial concept, through development, testing and optimisation to the point where they are ready to be trialled by industry.
We offer a unique and wide range of industrial grade machines, with particular emphasis on metal powders and additive manufacturing. To view our full equipment range, as well as all of the state-of-the-art kit hosted by the other partners of the Henry Royce Institute, visit royce.ac.uk/equipment-and-facilities.
Connect with us
Let's work together to develop the next generation of materials for a sustainable world.
Contact us by email or find us on Twitter and LinkedIn.
Flagship institutes
The University's four flagship institutes bring together our key strengths to tackle global issues, turning interdisciplinary and translational research into real-world solutions.