A prospective spinout company from the University of Sheffield, developing novel gene therapies to treat Amyotrophic lateral sclerosis (ALS), also known as motor neurone disease (MND), and Frontotemporal dementia (FTD) cases with the C9orf72 gene mutation.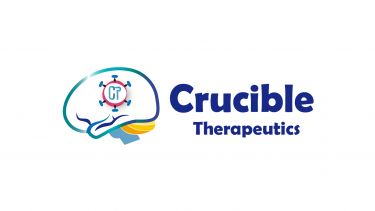 Off
Background
ALS is a neurodegenerative disease that causes the progressive loss of motor nerves leading to progressive paralysis and death usually within 2-5 years from symptom onset (peaking at 60-65 years old). FTD involves the degeneration of frontal and temporal lobes of the brain causing altered personality features and death within 8-10 years from symptom onset (40-65 years old).
Hexanucleotide repeat expansions in the C9ORF72 gene are the most common known genetic cause of ALS (responsible for 10% of cases) and FTD (responsible for 5% of cases). These repeat expansions result in complex mechanisms of neuronal injury including the production of dipeptide repeat proteins (DPRs) which have a variety of toxic effects and constitute one of the main drivers of disease.
There are ∼5,500 ALS and ∼10,000 FTD patients living with C9ORF72-linked diseases across the USA, EU and Japan. The two licensed ALS treatments, riluzole and edaravone, have only a modest effect on life expectancy (2-3 months) while patients remain paralysed.
There are ∼1,500 and ∼2,000 new ALS and FTD cases per year respectively but there is no cure available.
Technology overview
Crucible Therapeutics is developing gene therapy vectors to treat C9ORF72-linked ALS and FTD. 
These therapies work by altering the functioning of the protein, Serine/arginine-rich splicing factor 1 (SRSF1), which is responsible for the nuclear export of pathological C9ORF72-repeat transcripts and the subsequent production of DPRs. Reduced production of DPRs results in reduced neurotoxicity and neuronal loss. CGT-01, the lead gene therapy vector, lowers the amount of the SRSF1 protein in the central nervous system while CGT-02 and CGT-03 allow expression of SRSF1 inhibitors.
Stage of development
The team have shown that reducing the expression of SRSF1 confers neuroprotection in vitro in motor nerves derived from C9ORF72-ALS patients and in vivo in a fruit fly model of C9ORF72-ALS/FTD. In vivo proof of principle data also show safety and efficacy of the lead gene therapy vector (CGT-01) in C9ORF72-ALS/FTD mice including the reduction of toxic DPRs. The safety and efficacy of CGT-02 and CGT-03 are currently being evaluated in vivo in C9ORF72-ALS/FTD mice.
Envisaged timeline for commercialisation of CGT-01:
| | |
| --- | --- |
| Proof-of-Concept study in mice | 2021-2024 |
| Investigational New Drug (IND) enabling package | 2024 |
| First-in Human trial (Phase I) | 2025-26 |
| Phase II clinical trial | 2027-28 |
| Exit | 2030 |
Funding
£2.2m - 2016-2024
Motor Neurone Disease Association (2016-17)
Medical Research Council New Investigator (2017-21)
MRC and MND Association grants (2016-2021) funded the discovery phase of the research by identifying the mechanism of action of SRSF1 depletion and its neuroprotective potential as a therapeutic strategy in C9ORF72-ALS/FTD cell and fly models.
Biotechnology and Biological Sciences Research Council (2018-23)
LifeArc/MND Association (2021-24; CGT-01 proof-of-principle)
The LifeArc grant financed from the Philanthropic fund and co-funded by the MND Association (2020-2024) is focused on the development of the gene therapy approach and its proof-of-principle efficacy and safety in a mouse model of C9ORF72-ALS/FTD.
Cell and Gene Therapy Catapult Commercialisation of Research (2022-2023)
Patents
This technology has been granted EU and US patents.
Team
Founding partners:
Supported by:
Dr Jon Field, Knowledge Exchange and Commercialisation Manager Sheffield Healthcare Gateway, Faculty of Medicine, Dentistry and Health at the University of Sheffield
Flagship institutes
The University's four flagship institutes bring together our key strengths to tackle global issues, turning interdisciplinary and translational research into real-world solutions.