About the School of Health and Related Research (ScHARR)
We tackle some of the world's biggest health challenges to improve the health and care of people in the UK and around the world.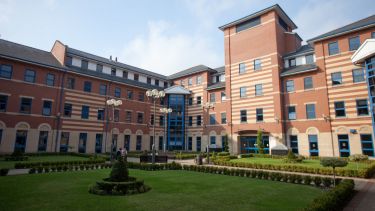 Off
ScHARR sections
ScHARR is comprised of four academic sections conducting research across a broad range of health-related topics. Sitting within the Faculty of Medicine, Dentistry and Health, ScHARR is akin to Schools of Public Health seen in continental Europe and North America.
Our sections are:
Conducting analytics of clinical cost-effectiveness for health technologies.
The Design, Trials and Statistics (DTS) section, in ScHARR, brings together a range of disciplines with the ultimate goal of carrying out high-quality research to benefit patient care, through the improved methodology of clinical trials.
The better the design, conduct, analysis and reporting of a trial, the more likely it will be to give unbiased, precise and relevant results that will maximise the chance of making the correct conclusions regarding its use in routine clinical practice.
Such research will have a major impact on clinicians, providing them with improved evidence on which to base their medical decisions and to policy decision-makers providing robust results to inform health policy (eg National Institute for Health and Care Excellence (NICE) appraisals). This improved decision-making will benefit patients.
DTS aims to design, conduct, analyse and report high quality randomised controlled trials (RCTs) and other studies to evaluate the effectiveness and cost-effectiveness of new and existing health technologies, with the ultimate aim of improving the health of the public at local, regional, national and international levels.
DTS aims to be known to undertake world-class applied health and methodological research and to be recognised as providing excellent research-led teaching.
Background
The Design, Trials and Statistics (DTS) section, within ScHARR, is a dynamic multi-disciplinary research and teaching group consisting of three distinct subgroups:
Section Director: Professor Steven Julious
If you want to know more about DTS, but can't find it on the website, please contact the Section Manager, Karen Beck - email karen.beck@sheffield.ac.uk
---
Promoting excellence in health care resource allocation decisions
HEDS makes major contributions in areas that include the valuation of health, the analysis of health policy, welfare and equity, technology appraisal, evidence synthesis, econometrics and information sciences.
Our economists lead in outcome measurement and clinical trials work. Our decision analytic modellers lead in problem structuring, model development and optimisation problems. Our systematic reviewers lead in the critical appraisal and synthesis of qualitative and quantitative research evidence. Our statisticians and econometricians lead in the application of complex methods, Bayesian methods and network meta-analysis. Our information specialists undertake systematic searches of the available evidence base from a wide range of sources using the most up-to-date information retrieval methods.
Our research
Research centres and collaborations
Section Director: Phil Shackley
Section Manager: Kathryn Cousins
---
Excellence in health research and teaching
The Health Services Research section started life as the Medical Care Research Unit, a founding member of ScHARR. Over our 20+ year history we have grown into a diverse and enthusiastic group of researchers ably supported by a team of professional services staff. Our core purpose is contributing to finding real world solutions to complex healthcare problems with a focus on pragmatic, applied health services research and a systems approach. A key strength is the evaluation of clinical and cost effectiveness of health services and new interventions. In particular, we focus on urgent and emergency medicine, trauma care, rehabilitation, assistive technologies, psychological therapies and interventions for long term conditions.
We have been at the forefront of developing mixed methods approaches to health services research and are increasingly exploiting the opportunities offered by the use of big data to identify and help resolve problems in health service delivery at scale. Much of our work has centred on the NHS but is now expanding to include global health challenges. The scope of our work means we benefit from the wider expertise in ScHARR and are able to work collaboratively with our colleagues in DTS and HEDS and Public Health together with the Information School and Primary Care colleagues in the Academic Unit of Medical Education . Outside the University we have strong and longstanding relationships with policy makers at the Department of Health and Social Care and NHS England, NHS Commissioners, local authorities and third sector organisations.
The development of future researchers is an important function and we support PhD students, lead our postgraduate taught programme on clinical research and regularly welcome Clinical Academic Lecturers and Fellows.
Health Services Research has four academic groups.
Research themes
Section Director: Sue Mawson
Section Manager: Michelle Hassall 
---
Public Health joined ScHARR as a founding section in 1997. The section has grown over the years and is a vibrant group of over one hundred academics, professional services staff and post-graduate research students. The Public Health Section has diverse and well-established collaborations with policy makers, commissioners, service providers and communities in the NHS, local government, third sector and organisations in Sheffield, the United Kingdom and globally.
As a section we produce high impact applied public health research and knowledge exchange; we are successful in getting research evidence into practice, for example, developing public health guidance for NICE and Public Health England (PHE). The section supports public health research capacity development, and is host to: the Sheffield component of the School for Public Health Research (SPHR); the NIHR Public Health Research Review Team; Wellcome Trust Doctoral Training Centre for Public Health Economics and Decision Science; Sheffield Alcohol Research Group; and Applied Research Collaboration (ARC). We also work in partnership with the flagship University Research Institutes: Healthy Lifespan Institute and the Institute for Sustainable Food in developing collaborative research programmes, both locally and globally.
The section offers a range of learning and teaching opportunities and helps train the public health workforce of the future.  We provide a significant contribution to the internationally accredited Master of Public Health (MPH degree), and the prestigious 2-year European Master of Public Health (EPH).  We also contribute to the medical curriculum ensures the doctors of the future understand and use public health research and skills in clinical practice. 
Section Director: Sarah Barnes
Section Manager: Catherine Grinold
Research themes
In addition to our six major themes, we host the Sheffield component of:
A world top-100 university
We're a world top-100 university renowned for the excellence, impact and distinctiveness of our research-led learning and teaching.