"Outbreaks and Pandemics – Addressing The Next Crisis" - WHO simulation event to be held in Sheffield, April 2018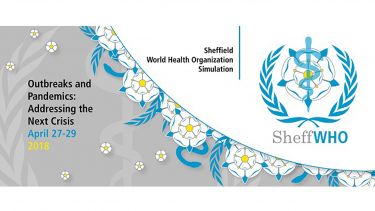 ScHARR: So what is SheffWHO?
Charles: SheffWHO is the first health-themed simulation event in Sheffield and only the second one to be held in the UK after an event in London in October 2017. It is modelled on the WHO World Health Assembly which is held every year in May, for major stakeholders in healthcare (like the UN General Assembly but for Health).
Naomi: SheffWHO is targeted at young professionals interested in global health and health diplomacy from various fields around the world. We already have delegates and speakers confirmed from Denmark, Iraq, Romania, Switzerland, The Netherlands, Turkey, and Ukraine – a truly global event!
---
ScHARR: Is SheffWHO only for students?
Naomi: No, it is open for anyone interested in global health which includes; students, alumni and young professionals from all backgrounds and disciplines. You don't need any experience to come along – we will provide you will all the tools and training that you need.
---
ScHARR: When and where is the event taking place?
Charles: It is happening from April 27th-29th at the University of Sheffield, and is hosted by ScHARR in partnership with the Sheffield Institute for International Development (SIID) and Europubhealth+.
Naomi: The theme for the event is "Outbreaks and Pandemics – Addressing the Next Crisis".
---
ScHARR: What will happen at the event?
Naomi: We will discuss issues surrounding pandemics and outbreaks, and generate solutions from a young professionals' perspective on how these issues can be addressed.
Charles: This will be accomplished through speaker presentations, training sessions, group discussions and networking. The event will be modelled on WHO events which have occurred in USA and Europe (but haven't gained much ground in the UK) – various delegates and speakers who are coming to SheffWHO have attended WHO Assemblies in the past and can provide support on how to model our event on WHO negotiations.
---
ScHARR: What was the inspiration the event?
Charles: Before arriving in Sheffield in September 2017, I connected online with other Europubhealth students who were going to be coming to Sheffield. I wanted to create an awareness of how the WHO works and the skills required for health diplomacy. I had prior experience of helping students to attend a WHO simulation event in Montreal. Unfortunately, I was ill and couldn't attend myself, but the feedback was so positive that it seemed like a good idea to replicate it for others whilst I was here in Sheffield.
Naomi: I had the experience of organising a global health academy event in Berlin, which had a simulation of a WHO event in case of a pandemic outbreak. I had also wanted to attend a Paris WHO event but had been unable to. This is a chance to recreate a simulation of a WHO event which I think is really exciting as I am very interested in global health and health governance. I love organising events which provide platforms to learn new skills.
---
ScHARR: What do you think the event will achieve?
Naomi: It should provide students and young professionals with opportunities for experiential learning, so they can understand how health decisions are made at the global level.
Charles: It will also be a great opportunity for people who are passionate about global health issues to meet and network. This will contribute to cracking the glass ceiling in international work – people will gain knowledge and perspective of how the WHO functions, and the skill set needed to enter this particular field.
---
ScHARR: What kind of response have you had to the event so far?
Charles and Naomi: We have up to 75 places available, and they have been going quickly! People are coming from all over the world. We have also had a great response from potential speakers, and we are really pleased to confirm some world-renowned names, including:
Dr Remco van de Pas (Professor of International Health, Maastricht University, Netherlands) – working on health systems and workforce issues relating to Ebola
Dr Nathalie MacDermott, Imperial College, London (frontline Ebola worker and infectious disease doctor)
Greg Fell (Public Health England, Director of Public Health, Sheffield)
Simon Rushton (Lecturer in Politics, University of Sheffield)
---
ScHARR: How can people find out more about the event, and register for a place?
Charles: The link for registrations is available from our event website – https://sheffwho.org/registration/
Registrations for the SheffWHO 2018 will close at 23:59 on Friday 6th April 2018, so make sure you don't miss this opportunity!
Our website contains lots of other information, and will have the full programme when that is confirmed. We also provide regular updates on the event via our Facebook and Twitter profiles. We hope to see you at the event in Sheffield in April.
Events at the University
Browse upcoming public lectures, exhibitions, family events, concerts, shows and festivals across the University.