Dr Kelly Mackenzie
MBChB, BA, MSc, MPH, MFPH
School of Health and Related Research
Research Fellow (Clinical)
Previously Research Fellow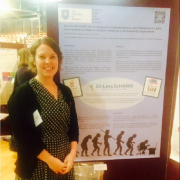 Profile

I undertook my first degree in Medicine at the University of Leeds, qualifying in 2007, during which time I also completed an intercalated degree in Healthcare Ethics. I then gained five years of clinical experience working in a variety of medical specialities, which included six months working in Melbourne, Australia.

I carried out a Masters in Physical Activity for Health at Sheffield Hallam University in 2010-12 and upon completion, I joined the Public Health Speciality Registrar Training Programme in the East Midlands. As part of this training programme, I also undertook a Masters in Public Health, which I completed in 2014. I passed both my Membership of the Faculty of Public Health exams in 2013.

In 2015/16, I completed a 12-month Academic Public Health Fellowship, which I carried out at ScHARR.  I was able to pause my Public Health Specialty Training at that stage. During this fellowship, I conducted some further primary research into sedentary behaviours in NHS staff and the use of the flipped classroom in postgraduate medical teaching. I also spent some time putting together a National Institute for Health Research Doctoral Research Fellowship (NIHR DRF) application, which I was successfully awarded.

I commenced the NIHR DRF in October 2016 at ScHARR and have again paused my Public Health Specialty Training in order to undertake this. After a period of maternity leave, I finished the fellowship in August 2020 at which point I received an honorary contract to continue work in ScHARR and re-joined the Public Health Specialty Training scheme.  I am due to finish the Public Health Training Scheme in June 2022.

Current projects

NIHR DRF project: Feasibility of a low-cost, co-produced complex intervention to reduce workplace sitting time in different workplace settings.
Study looking into the nature of the associations between obesity and social deprivation.
Research interests

I am particularly interested in the issue of sedentary behaviour in the workplace, which was a theme I pursued during my dissertation projects for both of my Masters degrees and has formed the basis of my NIHR DRF research plan.

I have also previously carried out research looking at sedentary behaviour in NHS staff, the use of the flipped classroom in postgraduate medical education, and methods of reducing length of stay and re-admission rates to hospital in older people.
Publications

Show: Featured publications All publications

Featured publications

There has been a problem showing favourites. Please try again later.

All publications

There has been a problem showing this information. Please try again later.
Professional activities

I am a GMC registered medical professional.

I am also involved in the organisation of the annual Public Health Science Conference.