Unlike many University departments, the School of Health and Related Research (ScHARR) focuses on postgraduate studies, with over 400 graduate students, including 90 studying for research degrees.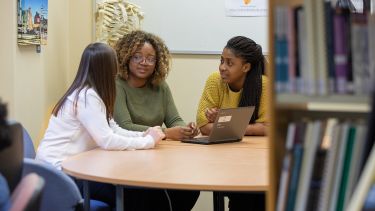 This means that you will find a particularly supportive environment, with an emphasis on the needs of postgraduate students. And with so many PhD students you will not suffer the isolation felt by those in small departments.
We are of the UK´s foremost establishments for research into health services, health economics and public health sciences, and have an international reputation in our field. The School employs about 200 multidisciplinary staff and attracts in excess of £4m per year in external research grants.
As a School, we have a vibrant research culture, in which research students play a key role. When you join the School, you will find yourself part of a community of scientists undertaking cutting-edge research. Each week, you will have access to one or more seminars, mostly featuring national or international scholars invited to speak to our staff and students. Research students also run their own seminar series, enabling students to present their work to their peers.
---
Studying at the University of Sheffield with the professional support, the available resources and teaching materials is a great academic and personal experience. Studying at the School of Health and Related Research assisted me to develop a broad range of skills through taught modules including Research Methods, Systematic Reviews, Evidence-based Practice, Health Needs Assessment and Health Economics to name a few. I have also developed other key skills such as team-working and communication skills through group project work, research assignments and oral presentations. I am extremely thankful to the University staff for their continuous support and dedication.

Maysam Ali Abdulwahid

International PhD student from Iraq
---
Once a year, we hold a Postgraduate Research Conference, with posters and oral presentations. This will give you a chance to practice presenting your research to an audience, and students value this highly. We also run methodology workshops, to provide specialised training in a range of topics.
Postgraduate research students are represented at all levels in the school, ensuring they have a voice and can raise matters of general concern.
Find a PhD
Search for PhD opportunities at Sheffield and be part of our world-leading research.