MRC Skills Development Fellowship Programme
The University of Sheffield Skills Development Fellowship Programme in Population Health Systems Science and Decision Modelling.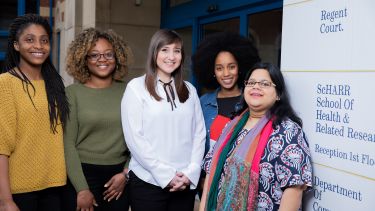 Our programme
The overarching vision of the University of Sheffield Skills Development Fellowship Programme in Population Health Systems Science and Decision Modelling is to train research leaders who will deliver a step change in the development and exploitation of advanced mathematical and statistical, computational and health economic methods that will transform our understanding of, and ability to intervene effectively in, the complex adaptive system that shapes population health.
Until 2017, applicants for the MRC Skills Development Fellowship scheme applied direct to the MRC, whereas now they apply direct to us, or to one of a number of other host institutions.
Skills training
These three-year post-doctoral awards are aimed at training the next generation of research leaders and specifically to build capacity in the skills shortage areas:
mathematics and statistics
computational sciences
health economics
Research theme areas
Fellows will undertake challenging research that aligns with the MRC Research Priority Theme Lifestyles Affecting Health. Skills training will be in one or more of the following four sub-theme areas:
Learning about the system
Modelling the system
Intervention development
Evaluation and decision support
Plus one core skills development theme: Developing Research Leaders of the Future.
---
The fellowship
The fellowship is a personal three-year training award to support an early career researcher to develop their skills in an MRC priority skills area (mathematics, statistics, computation or health economics).
Applications are currently closed. Please keep an eye on these pages for information on further recruitment rounds.
---
Collaborators
The SDF programme will be hosted by ScHARR in partnership with the following UoS departments and institutes:
This consortium brings together a breadth of expertise in applied public health research that has policy impact (ScHARR, BIHR), with a depth of methods expertise in our UoS partners across the important skills shortage areas of mathematics, statistics, computation and economics.
School of Mathematics and Statistics (SoMaS): SoMaS has over 50 academic staff, and a thriving community of postgraduate research students and postdoctoral research associates. The School has a strong tradition of making important contributions to all branches of mathematics. In the last Research Excellence Framework, 89% of its research was acknowledged as 'worldleading' or 'internationally excellent', placing it in the top 10 universities in the Russell Group for research output. A key contribution SoMaS makes to the SDF is expertise in computer model uncertainty quantification, an area that has received large grants from EPSRC and Innovate UK.
Automatic Control & Systems Engineering (ACSE): ACSE is a world leading research and teaching centre for systems and control engineering. It is the largest such centre in the UK, with 27 academic staff and current research funding of over £20M supporting more than 40 research grants (EPSRC, EU, Royal Society, InnovateUK and industry). ACSE will provide training for fellows in systems theory and the underlying mathematical and computational tools to support this. Collaborations with ScHARR include ESRC and NIH funded projects on complex systems approaches to modelling alcohol use behaviours.
Department of Computer Science: DCS was established in 1982 and has since attained an international reputation for its research and teaching. Research groups include: Computational Biology; Machine Learning, Natural Language Processing, Neurocomputing & Robotics; Organisations, Information & Knowledge; Speech & Hearing and Verification & Testing. Our record for leadership in collaborative research is outstanding and we attract substantial external funding from the EU, charities and the industrial sector, as well as from Research Councils. At present our RCUK portfolio is over £10m with £2m of that in health disciplines.
Insigneo: The Insigneo Institute collaboration between The Sheffield Teaching Hospitals NHS Foundation Trust and the Faculty of Engineering, Faculty of Science and Faculty of Medicine, Dentistry and Health, comprises over 140 academics and clinical specialists and has received over £40m in research funding since it was formed in 2012. Insigneo is the largest research institute of its kind in Europe and represents a major strength for Sheffield in terms of computational modelling and in silico intervention evaluation.
Department of Economics and the Sheffield Methods Institute: As well as having access to over 50 potential supervisors within ScHARR who work on health economic topics, fellows will benefit from methodological training and supervision in the Department of Economics and SMI. SMI is an interdisciplinary methods hub for the development and application of innovative quantitative methods in social research, currently incorporating four major ESRC investments: QStep Centre, Urban Big Data Centre, Applied Quantitative Methods Network, and the Centre for Doctoral Training in Data Analytics and Society.
BIHR: The Bradford Institute for Health Research: has a strong national and international reputation in applied health research. Improvements in population health and reductions in inequalities require a system-wide approach, and BIHR has therefore developed close partnerships with NHS, local authority, community and third sector partners. This means that BIHR can offer a unique learning environment for fellows and the opportunity to work within a data-rich population health laboratory with active clinical networks and established public engagement. The Institute has a successful track record of supporting doctoral and post-doctoral fellowships, including those funded by MRC, BHF and NIHR. In addition, we host regional Clinical Improvement Fellows and are a training location for Public Health Specialty Training.
Since 2007, BIHR has been successful in winning eleven £2m NIHR applied programme grants, a joint MRC/ESRC programme grant of £2.85m to support a next wave of data collection from Born in Bradford (BiB) participants, and a £1m BHF grant to fund ongoing collection of cardiometabolic risk data in BiB children. In 2017 BIHR was awarded £3m to establish the national Wolfson Centre for Applied Health Research. Collectively, these awards and work programmes will offer fellows diverse data sources to develop and test innovative and complex approaches to improving population health, access to a range of partners and policy makers, and support for applied research skills training activities.
---
SDF host leadership team
Programme Director
Professor John Brazier, Dean & Professor of Health Economics, ScHARR
Management group chair
Professor Alan Brennan, Professor of Health Economics & Decision Modelling, ScHARR
Academic Programme Lead
Professor Mark Strong, Deputy Dean of ScHARR & Honorary Clinical Consultant in Public Health, Public Health England
Team
Professor Petra Meier, Professor of Public Health, ScHARR
Dr Mónica Hernández, Reader in Econometrics, ScHARR
Professor Steven Julious, Professor of Medical Statistics, ScHARR
Dr John Stevens, Director of the Centre for Bayesian Statistics in Health Economics & Reader in Decision Science, ScHARR
Professor Richard Clayton, Professor of Computational Physiology, Dept of Computer Science & Insigneo
Dr Gwen Reilly, Director of Teaching and Education, Insigneo
Professor Jeremy Oakley, Professor of Statistics, School of Mathematics and Statistics
Dr Robin Purshouse, Reader in Decision Modelling and Optimisation, Automatic Control & Systems Engineering (ACSE)
Professor Arne Risa Hole, Professor of Economics, Dept of Economics
Dr Jane West, MRC Population Health Scientist, Bradford Institute for Health Research
Flagship institutes
The University's four flagship institutes bring together our key strengths to tackle global issues, turning interdisciplinary and translational research into real-world solutions.