Creating Digital Accessible Teaching Materials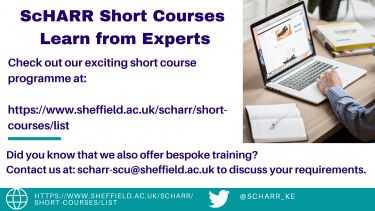 If you would like to be contacted once the date for this course has been confirmed and/or would like to be kept up to date with booking deadlines, please complete the short google form below with your details:
CDATM Register Interest Google Form
This course will introduce participants to the importance of digital accessibility especially in terms of creating accessible teaching materials. The introductory level course will cover the legislative drivers behind ensuring content for online and face to face teaching complies with modern standards for accessibility. It will focus specifically on digital accessibility and the various tools which can be used. The course will include interactive activity to allow you to put into practice new skills and knowledge. By the end of the course you will be able to confidently design new content for learning and teaching which will be fully accessible.
 The course will cover:
The history of digital accessibility
The law
General principles for creating accessible content
Microsoft documents accessibility checker
Google documents
Creating accessible media
Accessibility in Blackboard
Accessibility tools
Delivering accessible online synchronous lectures
Who Will Benefit from the Course?
Anybody who is involved in preparing and delivering digital teaching materials will find this course beneficial. It may also appeal to those who are involved in supporting taught sessions using digital resources and learning materials. Typical participants might be:
Teachers/lecturers working in higher and further education
Health and social care clinicians/practitioners
Post graduate students
Health Librarians and Information Specialists
Course Faculty
Dates and times

This new ScHARR short course will take place over 1 x half day.

DATE TBC

If you would like to be contacted once the date for this course has been confirmed and/or would like to be kept up to date with booking deadlines, please complete the short google form below with your details:

Fees

The fee for this ONLINE delivered short course is £99 per person.

Current UOS Staff/Students

Current members of University of Sheffield staff and current University of Sheffield students are eligible to book this course at the reduced rate of £79. An active @sheffield.ac.uk email address is required to book at this reduced rate. 

NB:  Payment or purchase order details are required at the time of booking.

If the University of Sheffield is paying your fees and they would prefer to be invoiced/internal transfer, an internal purchase order will need to be processed before making your online booking.  Please contact your department administrator/finance team/course administrator, if you are unsure of how to do this.

Booking and Payment

This will be updated once the delivery date has been confirmed and the course is live on our online store and accepting bookings.

If you would like to be contacted once the date for this course has been confirmed and/or would like to be kept up to date with booking deadlines, please complete the short google form below with your details:

CDATM Register Interest Google Form

Payment

Payment can be made via credit/debit card, PayPal or via company invoice (provided a purchase order can be provided).

If your employer is paying your fees, and they would prefer to be invoiced, please ensure you have your purchase order details before making your booking.  Wherever possible please also send a copy of your company purchase order to scharr-scu@sheffield.ac.uk.

Immediate payment or purchase order details are required at the time of booking, please ensure you have these details to hand before making your booking.

Current UOS Staff/Students

Current members of University of Sheffield staff and current University of Sheffield students are eligible to book this course at the reduced rate of £79. An active @sheffield.ac.uk email address is required to book at this reduced rate. 

NB:  Payment or purchase order details are required at the time of booking.

If the University of Sheffield is paying your fees and they would prefer to be invoiced/internal transfer, an internal purchase order will need to be processed before making your online booking.  Please contact your department administrator/finance team/course administrator, if you are unsure of how to do this.

Difficulties making your booking?

If you are having difficulties making your Online Store booking, please contact the Online Store directly at onlinestore@sheffield.ac.uk, in the first instance.


If you are still having difficulties, or require any further assistance please contact the Short Course Unit at scharr-scu@sheffield.ac.uk.

Course Delivery/Requirements

This course will be taking place online using the University's Blackboard platform. 

Online Delivery

Reliable and stable internet connection
A PC (or Laptop if a PC is not available to you)
Webcam and microphone (preferably a USB Headset).
Mouse
Ability to access Google Sites and other Microsoft/Google Software.

Contact

For further information please do not hesitate to contact us:

Email at scharr-scu@sheffield.ac.uk.

Tel:  0114 222 2968

If you would like to be contacted once the date for this course has been confirmed and/or would like to be kept up to date with booking deadlines, please complete the short google form below with your details: