Cool to be Clever Club, is a partnership between the Widening Participation team at the University, Sheffield High School & a family of primary schools in Sheffield South East Learning Partnership (SSELP).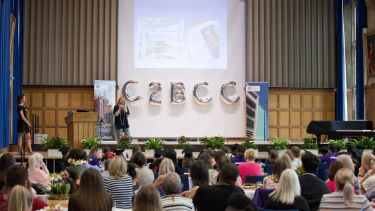 This innovative project works with selected children from Year 5 right through to the end of Year 6 and aims to foster a passion for learning in pupils whilst equipping them with the skills and aspiration to aim high, including introducing the concept of Higher Education from an early age. It is hoped that it will be a formative and even life-changing experience for the children who participate, helping to expand their horizons and open the possibilities for their future. 
Programme structure
Year 5

During Year 5 pupils attend a variety of activities at the University and Sheffield High School. These include exploring topics such as Theatre, English, Poetry, Chemistry, Art, Critical Thinking and an activity exploring careers and aspirations. Pupils also get the opportunity to spend the afternoon watching a performance at a Sheffield Theatre.

Year 6

In Year 6 pupils will attend another series of events at the University, Sheffield High School and Arbourthorne Primary School with a graduation style event at the end of the Year 6 to celebrate the completion of the programme.
How to apply
Joining this programme is by invitation only - Primary schools located in the South East of Sheffield with a significant number of pupils who meet the following criteria, will be contacted by the Cool to be Clever Club team.
Eligibility requirements
Academic criteria
When selecting pupils in your school you should ensure they demonstrate the academic potential to enter Higher Education. We therefore ask that you only select the highest achieving pupils who are progressing and are on track to achieve a high grade in English & Maths.
Widening participation criteria
Attend a State School and
Be in the first generation of their family to enter HE (other than siblings who have already progressed to HE, or parents who attended HE as a mature student)
And meet one or more of the following:
Live in a neighbourhood which has a low progression rate to Higher Education or an area which has a high level of financial, social or economic deprivation. This is defined by home postcode
Are a Looked After Child, Young Carer or estranged from their family
Are a student with a declared disability
Are from ethnic, gender or socio-economic group which is currently under-represented within HE
Have individual circumstances that mean they would need to overcome other barriers to learning or progression. Each application will be considered on a case-by-case basis. Any exceptional circumstances stated by the pupil and/or the school, such as family upheaval or disrupted schooling, will provide additional context to their application.
---
Contact us
Email: c2bcc@sheffield.ac.uk
Phone: +44 114 222 1027
Access Sheffield
Depending on circumstances, we may be able to give undergraduate applications additional consideration when we receive them.