Making a decision about what to do after school or college will involve some big choices. One of the biggest questions you will need to answer is going to be if university is right for you.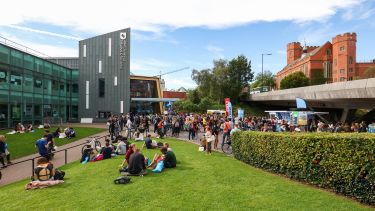 That's why we have created the Discover Sheffield programme – to give you the University of Sheffield experience as well as the knowledge and support to help you to make an informed decision.
The Discover Sheffield programme has been tailor made to help you to find out about our fantastic city and give you the experience of what it is like to be a student at the University of Sheffield. 
There will be lots of opportunities throughout the programme to explore the range of subjects on offer here at the University of Sheffield. You'll have the opportunity to attend helpful academic study skills workshops, UCAS and Student Finance guidance sessions, and you'll also get a feel for what it's like to be a student at the University of Sheffield through an exciting residential summer school which will allow you to explore our campus, stay in our modern student accommodation, and learn about university life from our current undergraduates.
---
Programme structure
Year 12

Join us for an online welcome event where we'll tell you all about the programme
Explore the range of subjects that the University of Sheffield offers through interactive online subject taster sessions and see which suits you best
Experience a two day residential summer school giving you a taste of life as a Sheffield student
Participate in revision and academic study skills workshops to help with the transition to university

Year 13

Get expert guidance on applying to university and student finance at our UCAS support workshops
Attend study skills workshops to help with current study and exam preparation
Find out more about life and careers beyond University from our Alumni
Join us for a celebration event to recognise your success
---
Programme outcomes
Adjusted offers
Students who successfully complete the programme will be eligible for an alternative offer equivalent to one or two A Level grades below the standard entry requirements for their course, where all other requirements for the course have been or can be met (for example required subjects, GCSE requirements, pre-entry tests, and portfolio requirements).
To qualify for an adjusted offer for Medicine or Dental Surgery you must have participated in additional mandatory elements of the programme.
If you wanted to take a 1 x year gap break before applying to The University of Sheffield or need to re-sit A Levels to achieve a higher grade, the adjusted offer would be made available in the following year only.
---
How to apply
Joining this programme is by invitation only – sixth forms and colleges with a significant number of students who meet the following criteria, will be contacted by the Discover Sheffield team.
If you have the potential to achieve good grades at A Level or equivalent and would either be the first generation of your family to go into higher education, or you are a Looked after Child, look after someone in your family or have a declared disability, you may qualify to apply for the programme.
Talk to the head of your sixth form or your course leader to find out if your sixth form or college is participating in this programme. They will tell you if you are eligible based upon the criteria and information, we have provided for them. You and your parents or carers will then need to complete the online application form, via your registered school/college coordinator.
Taking part in the Discover Sheffield programme shows commitment and could enhance your university application. However, it does not guarantee you a place at university. Places are subject to availability and you can only be registered on one sustained Outreach pathway at the University of Sheffield at any one time.
---
Eligibility requirements
This programme is for students who meet specific academic and widening participation criteria from identified state schools. 
Academic criteria
A Level (or equivalent) requirements

There are no specific subject requirements, but you should be studying a minimum of 3 A Levels or relevant equivalent and at least 2 should be on the University's acceptable subject list.

GCSE requirements

Minimum 5 GCSEs grade 9-6, plus a minimum grade 4 English and Maths if not already included
Widening participation criteria
And meet one or more of the following:
Live in a neighbourhood which has a low progression rate to Higher Education. This is defined by home postcode.
Are a Looked After Child, Young Carer or estranged from their family
Are a student with a declared disability
Where applicants sit outside this WP criteria, priority would then be given based upon other indicators such as whether applicants;
Are in the first generation of their family to enter Higher Education(HE) (other than siblings, or parents who attended HE as a mature student)
Are currently, or have previously been in receipt of free school meals
Live in an area which has a high level of financial, social or economic deprivation. This is defined by home postcode
Are from a certain gender, ethnic or socio-economic group which is currently under-represented in HE
Have individual circumstances meaning they will need to overcome other barriers to learning/progression
Each application will be considered individually. Exceptional circumstances stated by the students and/or school (such as family upheaval or disrupted schooling for example) will provide additional context to their application
Contact us
Email: discoversheffield@sheffield.ac.uk
We are currently working remotely so our usual landline phone lines are not in use. To arrange a call back please email us as listed above.
Downloads
Discover Sheffield programme (PDF)
The expansion of this widening participation programme has been made possible following a very generous donation made by the Law Family Charitable Foundation (LFCF). For further information please click here.
Connect with us
Be the first to know about activities at the university as well as support that we can provide to you and your students.