The IMPACT programme aims to support both students and parents in developing their knowledge around degree level study and to ask informed questions about Higher Education (HE) pathways and careers.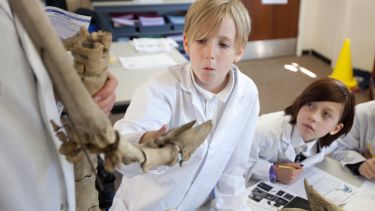 By taking part in activities together, we provide the confidence, tools and skills to find out further information for themselves to support the crucial decisions they will make jointly regarding the child's future.
IMPACT was directly informed by research conducted with students and parents at three local secondary schools over the summer of 2017 - the activities and information tools within the programme being directly shaped by their feedback.
The programme works with Year 7 and Year 8 students from selected schools bringing them together with their parents' to develop knowledge and awareness of the benefits of HE, graduate employment and introduce them to the University of Sheffield.
IMPACT breaks down barriers to HE by providing support, confidence and knowledge to parents and students by providing sessions and workshops focusing on;
General information regarding university and student finance
Introduction to clubs, societies, Sport Sheffield, Careers Service and the Students' Union
University of Sheffield campus visits including subject specific activities
Throughout the programme we will provide parents and students with a positive introduction to all aspects of university life. We want participants to feel confident and comfortable in researching how other universities may differ in relation to courses, accommodation and student facilities. We will provide impartial advice and guidance so parents and students can make an informed decision on the best route for their future.
---
Programme structure
Year 7

In school session

The University of Sheffield will visit pupils and parents in school and bring the highlights of the University into the local community. The visit will include information and interactive sessions from Sport Sheffield, the Careers Service, Student Finance and University of Sheffield students who studied at local schools.

Visit to the University

Pupils and parents will visit the University of Sheffield and take part in practical subject taster activities, have a tour of the university campus and lunch in the University of Sheffield Students' Union. Parents will receive a talk on student finance and have the opportunity to speak to student ambassadors regarding Higher Education.

Year 8

Visit to the University

Parents and pupils will visit the University of Sheffield Student Village and gain an insight into student life, student finance, budgeting, university accommodation and living away from home.

The completion of the programme is celebrated with a certificate presentation and information about other Widening Participation programmes that pupils can participate in as they move in to Year 9 
---
How to apply
Joining this programme is by invitation only - Schools located in the Sheffield City Region with a significant number of pupils who meet the following criteria will be contacted by the IMPACT team. 
Eligibility requirements
Academic criteria
When selecting pupils in your school you should ensure they demonstrate the academic potential to enter Higher Education. We therefore ask that you only select the highest achieving pupils who are progressing and are on track to achieve a high grade in English & Maths.
Widening access criteria
Attend a State School and
Be in the first generation of their family to enter Higher Education (HE) (other than siblings who have already progressed to HE, or parents who attended HE as a mature student)
And meet one or more of the following:
Live in a neighbourhood which has a low progression rate to Higher Education or an area which has a high level of financial, social or economic deprivation. This is defined by home postcode
Are a Looked After Child, Young Carer or estranged from their family
Are a student with a declared disability
Are from ethnic, gender or socio-economic group which is currently under-represented within HE
Have individual circumstances that mean they would need to overcome other barriers to learning or progression. Each application will be considered on a case-by-case basis. Any exceptional circumstances stated by the pupil and/or the school, such as family upheaval or disrupted schooling, will provide additional context to their application.
And have parents/careers that are likely to engage proactively in the programme and have not completed degree level study at a Higher Education Institution.
---
Contact us
Email: outreachimpact@sheffield.ac.uk
Phone: +44 114 2221027 
Connect with us
Be the first to know about activities at the university as well as support that we can provide to you and your students.