The US in Schools Mentoring (USiSM) programme is designed to provide direct support for young people from backgrounds that are underrepresented in higher education and have the academic potential to progress to university.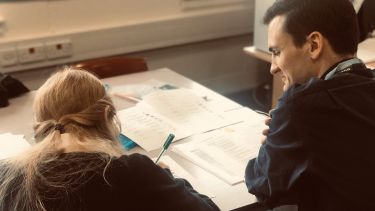 ---
The US in Schools Mentoring programme

The University works with targeted local schools to identify young people who can benefit from mentoring support. Schools are asked to select pupils in Year 9 and/or Year 12, who they believe have the academic potential to succeed in Higher Education and meet specific Widening Access criteria (see information for schools and colleges).  Mentees meet their Student Mentor in school/college for regular weekly 1-1 mentoring sessions, during term time, throughout the academic year.
One-to-One Mentoring
Each Student Mentor is placed in a partner school/college and matched with 4-6 mentees. Each weekly session will last 30 minutes in school/college but outside of the classroom environment. The content of the sessions and action plans are agreed and reviewed together by the mentor and the mentee; topics they might cover include:
Study skills, homework/coursework, and exam preparation support
University student life and student finance
Researching and considering their future options, education, and career direction
GCSE, A Level, and University Course options
Personal development (e.g. self-confidence, resilience, and time management)
The opportunity to ask questions about Further and Higher Education, and develop their aspirations
Mentees will also have the opportunity to work together in a group session halfway through the programme, which will include a mentor-led session introducing pupils to university life and help develop team working skills.
University Visit
During the year, mentees have the opportunity to visit The University of Sheffield. 
For Year 9 mentees, the University visit will incorporate academic taster sessions introducing mentees to the academic aspects of university life, a tour of the University campus, and lunch in the Students' Union. 
For Year 12 mentees they will have the opportunity to visit the University on a pre-application Open Day, with mentor support, and a University Taster Day. Year 12 mentees also have a residential experience opportunity where they will stay overnight in University Accommodation. They will continue mentoring into the first few months of Year 13, to support them through the decision making period for their next steps. 
End of Programme Events
At the end of the programme, Year 9 participants and their parents/carers are invited to visit The University of Sheffield for a graduation-style Celebration Evening. Each mentee is awarded a certificate, with special recognition for mentees who have engaged particularly well with the programme.
Year 12 mentees complete the programme in Year 13; along with their parents/carers, they are invited to visit The University of Sheffield for a Celebration Evening.
Programme outcomes – Year 13 Mentees
Adjusted offer
In line with our Access Sheffield policy, Year 13 participants who successfully complete all required aspects of the US in Schools Mentoring will be eligible for an alternative offer equivalent to one or two A Level grades below the standard entry requirements for their course, where all other requirements for the course have been or can be met (for example required subjects, GCSE requirements, pre-entry tests, and portfolio requirements).
To qualify for an adjusted offer for Medicine or Dental Surgery, Year 13 mentees must have participated in the additional elements of the programme offered to those who are studying the necessary A Level subjects and prerequisite GCSE subject requirements.
Should participants want to take a 1 x year gap break before applying to The University of Sheffield or need to re-sit A Levels to achieve a higher grade, the adjusted offer would be made available in the following year only.
Taking part in the US in Schools Mentoring programme shows commitment and could enhance a participant's university application. However, it does not guarantee participants a place at university, places are subject to availability. Participants can only be registered on one sustained Widening Access programme at the University of Sheffield at any one time.
Downloads
US in Schools Mentoring Guide (PDF, 810KB)
---
Information for schools
Information for Schools and Colleges
The US in Schools Mentoring programme aims to raise participants' aspirations and their awareness of Higher Education through regular weekly 1-1 mentoring, during term time, by meeting our trained Student Mentors who are currently studying at University.
The benefits for schools/colleges participating in the programme
Schools/colleges often find that participation in the programme contributes to:
Improving pupils' attitudes to learning, raises aspirations, and helps to improve attainment
Positive partnerships with staff and students at The University of Sheffield
Promotion of Widening Access to Further and Higher Education
Raising the awareness of and aspiration to Higher Education to the wider school/college cohort
Enhanced or enriched curriculum through university mentors' support 
The school/college improvement agenda
Eligibility Criteria
Academic Criteria
Year 9
Be on target to achieve a minimum of 5 GCSEs grade 9-6, plus English at Level 4, if not already included
Year 12
A Level (or equivalent) requirements: No specific subject requirements but students should be studying at least 3 A Levels or equivalent and at least 2 should be on the University's acceptable subject list. Prior GCSE requirements: minimum 5 A*-B (9-6), plus a minimum of C (4) in English if not already included.
Widening Access Criteria
Pupils must:
And meet one or more of the following:
Are from a low progression to HE area
Are a Looked After Child/Young Adult Carer/Estranged student
Are a student with a declared disability
Data Sharing
For the University to check the eligibility of pupils for the programme, partner schools/colleges will be asked to share elements of personal data of the pupils they wish to be considered. This is covered by a Data Sharing Agreement between the University of Sheffield and partner schools. 
You can see a copy of the Data Sharing Agreement in the 'Downloads' box to the right.
Downloads
Data Sharing Agreement USiSM and Partner Schools (PDF, 124KB)
---
Information for parents and carers 
If your child has been selected by their school/college for the programme, you may want to find out more about what's involved and how the programme works.
Current students from The University of Sheffield work as Student Mentors in your child's school/college to support them in a variety of ways. Generally, your child's Student Mentor will help them discover more about Further and Higher Education, and also focus on:
Homework help, coursework support, and exam preparation
Providing constructive criticism and signposting useful learning resources
Study skills e.g. note taking, revision techniques, and time management
Supporting personal skill development through activities that require critical thinking, self-confidence, and teamwork
Exploring mentees' strengths and interests to map out future career/education pathways and set goals to achieve them
Providing information and guidance about future career and education opportunities
Introducing mentees to university student life e.g. study, finance, university courses, and types of institution
Student Mentors focus on the areas above to help build your child's self-confidence around their own capabilities. They concentrate their efforts to improve your child's attainment and raise aspirations. They will also direct your child to information sources, and encourage independent learning, to enable your child to make informed decisions about their future education and career choices.
Your child will meet their Student Mentor for regular weekly 1-1 mentoring sessions, during term time, throughout the academic year. Each weekly session will last 30 minutes in school/college but outside of the classroom environment.
Downloads
Guide for parents (PDF, 630KB)
---
Our student mentors
The Student Mentors selected to participate in US in Schools Mentoring are:
Current University of Sheffield students undertaking a degree course (either Undergraduate or Postgraduate)
Current University of Sheffield students who have usually faced barriers to learning in their own education e.g. first family member to enter Higher Education 
Only accepted on to the programme after taking part in a rigorous selection process, including an application form, group interview, individual interview, and receipt of a satisfactory reference
Required to complete an enhanced check with the Disclosure and Barring Service (DBS) prior to working in their allocated school
Only sent into school once they have undertaken a comprehensive training programme delivered by the US in Schools Mentoring team, who are approved providers through NCVO Mentoring and Befriending Foundation. Training is also supported by the University's School of Education and experts from the Careers Service and Financial Support Team.
Student Mentor training consists of:
Initial Mentor Training (two full-day sessions) before mentoring begins covering topics ranging from establishing supportive relationships to child safeguarding;
Two Continuing Professional Development (CPD) workshops in to monitor mentor progress and build on their mentoring skills considering their in school experience so far.
---
Contact us
Email: mentoring@sheffield.ac.uk
We are currently working remotely so our usual landline phone lines are not in use. To arrange a call back please email us as listed above. 
All activities are subject to change and may be amended to adhere to any local restrictions due to Covid 19 
Connect with us
Be the first to know about activities at the university as well as support that we can provide to you and your students.