Dr Caterina Weber
School of East Asian Studies
Teaching Associate in Chinese Language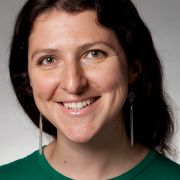 caterina.weber@sheffield.ac.uk
Jessop West
Full contact details
Dr Caterina Weber
School of East Asian Studies
Jessop West
1 Upper Hanover Street
Sheffield
S3 7RA

Profile

Dr Weber holds a PhD from the School of Contemporary Chinese Studies/School of Sociology and Social Policy at the University of Nottingham, UK. Her doctoral thesis is a case study on the Chinese-English literary translation magazine Renditions.

Dr Weber completed her BA at the University of Geneva in her native Switzerland, and moved to the UK in 2006 to take a MSc in Chinese Business and International Relations at the University of Sheffield. She then worked at the Confucius Institute at the University of Sheffield before embarking on a PhD.
Qualifications

MSc (SEAS, Sheffield); PhD (Nottingham)
Research interests

Dr Weber's current research interests are in line with the focus of her PhD thesis, namely the process of translating literary texts from Chinese to English, and on what role some of the widely acknowledged differences between these two languages and their respective cultural contexts can play in a translator's work.

Published academic translations (CHN-EN)

Guo Yanli (2016), "'Creation through Translation' in Early Twentieth-Century Women's Fiction: On a Literary Trend in the Initial Stages of Cultural Exchange between China and the West". Journal of Chinese Humanities, Vol. 2, Issue 1. Pp 1-17. Tr. Caterina Weber.
Su Xiaowei (2017), "Researching the Image of the Yellow Emperor in China's Early Textual Sources and Archaeological Materials". Journal of Chinese Humanities, Vol. 3, Issue 1. Pp 48-71. Tr. Caterina Weber.
Cao Feng (2018), "Pre-Qin Daoist Reflections on the Xianneng". Journal of Chinese Humanities, Vol. 4, Issue 1. Pp 65-90. Tr. Caterina Weber.
Teaching activities

My focus at SEAS is on teaching Chinese language across levels.

This semester, I am teaching EAS2025/6 Reading, Speaking, Listening, Writing and Translation, all EAS314/3025 Chinese language classes, as well as 1023 Vocabulary and Grammar Review and 1024 Listening.