Dr Hiroaki Richard Watanabe
BA, MA, DPhil
School of East Asian Studies
Lecturer in Japanese Studies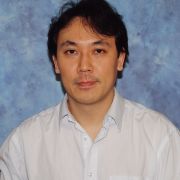 h.watanabe@sheffield.ac.uk
Jessop West
Full contact details
Dr Hiroaki Richard Watanabe
School of East Asian Studies
Jessop West
1 Upper Hanover Street
Sheffield
S3 7RA

Profile

Dr. Watanabe joined the School of East Asian Studies as a Lecturer in 2010. He is a specialist of Japanese/comparative political economy and the international relations of East Asia. He has conducted research on comparative politics of labour market deregulation in Japan and Italy, labour's social movement as a response to deteriorating working conditions in East Asia, Japan's regulatory reforms in financial markets, the comparative political economy of work precarity, and the Sino-Japanese economic rivalry in pursuit of economic leadership in East Asia. Before he moved to academia, he was a legal analyst in a multinational Japanese trading company. In Spring 2019, he was a visiting professor (Kiriyama Professor) at the University of San Francisco. He is interested in learning different languages and cultures and travelled to more than 80 countries (in addition to living in the United States, Australia, Italy and Japan)
Qualifications

BA (Tokyo)
MA (Yale)
DPhil (Oxford)
Research interests

Dr. Watanabe's general research interests include Japanese/comparative political economy and the international relations in East Asia. Building upon his research on Japanese and comparative politics of labour market deregulation, his current research examines the politics of work precarity in Japan since the 1990s from a comparative perspective. For this purpose, he analyses public policies and policy-making processes related to labour market reforms and the social security system that contributed to the increase in work precarity. Through this research, he aims to contribute to the literature of the socio-economic impact of labour market reforms and labour unions' response under neoliberal globalization. He also investigates the political economy of the Sino-Japanese rivalry in pursuit of economic leadership in relation to the rise of China and the regional economic integration in East Asia.
Publications

Books

Journal articles

Book reviews
Research group

SEAS Research Cluster

Power, Cooperation and Competition in East Asia

Associated Research Groups and collaborators

The Sir Bernard Crick Centre - Associate Fellow
Grants

GB Sasakawa Foundation Grant, 2015 (Japanese employees' working conditions and the deregulation of regular employment in Japan)
Santander Research Mobility Award, 2014 (Political economy of the Sino-Japanese relations in regional economic integration in East Asia)
Japan Foundation Endowment Committee Grant, 2014 (Japanese labour unions' engagement in precarious employment and working poor)
Japan Foundation Endowment Committee Grant, 2011 (Political and gender analysis of income inequality and poverty in contemporary Japan)
Toshiba International Fund, British Association for Japanese Studies, 2008
Norman Chester Fund, Department of Politics, University of Oxford, 2006

Dr Watanabe also had research affiliations with the Dept. of Welfare and Labour Studies, Università degli Studi di Milano and the Institute of Social Sciences, University of Tokyo.
Teaching interests

Dr. Watanabe's teaching philosophy is that teaching should be student-oriented. Based on this philosophy, he aims to avoid his lecture being mere 'information transmission' and increase interaction with students not only in seminars but also in lectures by using several teaching methods such as small-group discussion, frequent use of the relevant video clips and the provision of guidance on group projects in class. This provides students with greater opportunities to engage in the class. Dr. Watanabe relates general learning outcomes to students' acquisition of useful skills such as: identification of major issues from a comparative and historical perspective; critical and systematic analysis by applying relevant theoretical and analytical concepts; use of relevant data and academic sources to support arguments; and presentation of coherent arguments. He designs course curriculums in light of students' achievement of these learning outcomes and use feedback for the purpose of formative assessment so that students can formulate their own effective learning methods. Dr. Watanabe encourages a diverse range of students, especially international students, to actively participate in the class.

Research Supervision

Dr Watanabe is currently supervising PhD students in the fields of Japan's national security initiatives and South Korea's populism. He previously supervised PhD students (both completed successfully) in the fields of the politics of health insurance reform in Japan and South Korea and Anglo-Korea relations in 1895-1905.

He is willing to supervise PhD research in the fields of comparative and Japanese politics and political economy, Japanese labour market and employment relations, and the international relations and political economy in East Asia.
Teaching activities

Dr. Watanabe has taught the following modules

EAS3031  Researching Japan 1
EAS3032  Japan Research Project 1
EAS6236  Postwar Japanese Politics

Also, Dr. Watanabe taught in the Center for Asia Pacific Studies at the University of San Francisco as the Kiriyama Professor and held the following workshops in Spring 2019:

'Labor migration in East Asia'
'Labor market reform in Japan and its socio-economic impact'
'Japan's pursuit of the Trans-Pacific Partnership in the context of the rise of China'
Professional activities

Media expertise

Dr Watanabe welcomes interviews on various issues related to Japanese politics, economy, society and employment relations as well as the international relations in East Asia.

He has appeared several times on live TV programs on ABC, BBC and Channel NewsAsia in Singapore. He has provided his expert opinion on several issues as below:

'The coronavirus and the Tokyo Olympics 2020', ABC News, April 2, 2020

'Japanese Emperor Akihito's intention to abdicate', BBC News Channel, August 8, 2016

'TPP (Trans-Pacific Partnership) negotiation scenario'. World Tonight, Channel NewsAsia (Singapore), October 4, 2015

'Japan's general election 2014'. News Pulse, Channel NewsAsia (Singapore), December 14, 2014

'Abenomics and Japan's snap polls', Between the Lines, Channel NewsAsia (Singapore), November 19, 2014

'President Obama's visit to Japan', News Pulse, Channel NewsAsia (Singapore), April 24, 2014

'US Vice President Biden's visit to East Asia', News Pulse, Channel NewsAsia (Singapore), December 5, 2013

Below you find video clips of his TV interviews with BBC on Japanese emperor's intention to abdicate and with Channel NewsAsia on US Vice President Biden's visit to East Asia.

Please contact him by email to arrange an interview.

Invited talks and public lectures

Center for Asia Pacific Studies, University of San Francisco, May 2019

-     'Prospects and challenges for the Japanese economy'

St Petersburg University, Russia, November 2018

-     'The Socio-economic impact of labour market reform in Japan'

Baillie and Gifford (Asset management company based in Edinburgh), June 2017

-     'The regulatory reform of Japanese labour and employment law'

CCOO, Foundation of Workers' Commission of Catalonia Confederacy, Barcelona, May 2017

-     'The struggle for revitalisation by Japanese labour unions: Worker organising after labour-

       market deregulation'

Japan Society, London, February 2017

-     'New Abenomics and Japan's labour market policy'

Nissan Institute of Japanese Studies, University of Oxford, January 2015

-     'Labour market deregulation in Japan: Its causes and consequences'

Daiwa Anglo-Japanese Foundation, London, January 2015

-     'Book launch event: Labour market deregulation in Japan and Italy: Worker protection

       under neoliberal globalisation'

Online Articles

'Coronavirus in Japan: Why is the infection rate relatively low?' Conversation, Match 17, 2020.

'The case against Abe's constitutional amendment: Abe's proposed amendment to the "peace clause" of Japan's constitution will do little to improve the security environment in East Asia', East Asia Forum, April 5, 2018.

'Amid an acute labor shortage, Japan's workers endure longer hours, less protection', World Politics Review, November 6, 2017.

'Japan's immigration boost will be small and brief', Oxford Analytica, 3 October 2014.

'Abe's labour market reforms unlikely to boost growth', Oxford Analytica, 5 June 2014.