Can you capture East Asian Culture in a photograph or a piece of artwork you've created?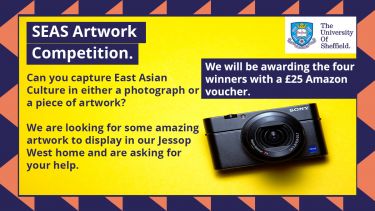 About the contest
We are looking for some amazing artwork to display in our Jessop West home and showcase on our corridors and are asking for your help!
Artwork can be of anything you feel is representative of East Asian culture either within or outside the region.
Artwork can include photography, painting, drawing or digital design. 
Participants can submit up to 3 pieces of artwork and are asked to include a short title and description along with each photograph, to explain how the artwork came about and what it means to you.
Please note we will also be sharing your wonderful creations on social media.
Entries can be submitted under one of the four subcategories:
·East Asian Culture
·Japanese Culture
·Chinese Culture
·Korea Culture
Deadline: 
Tuesday 31st May
The prize:
There will be a winner for each category, and all four winners will receive at £25 Amazon voucher.
How to submit your entries:
Please send across your entries to our Marketing Officer, Mollie Shadwick at m.shadwick@sheffield.ac.uk.
Questions?
Make sure to email m.shadwick@sheffield.ac.uk with any questions.
Good luck!
A world-class university – a unique student experience
Sheffield is a research university with a global reputation for excellence. We're a member of the Russell Group: one of the 24 leading UK universities for research and teaching.