White Rose Mechanistic Biology DTP Diverse Talent Scholarships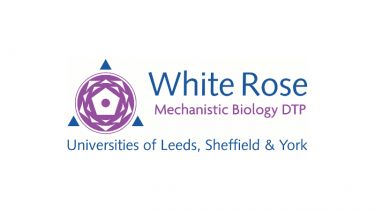 Scholarships commencing October 2022
Deadline for applications: 31 March 2022
The White Rose Doctoral Training Partnership (DTP) is committed to creating a more diverse and inclusive environment within its postgraduate research programme. We are working to increase diversity and are encouraging applications from all backgrounds to apply for a fully-funded PhD scholarship as part of the White Rose DTP.
Are you excited about Biology, Genomics, Biological Chemistry, Computational Biology, or any area of Mechanistic Biology and its strategic application?
If so, and you are on course for a high 2i or a First class degree in your undergraduate study (or a Merit or above in a Master's degree), please apply to our PhD programme.  We offer a 4-year, fully-funded programme of integrated research and skills training, with cross-disciplinary supervision and a 3 month professional internship with an external organisation.
The studentships are fully funded for four years, and it is expected you will complete your PhD within this four year time period. You will receive a minimum 'stipend' of £15,609 per year for your living costs, which is paid to you in regular instalments. The stipend is a kind of salary for postgraduate students that is tax free and does not need to be paid back. It is what you use to pay your rent and food and other living expenses. In addition, your tuition fees and lab costs are also paid by the studentship.
The opportunity 
The White Rose BBSRC Doctoral Training Partnership (DTP) in Mechanistic Biology brings together world-class molecular and cellular bioscience centres at the Universities of Leeds, Sheffield and York, offering PhD projects in cutting-edge molecular, genetic and biochemical research.  The DTP is committed to encouraging and supporting diverse talent. We are keen to attract the best talent from all backgrounds and encourage applications from candidates with outstanding potential, who will greatly benefit from the DTP training programme, and go on to contribute to UK and global society.   Research projects are available at the Universities of York, Sheffield, and Leeds. A list of projects available at the University of Sheffield can be found below:
A novel opportunity to combat the global Phosphorus crisis: investigating structure function relationships of an atypical phosphatase in soil bacteria.  Lead Supervisor: Prof Tim Daniells
Understanding the role of intracellular trafficking in in vivo cell polarisation during tissue patterning using state-of-the-art imaging and gene manipulation tools.  Lead Supervisor: Prof David Strutt
In vivo investigation of spontaneous activity in the prehearing mammalian auditory system.  Lead Supervisor: Prof Walter Marcotti
How do epithelial cells close wounds and initiate regeneration?.  Lead Supervisor: Dr Henry Roehl
In vitro generation of human limb-like cells.  Lead Supervisor: Dr Anestis Tsakiridis
How do we make and process the RNA involved in DNA repair.  Lead Supervisor: Prof Stuart Wilson
Silicon enhances stomatal function and protects crop yields.  Lead Supervisor: Prof Julie Gray
Molecular mechanism of organellar replication in Plasmodium falciparum.  Lead Supervisor: Dr Indrajit Lahiri
Exploring the nature of transient biological electron transfer complexes at the single-molecule level.  Lead Supervisor: Prof Matt Johnson
Influence, and buffering, of genetic variation on miRNA regulation.  Lead Supervisor: Dr Ian Sudbery
How does S. pneumoniae acquire extracellular DNA from its natural environment to drive antibiotic resistance?.  Lead Supervisor: Prof Mack Durham
Understanding tissue patterning in a fluctuating environment.  Lead Supervisor: Dr Alexander Fletcher
Understanding the mechanobiology of DNA-protein interactions at the single-molecule level.  Lead Supervisor: Dr Tim Craggs
How we assess your application
Your application will include your undergraduate transcript, and other details of your academic background, as well as your statement of research interests and an optional contextual statement. We will also request references from two people (usually academics) who can support your application by telling us about your potential. A DTP selection panel representing the Universities of Sheffield, York and Leeds will assess these documents and invite the best candidates for interview.
How to apply
Please note this opportunity is available to applicants who are eligible to pay academic fees at the UK rate only.
Consider the titles and descriptions of PhD projects available at Sheffield, York and Leeds. Once you identify some projects that interest you, apply through the university that lists your top choice project. To apply for the projects based at the University of Sheffield applicants should complete an online application form and attach the following documentation to support their application. 
a full academic CV
degree certificate and transcripts of marks
Personal statement (see below)
Research statement (see below
In order to widen access to postgraduate research to those who may not have previously considered a PhD as a viable option, we are working to improve the recruitment and selection process for applications to the White Rose DTP. As part of this, you will have the opportunity to provide a 'contextual statement' of about 150 words so you can tell us any details of your personal circumstances that you think are relevant. This information will help us with the decisions made by our selection panel during the short-listing for interviews. You may like to tell us about any of the following circumstances: your ethnicity; if you are in the first generation of your family to go to university; if you are from a low-income background or single-parent home; if you have received a means-tested scholarship; if you have a disability; or anything else you wish to disclose. We would also like to know about your motivation and what science excites you; so we ask you to write about 250 words on your research interests.
To help us identify that you are applying for this scholarship please ensure you provide the following information on your application form;
Qualification applying for: Select Doctoral Training Course
Doctoral Training Course: Select BBSRC White Rose DTP (School of Biosciences: Molecular Biology and Biotec)
For source of funding please state you are applying for a White Rose DTP Diverse Talent Scholarship
Project details: Enter the project you are applying for
As an international research-intensive university, we welcome students from all walks of life and from across the world. We foster an inclusive environment where all can flourish and prosper, and we are proud of our strong commitment to student education.  Within the University of Sheffield we are dedicated to diversifying our community and we welcome the unique contributions that individuals can bring, and particularly encourage applications from, but not limited to Black, Asian, people who belong to a minority ethnic community, people who identify as LGBT+; and people with disabilities. Applicants will always be selected based on merit and ability. 
Entry requirements
Applicants to research degree programmes should normally have at least a first class or an upper second class British Bachelors Honours degree (or equivalent) in an appropriate discipline.
Contact details
For further information please contact Linda Harris
e-mail: linda.harris@sheffield.ac.uk
Further information can be found on the White Rose Mechanistic Biology DTP Website.
Find a PhD
Search for PhD opportunities at Sheffield and be part of our world-leading research.