Information about the Swarm Awareness project, the team and the publications produced.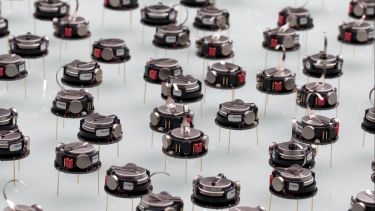 Swarm systems are composed of a large number of autonomous agents, such as robots or sensors, which interact with each other and with the environment to perform a common task.
A typical feature of swarm systems regards the limited knowledge of the agents, which have sensing capabilities limited to a local range around them. Therefore, each agent has access to limited information and has partial knowledge of the status of the global swarm.
This is a challenge for the deployment of swarms for collective tasks, such as decision-making. While decentralised collective decision-making mechanisms are being developed, the question of how individual agents recognise in a decentralised way that a group decision has been reached, and what it is, are usually deferred.
This project aims to endow the swarm with awareness of its own state, thus allowing individual agents to reach a consensus on the global swarm state. Particular examples of states to measure are swarm size (number of agents), fraction of the swarm committed to a unique decision (quorum), and super-threshold decision (decision-state).
The challenge is to allow the swarm to reach a consensus on its own global state. Each agent can noisily estimate this state, however, different agents may disagree. To reach an agreement on the global swarm, individuals use consensus decision algorithms.
We refer to decentralised sensing of swarm state as Swarm Awareness. In case of quorum sensing, this can be seen as a meta-decision, where the swarm must decide if the decision has been taken or not.
During this project, we will look at solutions that social insects implement to solve similar problems. The goal will be both to better understand insects' collective behaviour and to take inspiration from nature to engineer better artificial swarm systems.
---
Principal investigator
James Marshall is the head of the Complex Systems Modelling Group and of the Behavioural and Evolutionary Theory Lab. Other than the Swarm Awareness project, James is also the Principal Investigator of the ERC Consolidator project DiODe and of the EPSRC Brains on Board project.
Previously, he led the EPSRC Green Brain project. His research has been published in high-impact venues such as Science and PLoS Computational Biology, and featured in mainstream media (Discovery Channel, BBC television, BBC Radio 4, New Scientist). 
Principal investigator
Dr Andreagiovanni Reina is a research fellow in Collective Behaviour at the Université Libre de Bruxelles (Belgium) and a visiting researcher of the Natural Robotics Lab at the University of Sheffield. His research interests are collective decision making, swarm robotics, and distributed cognition.
From 2015 to 2020, Andreagiovanni worked on the DiODe project led by Professor James Marshall at the University of Sheffield, and was the researcher responsible for more than 900 Kilobot robots and the related Augmented Reality for Kilobot (ARK) infrastructure at Sheffield Robotics.
He holds a PhD in Applied Sciences from IRIDIA, Université Libre de Bruxelles, Belgium, and an MSc in Computer Engineering from Politecnico di Milano, Italy. He has been a researcher in six European projects on distributed robotic systems since 2009.
Research associate
Dr Arindam Saha is a research associate at the University of Sheffield working on the Swarm Awareness project. In 2018, he completed his PhD at the Theoretical Physics (Complex Systems) Department of the Institute for Chemistry and Biology of Marine Environment at the University of Oldenburg, Germany, under the supervision of Prof Ulrike Feudel.
During his PhD studies, Arindam investigated extreme events in networks and coupled pairs of excitable systems. He graduated with a MSc degree from the Indian Institute of Science Education and Research (IISER), Kolkata, India in 2015, and he majored in Physics with a focus on non-linear dynamics and dynamical systems theory.
---
---
The Swarm Awareness project is funded by the Office of Naval Research Global (ONRG) under grant no. 12547352 and conducted at the University of Sheffield in Sheffield Robotics, Department of Computer Science. The project started on 4 February 2019, when Dr Arindam Saha joined the Swarm Awareness team at Sheffield Robotics.
Flagship institutes
The University's four flagship institutes bring together our key strengths to tackle global issues, turning interdisciplinary and translational research into real-world solutions.