Leverhulme Early Career Fellowships
The School of Languages and Cultures at the University of Sheffield invites outstanding postdoctoral candidates to apply for the 2023 round of the Leverhulme Trust Early Career Fellowship scheme.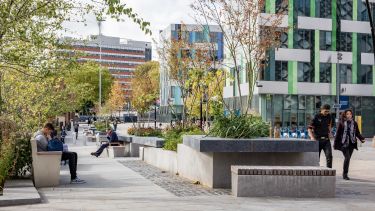 The School
Our School has a thriving research community of academic staff and postgraduate students. We engage in research which spans a wide range of languages (Catalan, Czech, Dutch, French, German, Luxembourgish, Portuguese, Russian and Spanish), geographical regions (Europe, the Americas, Africa and the Middle East) and disciplinary and thematic specialisms (Intellectual History and Politics; Linguistics; Migration, Culture and Community; National and Transnational Literatures; Visual Cultures, Film and Performance).
The School is housed within the Faculty of Arts and Humanities, which comprises the departments of History, Philosophy, and Music; the schools of English, East Asian Studies, and Languages and Cultures; and the institution-wide language programme.
---
Applying
We would be delighted to hear from postdoctoral candidates working in relevant subject areas who are considering applying to the scheme, and will offer support and feedback in preparing the final application. Please start your search by looking at our staff list (https://www.sheffield.ac.uk/slc/people/academic). Mentors should be willing to sponsor your application and to give you subject-specific feedback on the application as it moves forward. If you cannot find a mentor in your research area or language area, then it is possible that the School is not the best place to host your application.
The deadline for receipt of your Expression of Interest Form (download) and CV (2 pages maximum) is Friday 2nd December 2022. 
Applications should be sent to the staff member(s) you wish to supervise your interests, copying in our Departmental Director of Research and Innovation, Dr Lauren Rea, l.rea@sheffield.ac.uk. Expressions of interest submitted after this date cannot be considered. Candidates selected must be willing to commit to applying with the University of Sheffield.
If you are interested in applying, you must first check that you meet the Leverhulme Trust's eligibility criteria. Details of the Early Career Fellowship scheme and eligibility criteria can be found here: https://www.leverhulme.ac.uk/early-career-fellowships
If you have additional queries about the process, please do not hesitate to get in touch with our Departmental Director of Research and Innovation: Dr Lauren Rea
Flagship institutes
The University's four flagship institutes bring together our key strengths to tackle global issues, turning interdisciplinary and translational research into real-world solutions.