MA Intercultural Communication (MAIC)
Quick-fix solutions to questions of cultural difference are no longer suitable in today's globalised world, where interactions in multinational organisations, international projects and multicultural communities occur daily. As a result, intercultural communication is an exciting field of study.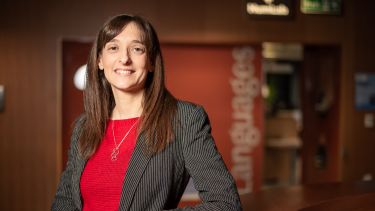 The MA in Intercultural Communication will let you create a bespoke course within a clear structure that reflects your unique interests and ambitions. The programme also allows you to specialise in Digital Information or Audio Visual Media, if you wish. 
The study of intercultural communication is designed to meet your needs for communicating across a wide range of cultural groups. You will critically engage with the major intercultural questions and issues relevant to your future profession. The course combines the study of theory and practice with critical thinking and reflection and as a result, intercultural communication is an exciting field of study.
You will develop practical, ethnographic research skills, an ability to make complex decisions with real outcomes, and the professional confidence to last you a lifetime in the intercultural field. We enable you to develop your intercultural knowledge and skills and apply them to your area of interest, whether you have a background in languages, social sciences or science and engineering. Those who have high-level intercultural knowledge and skills are highly employable in industries such as human resources, international business, audio visual media, education, digital information or international project management.
This course will enable you to develop the professional and transferable skills you need to progress to a career in this field, or for further study through a PhD.
---
Elena, MAIC graduate and European Marketing Manager at Papa John's Pizza: 
---
Course description 
The MA in Intercultural Communication is one of the first MA programmes in intercultural communication in the UK. It will develop your intellectual, analytical and reflexive abilities which make you indispensable in a wide range of careers with an international and/or intercultural perspective.
Ethnography, Reflective Practice: Essential research skills, intercultural lens on world's pressing problems; work placement opportunities;

Intercultural Communication in Practice: Hands-on intercultural problem-solving; finding creative solutions to problems; mediation in conflict situations;

Take an intercultural perspective on your personal and professional interests – solve problems which others don't know how to.
Students can also choose to study a specialisation on this programme. Choose between Digital Information and Audio Visual Media. Whichever specialisation you choose, you will have flexibility in your choice of 3 optional modules, enabling you to build your own route responding to your particular interests and needs
Module
Credits

Concepts and Approaches in Intercultural Communication

This module aims to develop an understanding of the main concepts and approaches to the study of intercultural communication and develop the ability to analyse and evaluate their relative significance.  You will consider the concept of culture from a variety of perspectives (including applied linguistics, ethnography, essentialist and non-essentialist approaches), and will study topics such as stereotyping and prejudice, identity, culture shock, and the role of language in intercultural communication. A wide range of real-world examples will be examined, such as media reports, international communications, multicultural situations, and intercultural problems raised by students.

15

Intercultural Communication in Practice

This module is designed to develop your intercultural competence with a view to becoming an intercultural mediator and effective communicator in an international/multicultural workplace. It requires participants to combine their knowledge of approaches to intercultural communication with real-time situations, thus enhancing their awareness of the values by which they and others operate. Emphasis will also be placed on the centrality of language in the intercultural communication process. You will take an active role in seminars; these are designed to develop intercultural learning through consideration of critical incidents, materials analysis and multilingual discussion. You will: understand the value and limitation of cross-cultural analysis; function with increased awareness and effectiveness in intercultural encounters of direct relevance to the workplace; evaluate existing resources available for developing intercultural competence; and propose, select and/or create activities/courses/materials for intercultural interventions.

15

Research Methods in Modern Languages

This module will introduce and explore a range of methodological approaches and techniques that are relevant to students of Modern Languages and Cultures. It will enable students to consider the philosophical underpinnings of research and its design, identify, assess, exploit and create sources and data, and adhere to data protection, intellectual property and ethics requirements. Students will engage with different theoretical models and debates, and a range of tools for accessing information. Students will be required to attend generic research methods sessions as well as those which are of greatest relevance to their research topic(s).

15
Reflective Practice: Ethnography
30
Dissertation
60

Further Ethnography or Key Issues in Intercultural Communication

15
Induction and Transition: SLC MA Study Support
0
Module
Credits

International Project Management

This module deals with the main issues involved in international project management (IPM), as well as the cultural components of international communication. It is delivered through seminars that should be followed by the students' own research to develop independent thinking. This module aims to: introduce students to the main issues involved in international project management, such as project definition, planning, execution and evaluation; identify, understand and discuss the main intercultural issues and risks of international project management and enable students to reflect on their development of employability and entrepreneurial skills.

15

International Business

15

Translation Skills.

This is a practical translation module which will allow you to develop advanced translation skills in a variety of subject areas and genres as well as develop a range of professional translation skills. You will analyse material from the word to the text level and examine theoretical and practical issues in the translation of authentic source language texts. You will examine frequently occurring translation problems and a range of strategies, which can be used to solve them. You will learn how to justify your choice of strategy. Translation modules are taught on a variety of different teaching styles.

Languages available: Spanish, Portuguese, Dutch, German, French, Russian, Czech into English; English into Italian and Chinese.

15

Language in Context

This module sets out to explain what we do when we use language in social and cultural contexts both within and across cultural boundaries. We will address questions of direct relevance to an understanding of translation and intercultural communication, including: To what extent do speech acts and politeness conventions differ culturally? What 'background clues' do intercultural communicators and translators need when interpreting a message? How do metaphors work across languages? What linguistic devices are employed in conveying a speaker's/writer's ideological position? We will use a range of analytical tools and theoretical perspectives to explore a variety of examples of non-translated, translational and intercultural language use. The module aims to provide you with a deeper and broader awareness of linguistic issues bearing upon intercultural communication and translation practice.

15

Film Translation of Literary Classics

This module aims to explore the process of adapting works of literature to the cinema screen.  You will consider theoretical and practical approaches to the screen adaptation of literary works through a combination of film screenings, lectures and workshops. The term "literary classics" is interpreted broadly to include popular works of fiction. Narrative and adaptation theory will be examined and considered in relation to a range of film adaptations. You will be encouraged to read film reviews and integrate them into seminar discussions on the adaptations, which you have viewed in the weekly film screenings.

15

Enhanced Languages Project

This unit aims to enable MA students taking a foreign language module with the Languages-for-All programme to engage further with their independent learning of the language in relation to their Postgraduate studies. Designing, implementing, and assessing personal strategies to become more effective independent learners, students will choose and explore specific aspects of the language from a linguistic and a sociolinguistic perspectives. Most of the work will be carried out independently but two seminars will introduce the theoretical and practical framework for the completion of a Project Portfolio and provide a forum for the discussion of appropriate research options

5

Tandem Learning for Intercultural Communication

You will work in collaboration with a cultural other (someone who they consider to be culturally different), with whom they will communicate on a regular basis (2 hours per week). During the module, you will attend an individual advisory session, to set prioritise and plan learning goals and identify methods to achieve these goals. You will also take part in the world-wide SOLIYA Project. You will build highly developed reflexive and communication skills, exercise responsibility for the organisation of your own learning, establish and maintain contact with your partners, negotiate and set objectives; and seek and offer information and opinions to enable development of intercultural communicative competence. This module is of particular relevance for students who want to develop their informal and interpersonal intercultural knowledge and skills.

15

Localisation for Linguists

This module focuses on the role of the linguist and/or translator in the localisation industry. We will look at the industry itself and the activities associated with it, as well as the influence of technology on the localiser's job and cultural issues in localisation. We will also take a closer look at websites; learn how they are built and how to deal with them in terms of localisation. In this context we will focus on different kinds of software which help with the localisation of web content, software and graphics. The module will also look at translation memory tools and how they are used for localisation.

15

Concepts and Approaches in Translation Studies

This module aims to explore a range of concepts and approaches in relation to the process of translation and to offer an account of translation as an act of cultural and ideological mediation. You will study key concepts and approaches in translation studies including linguistic approaches and the concepts of equivalence, functionalism, domestication and foreignization.  These concepts and approaches will be examined in the context of examples from a variety of translation scenarios.

15

International Management

The first part of the module exposes students to the challenges and opportunities of managing internationally. The second part of the module covers management practices in four regions: North America, Europe, Africa and the Middle East, and Asia. The module provides students with management tools and frameworks that will enhance their effectiveness when operating internationally. It enables the students to identify, compare and contrast different management practices adopted internationally and appreciate the impact of national cultures and business systems on leadership styles, decision making styles, and interpersonal dynamics across cultures. NOTE: This module involves an Examination as part of the assessment

15

Teaching Writing in TESOL

This module will familiarise students with the theory and practice of how to teach writing in TESOL contexts. What approaches are there to teaching second language writing? Does correcting writing work? What evidence do we have for or against this? How should writing be corrected? What kind of comments should teachers provide on students' writing? How? Why? How should writing be assessed? What kinds of activities do TESOL textbooks use to teach writing? What approaches do they use? There will be practice in correcting, commenting on, and assessing writing.

15

Translation Technologies

This module is designed to enable students to become conversant in at least one CAT tool used widely in the translation industry. The module will also deliver core perspectives in the use and usefulness of CAT tools. Students will also receive teaching in relation to the use of Machine Translation and post-editing as well as core translation strategies. At the end of the module we expect that you will be able to: confidently use a CAT tool distinguish the types of text for which the use of a CAT tool is indicated identify and understand the differences between CAT and MT identify and understand the main tasks involved in a translation project employ professional strategies in translation through the application of a range of translation technologies

15

Theory and Practice of Subtitling

This module aims to explore key theoretical approaches screen translation and to give you the opportunity to acquire practical subtitling skills. Theoretical lectures alternate with practical subtitling classes where you will have the opportunity to relate theory to practice in practical subtitling projects using professional subtitling software. The module includes weekly film viewings of subtitled films.

15

Post-1945 British Drama, Film and Television 

This module provides the opportunity for parallel study of the British drama, cinema and television of the post-war period. This era saw the emergence of influential styles, prominent figures and landmark texts in all three artistic forms: e.g. the plays of John Osbourne (Look Back in Anger), television drama (Cathy Come Home) and key British films, such as Ealing comedies (The Man in the White Suit), retrospective war films (The Cruel Sea) and social problem films (Sapphire). The module will explore the evolving post-war cultural landscape to contextualise and critically appraise examples from these interrelated literary, performative and representational media.

15

Subtitling Project

This unit aims to give students the opportunity to further develop the technical skills acquired in the core module The Theory and Practice of Subtitling by applying them to an extended practical subtitling task. It will enable them to enhance essential technical skills of subtitling including spotting, timing, cueing, segmentation and the positioning of captions using professional subtitling software. By the end of the module we expect that students will be able to: i) Appreciate the technical aspects of screen translation; ii) Appreciate the practical constraints of screen translation; iii) Relate theory to practice in a practical subtitling project using professional subtitling software; iv) Use subtitling software to produce subtitles to appropriate standards for a subtitling project; and v) Investigate and present an individual subtitling project

15

Further Ethnography 

or

Key Issues in Intercultural Communication 

15
For those who wish to work as subtitlers and/or translators, the MA Intercultural Communication also allows you to specialise in  Audio Visual MediaThis specialisation  covers the theory and practice of audio-visual media and translation using Hollywood-approved quality AVT to professional and industry standards. The teaching is supported by themed viewings of international and European films.
You will be equipped with the skills needed for professional work in the audio-visual media industry; you become conversant with subtitling software and translation technology, which have been transforming the way in which professional audiovisual translators work.
Acquisition of skills which can be used in the audio-visual media industry, developing expertise in both intercultural communication and audio visual, media and translation

Heightened understanding of intercultural, film and translation-related issues encountered in audio-visual media industry 

Professional and industry standard software including Hollywood-approved quality AVT
Suggested specialist modules for  Audio-visual media:
| Module | Credits |
| --- | --- |
| Theory and Practice of Subtitling | 15 |
| Film Adaptation of Literary classics | 15 |
| Subtitling Project | 15 |
If you choose to specialise in Digital Information you can combine technological, intercultural and linguistic skills that will allow you to analyse, address and solve complex real-world digital information issues.
Global businesses are in great need for experts who are able to understand and analyse cultural issues in IT use. With a growing number of data warehouses and Internet-based e-businesses, this demand has widened to include global communicators in database design, search engine optimisation, responsive website design, and other technical issues.
Designed for those who wish to work managing multilingual data and in multilingual teams, the programme covers theory and practice of all aspects of the information management process, enhanced by your ability to adopt an intercultural perspective on digital information. You will develop practical skills in website design and software localisation using industry-standard software.
Our graduates are highly employable in any type of industry involving the global handling of information and communication, such as web design, website and software localisation, and human resources. 
Relate theoretical approaches in intercultural communication studies to the information manager's practical tasks of finding information, storing it for easy access, and delivering it to new target audiences in the most appropriate languages and media

Manage digital information, using up-to-date, industry-standard localisation and web design tools and other technology as appropriate

Develop independent research skills
Within the modules, there are options for focusing on your area of interest for your tasks and assignments.
Suggested modules for specialising in Digital Information. Students should choose 3 of the following optional modules:
| Module | Credits |
| --- | --- |
| Digital Business | 15 |
| SEO and Website Design | 15 |
| Researching Social Media | 15 |
| Localisation for Linguists | 15 |
Teaching and learning

MA Intercultural Communication consists of a variety of teaching and learning methods, including staff- and student-led seminars, small group work, and one-on-one consultations with staff. Independent learning and assessment methods include essay writing, project work and oral presentations. Students will have the opportunity to be evaluated and given feedback from an intercultural professional.

Most of your teaching will take place in small groups, meaning that you get to know other students and your tutors really well. You will find we have a wide range of assessment methods, designed to suit the demands of different modules. Alongside traditional written and oral exams, you might find yourself doing a group presentation, writing a blog, creating a portfolio or a video, or doing a translation project. All of these provide you with valuable skills for future employment. 

Visit us to find out more about the course from the Programme Leader, see our facilities and study spaces, and much more.

Careers

Our MA in Intercultural Communication opens up a wide range of career paths in a multitude of industries.

Graduates have entered careers as:

    Communications officers
    Journalists
    Intercultural trainers
    Consultants
    University teachers
    Project managers
    Company regional directors

Companies and organisations our graduates have gone on to include:

    Sheffield International College
    University of Leeds
    Together for Regeneration
    Communicaid
    Tesco
    Lambson Fine Chemicals (Yorkshire)
    Landrover (China)

Some of our graduates have also set up their own companies, or continued onto postgraduate research degrees.
Students on the International Project Management module were asked to create a video to promote intercultural communication at Sheffield: 
The content of our courses is reviewed annually to make sure it is up-to-date and relevant. Individual modules are occasionally updated or withdrawn. This is in response to discoveries through our world-leading research, funding changes, professional accreditation requirements, student or employer feedback, outcomes of reviews, and variations in staff or student numbers. In the event of any change we'll consult and inform students in good time and take reasonable steps to minimise disruption.
Information last updated: 23 March 2021
---
Explore all postgraduate courses
A masters from Sheffield means in-depth knowledge, advanced skills and the confidence to achieve your ambitions.