MA Mundus Crossways in Cultural Narratives
This Masters offers an exciting opportunity to obtain a prestigious, European Union-supported qualification with study in three European countries or in two European locations and one overseas.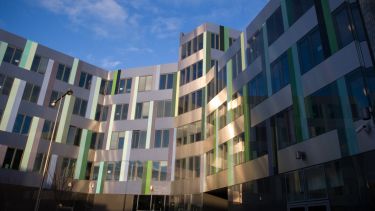 Overview
We are no longer accepting applications to this programme as it has been discontinued. 
The Crossways in Cultural Narratives programme is an EU-supported multidisciplinary, multilingual Masters programme. It is designed and taught by a consortium of twelve top European and North and South American universities:
The programme offers a full-time programme of postgraduate study in cultural and literary studies with a very wide range of possible pathways. You will follow a mobile study itinerary over two years. Study will take place in three European or North- or South-American universities chosen (with certain restrictions) from the twelve that make up the Crossways Consortium. You can study up to three of the following disciplines: English, Spanish, French, German and Portuguese. Italian is also available at St Andrews and Bergamo.
University of Bergamo (Italy)
University of Sheffield (England)
New University of Lisbon (Portugal)
University of Perpignan (France)
University of Poznan (Poland)
University of St Andrews (Scotland)
University of Santiago de Compostela (Spain)
Eberhard Karls Universitat, Tubingen (Germany)
University of Guelph (Canada)
Universidad Nacional Tres de Febrero UNTREF (Argentina)
University Iberoamericana (Mexico) - Associate University
Universidade Federal do Rio de Janeiro (Brazil) - Associate University
Structure
More information about programme structure, organisation, workloads and assessments is available from the main Mundus Crossways Masters website.
The main Sheffield focus is "Texts and Contexts", examining literary, discursive and cinematographic texts from the French, Iberian, English, German and Russian cultural arenas in their respective political- and social-historical contexts. However, Sheffield's exceptionally extensive and diverse range of modules can be incorporated in several other defined thematic pathways which students can choose to follow - or these modules can be part of a pathway which the student designs for him/herself in direct consultation with Sheffield tutors.
Semesters Two and Three will be spent at the same university (your 'Home University'). Your First and Fourth Semesters are spent at two other universities. (NB. It is not possible to study at both Sheffield and St Andrews; and nor can you study at Sheffield and Guelph, or at St Andrews and Guelph, within a single academic year).
In Semester Two, you EITHER (a) write a 'Short Dissertation' (or Pre-Dissertation) of approx. 10,000 words, OR (b) you write a shorter "Dissertation Report" of ca. 6,000 words AND undertake a short internship with an appropriate cultural organisation (of which you produce a written account). In Semester Four, you will write your main and final Masters dissertation (approx. 20,000 words) on an agreed topic.
The aims of the programme:
To prepare students for independent research at advanced postgraduate level
To offer students a programme that is qualitatively different from BA-level study by maximising opportunities for self-study and reflective practice
To focus on transferable research and learning skills such as critical thinking and reading, information retrieval and data presentation, oral delivery and written expression
To offer students the opportunity to study in several countries in order to develop multilingual communicative abilities and experience postgraduate study in multiple European and/or overseas contexts.
At the end of the degree, you will have a Master's from each of the three universities at which you've studied.
Modules
Modules were selected in relation to a common theme across the Crossways Mundus Masters programme: cultural crossways and hybridisation.
The wide choice of modules on offer enables you to pursue an individual study plan adapted to your professional and academic training. The main language of study at the universities is the national language (with the exception of Poznan), though some courses in other languages may also be offered.
You will obtain 30 ECTS credits in each semester of the Crossways degree (30 ECTS = 60 Sheffield credits).
In Sheffield this will normally mean two x 10-ECTS taught academic modules from the list below (you can choose modules from the School of Languages and Cultures, the School of English or the Department of History) plus a further 10-ECTS component: a language module in Semester 1; a Dissertation Progress Module (pre-dissertation) plus (optionally) a workplacement/internship in Semester 2; a Dissertation Report module in Semester 3. In Semester 4, you will take just one academic taught module while devoting most of your time and credits to finishing your Final Dissertation (Dissertation Completion module). The mark awarded to you for the Final Dissertation will apply to both the Dissertation Progress and the Dissertations Completion modules.
You should expect to take most of your modules in the School of Languages & Cultures. Some of these modules are based on final-year undergraduate courses, plus extra, small-group Masters seminars, and with revised learning outcomes (e.g., greater independent research skills, develop your own research questions) and assessment (e.g., longer essays).
Language modules in French, Spanish, German, Portuguese, Italian (and several other mostly European languages) offered at various levels. One of these will normally be taken by Semester 1 Crossways students. Students in other semesters cannot take them for credits, but they may be studied informally.
Autumn and Spring Semesters

Research Methods in Modern Languages (Jane Woodin - Autumn Semester) Compulsory and available for Semester 1 students only.

This module offers an introduction to key methodologies and techniques used in Languages & Cultures research and (where relevant) to their effective application. It aims to inculcate sound and ethical research habits, from the initial bibliographical research and literature review, through core organizational, critical and presentational skills, to the timely dissemination of results. By combining generic and discipline-specific input, it aims to make available a wide range of contexts against which students can test their own ideas.

Approaches to Literary and Cultural Studies (Craig Brandist, Henk de Berg & others - Autumn Semester, Spring Semester)

This provides an introduction to a number of the most important trends within twentieth-century literary and cultural theory. The student will become acquainted with the key tenets of the schools of thought studied, to a significant extent through close study of important texts. Discriminating critical engagement with theoretical concepts will be encouraged. The breadth and depth of the student's methodological resources will be enhanced. Probable topics covered: Marxism; Feminism; Deconstruction; Psychoanalysis; Hermeneutics. This course is normally taught fortnightly.

French Film Studies (Julia Dobson - Autumn Semester)

Ce cours aura pour but l' analyse du cinéma français modern (depuis les les années 60 jusqù à l'an 2000). Chaque film sera mis dans son contexte socio-culturel, et l'analyse compendra les éléments suivants: genre, stars, forme, thèmes. Les étudiants vont travailler en groupes pour présenter leurs propres analyses des films. (NB : group presentations are not assessed). The course is taught in French.

Literature and Politics of the 'Post(-)colonial' I and II (Audrey Small - Autumn and Spring semester) 

This unit focuses on gaining an understanding of what is meant by 'post(-)colonial', examining the different reactions to this term in different parts of the francophone world, in literature and in literary and political theory, and from the point of view of the various writers studied on the course.  

Haïti : La Tragédie (Histoire, politique et littérature de l'époque coloniale à nos jours) (Sophie Watt - Autumn semester)

This course consists of two consecutive 10-credit modules which consider the intricate history of Haiti and France from the colonial period up until the present day. The focus of the course will be to analyse the historical development of the Haitian nation via the prism of Western imperialism and especially French colonial and post-colonial history. Through the analysis of historical works but also of works of political science and works of fiction, this module will review the tragic history of Haiti and the ways in which this tragedy is closely intertwined with French imperialism and the development of global capitalism. The course is taught in French.

Gender and Sexuality in the Hispanic World (Phil Swanson - Autumn semester)

Students will examine a range of relevant primary and secondary sources and explore issues pertaining to gender and the ways in which alternative approaches to sexuality are expressed in literature. In so doing they will gain an understanding of the forms used by authors, the linguistic issues involved in dealing with taboo subjects and assess the effects of social and cultural change.

Questioning Spain (Rhian Davies - Academic Year) 

Students will examine specific moments or periods in Spanish cultural history from the late nineteenth century to the present day in which a questioning of the status quo is foregrounded. They will examine a range of key texts, primary and secondary sources, and explore the issues raised. In so doing, they will acquire sophisticated techniques in interpreting the discourse of cultural expression on such subjects as the nature of social and gender roles, "race" and ethnicity.

Contemporary Portuguese Language & Literature (Carmen Ramos Villar - Autumn Semester, Spring Semester)

This course can normally be taken in one of two specialisms; Portuguese Literature, and the Literature and Culture of the Lusophone world. The course has two components: firstly, the study of Portuguese language, secondly the study of either modern Portuguese or Lusophone literature. The language component aims to provide a basis for the student to gain the necessary linguistic skills to read, analyse and discuss the literary works in the course. The literature component is designed to provide an introduction, through the study of important works, to major areas in either Portuguese or Lusophone culture and society. The course will focus on representative works of literature and film with a view to examining their discussion of themes and concerns present in either Portuguese or Lusophone societies and cultures. Taught in English but requiring an advanced reading knowledge in the language of study.

The Self and Other: Twentieth Century German Fiction (Caroline Bland - Academic Year)

The course provides a survey of major prose fiction (novels and novellas) from Germany and Austria during the twentieth century, from the end of the Wilhelminian era to the Wende. The texts studied enable students to trace literary and intellectual development over the period, but also require and reinforce an understanding of the political and social background. Advanced competence in German required. 

Luxury and Liberty: Germany and Britain (Sean Williams - Spring semester)

In the industrial revolution, 'consumerism' was seen as a British idea. But it made its way to German-speaking territories, influencing a tradition of the arts known for intellectualism. Germany's most famous poets and philosophers sought to carve out their own creative and conceptual space away from everyday stuff - only to then be imported to Britain in order to give Victorian liberal capitalism intellectual credibility! You will examine an international circulation of ideas and texts during the birth of our modern economic and social system (that's still in place today), questioning what it meant to be an 'artist' and - or - 'consumer'. This module will entail lively discussions about both 'high art' and philosophy, as well as everyday objects people might otherwise think banal (sofas or coffee sets, as just two examples). The concept arises from the tutor's current research, as well as from a BBC programme written and presented by S Williams (http://www.bbc.co.uk/programmes/b09bx5l1).

Russian Poetry, Performance and Prose (Adam Fergus - Autumn semester)

Russian literature is famous for its big novels but for many Russians, lyric poetry is at least as important. This module explores the connection between the two through a range of nineteenth- and twentieth-century texts from Pushkin to Tsvetaeva. You'll be given guidance on reading short poems out loud in Russian - a great way to develop both your proficiency in the language as well as confidence in your voice. You'll then learn to analyse the poems in detail and set them in their historical and literary context. Having done this, you'll be able to understand the complexities of prose texts by Tolstoy, Dostoevsky or Chekhov. We finish with the vibrant and innovative poetry of the early twentieth century and examine some of its responses to the political and artistic upheavals of the time. Level-appropriate guidance on approaches to literary study will be given. Regular and varied assessments spread the workload through the year and give you plenty of opportunities to receive feedback (including some from your fellow students) and develop a range of analytical skills.

Concepts and Approaches in Translation Studies (Lena Hamaidia - Autumn Semester)

The aim of this module is to introduce students with an interest in languages and communication to key theoretical approaches in Translation Studies, including theories of equivalence, functionalism, domestication v. foreignisation and comparative syntax. This module will give students a solid grounding in translation theory and prepare them for further study in this area and/or relating to other disciplines.

Concepts & Approaches in Intercultural Communication (Jane Woodin - Autumn Semester)

This course aims to equip students with the key theoretical approaches in Intercultural Communication, including those originating from applied linguistics, management theory, anthropology and sociocultural theory. Discriminating, critical engagement with theoretical concepts will be encouraged, as will consideration of their practical application. The breadth and depth of students' methodological resources will be enhanced.

Language in Context (Nicole Baumgarten - Autumn Semester)

This module sets out to explain what we do when we use language across cultural boundaries. We will address questions of direct relevance to an understanding of translation and intercultural communication, including: To what extent do speech acts and politeness conventions differ culturally? What 'background clues' do intercultural communicators and translators need when interpreting a message? How do metaphors work across languages? How do speakers/hearers understand and create humorous effect? What linguistic devices are employed in conveying a speaker's/writer's ideological position? We will explore these kinds of questions through analysing a variety of text types from the perspective of the theoretical frameworks presented in lectures.

Intercultural Communication in Practice (Jane Woodin - Spring Semester)

This module is designed to develop participants' intercultural competence with a view to becoming an intercultural mediator and effective communicator in an international/multicultural workplace. It requires participants to combine their knowledge of approaches to intercultural communication with real-time situations, thus enhancing their awareness of the values by which they and others operate.

Translation Skills and Genres (Lena Hamaidia - Autumn Semester, Spring Semester)

The aims of this module are to develop skills and expertise in translation strategies between English and one other language and develop an understanding of practical, professional and theoretical approaches to the translation of different genres of texts. Through a combination of theoretical lectures and language specific seminars students will develop an awareness of issues related to translation and language. Students will analyse material from the word to the text level and examining theoretical and practical issues in the translation of authentic Source Language texts. Students will examine frequently occurring translation problems and a range of strategies, which can be used to solve them, as well as learn how to justify their choice of strategy

Directed Reading (Various lecturers - Autumn Semester, Spring Semester)

Exceptionally, where a student wishes to work on a specialist topic in which a particular lecturer is highly expert and also available, a 'Directed Reading' module can be used to make this possible. A programme of appropriate reading will be negotiated and the student and lecturer will normally have fortnightly one-to-one tutorials.
These modules are subject to availability. English Literature MA students are given priority and classes are capped at 15 students.
Autumn Semester

LIT646 Renaissance Transformations (Tom Rutter - Autumn Semester)

This module approaches Renaissance literature through the theme of transformation. It will look at examples of transformation in Renaissance writing, such as changing sex, changing religion, and changes between the human and the animal. It will also consider the changes that Renaissance writers wrought upon existing literary traditions such as the classical, the biblical and the medieval. 

LIT6045 Humans, Animals, Monsters and Machines: From Gulliver's Travels to King Kong (Autumn Semester)

This module examines imaginings of the `human' in relation to machines and animals (and those monsters that are neither one thing nor the other) from the eighteenth century to the twentieth. We will focus mainly on fiction, its cultural contexts and on readings from the period's key thinkers of human being, alongside more recent theories of humans, posthumans and animals. The aim is to encourage critical engagement with this key issue and to facilitate a deeper appreciation of the period's literature, culture and politics, including the relationship of discourses of technology and species to discourses of class, gender and race.

Spring Semester

Murderers and Degenerates: Contextualising the fin de siècle Gothic (Andrew Smith - Spring Semester) 

The module explores three related case histories which help to establish the ways in which the literary Gothic shaped particular fin de siècle anxieties. To that end the module examines accounts of Joseph Merrick (aka The Elephant Man), newspaper reports of the Whitechapel murders of 1888, and the trials of Oscar Wilde. It is by exploring how the Gothic infiltrated medical, criminological, and legal discourses that we can see how a narrative which centred on the pathologisation of masculinity was elaborated at the time.

Post-1945 British Theatre, Film and Television (David Forrest - Spring semester)

This module provides the opportunity for parallel study of the British drama, cinema and television of the post-war period. This era saw the emergence of influential styles, prominent figures and landmark texts in all three artistic forms: e.g. the plays of John Osbourne (Look Back in Anger), television drama (Cathy Come Home) and key British films, such as Ealing comedies (The Man in the White Suit), retrospective war films (The Cruel Sea) and social problem films (Sapphire).
These modules are subject to availability. There is a cap of 15 students per module.
Autumn Semester

Doing Digital Humanities: Wikipedia & the Middle Ages, 

Wikipedia is today probably the world's chief source of historical knowledge. Every day, its pages on history are read by many thousands of people. Yet professional historians tend to avoid engaging with it. This course seeks to change that. As well as discussing critical perspectives on Wikipedia, students will receive practical training in creating or editing a page on a historical topic. They will then apply their studies in a hands-on way to improving the encyclopedia's coverage of the Middle Ages, and reflect on the kind of historical knowledge of the period it promotes and disseminates.

Public History and Policy: Theory and Practice 

This module will examine and evaluate the ways in which historians have tried to intervene in the public sphere and shape politics and policy-making. It will address debates about the difficulties of learning 'lessons' from the past and consider the responsibilities that historians have in taking a stance on controversies over past events, or in speaking truth to power. Students will read and critique policy papers from the History & Policy website, and then develop the skills to research and write their own accessible and meaningful policy-oriented reports on a historical topic.

Spring Semester

Before Facebook: Social Networks in History (Autumn semester)

In a world of Facebook, Twitter and Instagram, social networks seem a distinctly modern phenomenon, but are they only a product of our digital age? This module explores historians' efforts to reconstruct social networks in diverse contexts, from the ancient to the modern world. Drawing upon techniques first developed by social scientists, and increasingly digital methods too, they have found networks of trade and business; religious groups and political exiles; family, friends and much more. This innovative work is revealing how far lives and communities cut across boundaries of time and space - with important consequences for historical debates and issues.

Burying the White Gods: Indigenous people in the early modern colonial world (Caroline Pennock - Autumn semester)

Since the rise of postcolonialism, scholars have fought to reconstruct the complexity and significance of indigenous communities and to remove them from an imperial framework which casts them as passive victims of historical events. In the early American world, this greater sensitivity to indigenous agendas and actions has led increasingly to meetings between indigenous Americans and Europeans being explained in terms of encounter, negotiation and accommodation, rather than simple conquest. Focusing on Central and South America, - but also drawing on other imperial contexts, this module seeks to illuminate the places and perspectives of indigenous people in colonial history and historiography.
---
Further information about this course can be found under the headings below:
Teaching and learning

Careers

Applying

Scholarships

Pre-arrival information

Location and arrival
Read more in our online prospectus:
The content of our courses is reviewed annually to make sure it is up-to-date and relevant. Individual modules are occasionally updated or withdrawn. This is in response to discoveries through our world-leading research, funding changes, professional accreditation requirements, student or employer feedback, outcomes of reviews, and variations in staff or student numbers. In the event of any change we'll consult and inform students in good time and take reasonable steps to minimise disruption.
Information last updated: 25 August 2021
---
Postgraduate taught scholarships
Explore scholarships for postgraduate taught courses starting in 2022, including:
100+ scholarships worth £10,000 each for home fee-paying students

125 scholarships worth 25 per cent of the tuition fee for international students