Accredited by the European Masters in Translation (EMT) network, our masters degree in Translation Studies is one of our MAs in Translation and Intercultural Communication Studies, and it is aimed at people who wish to be professional translators.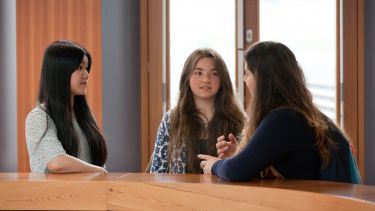 At Sheffield, you will join a well-established programme in translation studies offering a wide range of translation languages which include Czech, Dutch, French, German, Portuguese, Russian and Spanish into English and English into Chinese and Italian. The programme covers theories, methods and techniques of translation, introducing you to a range of translation software essential for success in today's translation industry. It offers regular practice of advanced practical translation tasks. We have good connections with local industry. Teaching is informed by relevant recent research linking the areas of translation and intercultural communication studies.
Why Sheffield?
Variety of translation options: you can translate between 1-3 languages and English as part of the programme;
Create your own bespoke programme through your choice of optional modules in literary approaches, technologies or different translation languages;
Become part of a translation community which has long established connections with the industry including SDL in Sheffield
---
Modules
By the end of the course, you will be able to:
Effectively translate from at least one foreign language into your native language
Use industry standard translation software
Employ translation strategies, procedures and techniques employed by translators
Use independent research skills
Module content
The Programme Leader for the MA Translation Studies is Dr Lena Hamaidia.
To qualify for the award of MA in Translation Studies, students must accumulate 180 credits* over 12 months (full-time study) or 24 months (part-time study). Examples of the core and optional modules are listed below:
Module
Credits

Translation Technologies

This module is designed to enable students to become conversant in at least one CAT tool used widely in the translation industry. The module will also deliver core perspectives in the use and usefulness of CAT tools. Students will also receive teaching in relation to the use of Machine Translation and post-editing as well as core translation strategies.

At the end of the module we expect that you will be able to:

confidently use a CAT tool
distinguish the types of text for which the use of a CAT tool is indicated
identify and understand the differences between CAT and MT
identify and understand the main tasks involved in a translation project
employ professional strategies in translation through the application of a range of translation technologies

15

Concepts and Approaches in Translation Studies

This module aims to explore a range of concepts and approaches in relation to the process of translation and to offer an account of translation as an act of cultural and ideological mediation. You will study key concepts and approaches in translation studies including linguistic approaches and the concepts of equivalence, functionalism, domestication and foreignisation. These concepts and approaches will be examined in the context of examples from a variety of translation scenarios.

30

Research Methods in Modern Languages

This module will introduce and explore a range of methodological approaches and techniques that are relevant to students of Modern Languages and Cultures. It will enable students to consider the philosophical underpinnings of research and its design, identify, assess, exploit and create sources and data, and adhere to data protection, intellectual property and ethics requirements. Students will engage with different theoretical models and debates, and a range of tools for accessing information. Students will be required to attend generic research methods sessions as well as those which are of greatest relevance to their research topic(s).

15

Translation Skills and Genres 
Choose one translation option from the list below:

English into Chinese 
French to English 
Spanish to English
Dutch to English 
Portuguese to English 
English to Italian  
German to English 
Russian to English
Czech to English 

Please note:

In order to take the Translation Skills and Genres core module, you will need near-native or degree level in English and one other language. If you have acquired a near-native language level without a degree, you will be required to take a translation test.

For small sized translation groups (fewer than 6 students) the contact hours may be reduced and the delivery mode may be altered.

30
Dissertation
60

Study and Dissertation Support

The aim of this module is to give students of the MAs in Translation and Intercultural Communication Studies programmes the opportunity to develop the knowledge and skills necessary to complete successfully the requirements of their postgraduate programme, including writing an essay at MA level and undertaking a dissertation in the field (to be agreed with the dissertation supervisor). Students will be introduced to library skills, academic requirements of writing an essay at MA level, referencing conventions, plagiarism issues and autonomous learning. Students will be introduced to the requirements of a dissertation at Sheffield, and follow appropriate support lectures supporting the student in identification of the research area; reading to be undertaken, adopting appropriate methodologies and the development of original ideas and insights.

0
Choose up to 45 credits from the list below:
Module
Credits

International Project Management

This module deals with the main issues involved in international project management (IPM), as well as the cultural components of international communication. It is delivered through seminars that should be followed by the students' own research to develop independent thinking. This module aims to: introduce students to the main issues involved in international project management, such as project definition, planning, execution and evaluation; identify, understand and discuss the main intercultural issues and risks of international project management and enable students to reflect on their development of employability and entrepreneurial skills.

15

International Management

The first part of the module exposes students to the challenges and opportunities of managing internationally. The second part of the module covers management practices in four regions: North America, Europe, Africa and the Middle East, and Asia. The module provides students with management tools and frameworks that will enhance their effectiveness when operating internationally. It enables the students to identify, compare and contrast different management practices adopted internationally and appreciate the impact of national cultures and business systems on leadership styles, decision making styles, and interpersonal dynamics across cultures. NOTE: This module involves an Examination as part of the assessment

15

Translation Skills. You may take one or two additional optional translation modules from the list below:

English into Chinese
French into English
Spanish into English
Dutch into English
Portuguese into English
English into Italian
German into English
Russian to English
Czech to English

Please note: In order to take the Translation Skills optional module, you will need near-native or degree level in English and one other language. If you have acquired a near- native language level without a degree, you will be required to take a translation test.

For small sized translation groups (fewer than 6 students) the contact hours may be reduced and the delivery mode may be altered.

15 (Spr & Aut)

Language in Context

This module sets out to explain what we do when we use language in social and cultural contexts both within and across cultural boundaries. We will address questions of direct relevance to an understanding of translation and intercultural communication, including: To what extent do speech acts and politeness conventions differ culturally? What 'background clues' do intercultural communicators and translators need when interpreting a message? How do metaphors work across languages? What linguistic devices are employed in conveying a speaker's/writer's ideological position? We will use a range of analytical tools and theoretical perspectives to explore a variety of examples of non-translated, translational and intercultural language use. The module aims to provide you with a deeper and broader awareness of linguistic issues bearing upon intercultural communication and translation practice.

15

Teaching Writing in TESOL

This module will familiarise students with the theory and practice of how to teach writing in TESOL contexts. What approaches are there to teaching second language writing? Does correcting writing work? What evidence do we have for or against this? How should writing be corrected? What kind of comments should teachers provide on students' writing? How? Why? How should writing be assessed? What kinds of activities do TESOL textbooks use to teach writing? What approaches do they use? There will be practice in correcting, commenting on, and assessing writing.

15

Subtitling Project

This unit aims to give students the opportunity to further develop the technical skills acquired in the core module The Theory and Practice of Subtitling by applying them to an extended practical subtitling task. It will enable them to enhance essential technical skills of subtitling including spotting, timing, cueing, segmentation and the positioning of captions using professional subtitling software. By the end of the module we expect that students will be able to: i) Appreciate the technical aspects of screen translation; ii) Appreciate the practical constraints of screen translation; iii) Relate theory to practice in a practical subtitling project using professional subtitling software; iv) Use subtitling software to produce subtitles to appropriate standards for a subtitling project; and v) Investigate and present an individual subtitling project.

15

Film Adaptation of Literary Classics

This module aims to explore the process of adapting works of literature to the cinema screen.  You will consider theoretical and practical approaches to the screen adaptation of literary works through a combination of film screenings, lectures and workshops. The term "literary classics" is interpreted broadly to include popular works of fiction. Narrative and adaptation theory will be examined and considered in relation to a range of film adaptations. You will be encouraged to read film reviews and integrate them into seminar discussions on the adaptations, which you have viewed in the weekly film screenings.

15
Enhanced Languages Project 1
5
Enhanced Languages Project 2
5

Concepts and Approaches in Intercultural Communication

This module aims to develop an understanding of the main concepts and approaches to the study of intercultural communication and develop the ability to analyse and evaluate their relative significance.  You will consider the concept of culture from a variety of perspectives (including applied linguistics, ethnography, essentialist and non-essentialist approaches), and will study topics such as stereotyping and prejudice, identity, culture shock, and the role of language in intercultural communication. A wide range of real-world examples will be examined, such as media reports, international communications, multicultural situations, and intercultural problems raised by students.

15

Theory and Practice of Subtitling

This module aims to explore key theoretical approaches screen translation and to give you the opportunity to acquire practical subtitling skills. Theoretical lectures alternate with practical subtitling classes where you will have the opportunity to relate theory to practice in practical subtitling projects using professional subtitling software. The module includes weekly film viewings of subtitled films.

15

Tandem Learning for Intercultural Communication

Students will be required to work in collaboration with a cultural other with whom they will communicate on a regular basis. At the start of the module, students will attend an individual advisory session, where together with a tutor they will identify their linguistic and cultural goals; prioritise learning goals and plan in detail the methods they will adopt to achieve these goals. Students will exercise responsibility for the organisation of their own learning, establish and maintain contact with their partners, negotiate and set objectives; and seek and offer information and opinions to enable development of intercultural communicative competence. They should give proof of effective time-management; sequence sessions so as to demonstrate management of learning; demonstrate in-depth reflection on their learning process as well as reviewing and evaluating procedures. They will be required to sign a learning contract and to keep a learner diary, in which they will record progress made, plan their next steps and reflect on their development during the semester. Their progress will be monitored in advisory and counselling sessions with tutors.

15

Localisation for Linguists

This module focuses on the role of the linguist and/or translator in the localisation industry. We will look at the industry itself and the activities associated with it, as well as the influence of technology on the localiser's job and cultural issues in localisation. We will also take a closer look at websites; learn how they are built and how to deal with them in terms of localisation. In this context we will focus on different kinds of software which help with the localisation of web content, software and graphics. The module will also look at translation memory tools and how they are used for localisation.

15
*This programme is also available as a Postgraduate Certificate (60 credits) or as a Postgraduate Diploma (120 credits).
---
Teaching and learning

On the MA Translation Studies there is a variety of teaching and learning methods, including staff- and student-led seminars, small group work, and one-on-one consultations with staff. Independent learning and assessment methods include practical translation and localisation tasks, written exams, and essay writing.

Whilst each of our Translation and Intercultural Communication Studies programme has a core focus, all our programmes are interconnected and allow you the freedom to develop individual pathways through your choice of optional modules, so that you develop a programme which will help to prepare you for your chosen career.

Up-to-date, industry-standard translation and localisation tools are used in our technical modules, including WordfastPro, MemoQ, SDL Trados, Alchemy Catalyst, CatsCradle, OmegaT, WinCAPS and other software.

Visit us to find out more about the course from the Programme Leader, see our facilities and study spaces, and much more.

Translation modules usually have 20-22 contact hours with additional independent study over the academic year, but in situations where fewer than six students are registered on the module, this contact time may be reduced and/or the delivery method altered.

Careers

Our MA in Translation Studies opens up a wide range of career paths in the translation and related industries.

Graduates have entered careers as:

Translators
Editors
Project managers

Companies and organisations our graduates have gone on to include:

TransAction Translators Ltd (Sheffield)
SDL International (Sheffield)
Google (Dublin)
Amazon EU S.à.r.l (Luxembourg)
GCHQ
European Union
United Nations
ZooDigital Sheffield

Some of our graduates have also set up their own companies, or continued onto postgraduate research degrees.
Read more, including information about applying, by visiting the postgraduate prospectus:
The content of our courses is reviewed annually to make sure it is up-to-date and relevant. Individual modules are occasionally updated or withdrawn. This is in response to discoveries through our world-leading research, funding changes, professional accreditation requirements, student or employer feedback, outcomes of reviews, and variations in staff or student numbers. In the event of any change we'll consult and inform students in good time and take reasonable steps to minimise disruption.
Information last updated: 18 November 2020
---
Explore all postgraduate courses
A masters from Sheffield means in-depth knowledge, advanced skills and the confidence to achieve your ambitions.