Dr Amanda Crawley Jackson
BA, PhD
School of Languages and Cultures
Faculty Director of Impact and Engagement
Senior Lecturer in French studies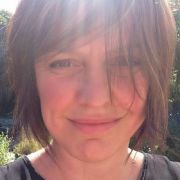 Profile

After graduating from the University of Nottingham, I worked in music events management before completing a PhD on the early works of Jean-Paul Sartre.

I moved from Nottingham to Paris, where I taught at the École Normale supérieure (Cachan) before taking up the position of Lecturer in French, then Chair of European Languages and Cultures, at the University of Wales, Lampeter.

During my time in Lampeter, I served on the federal University of Wales Modern Languages Subject Panel and the Executive Committee of the Society for French Studies (UK). In the years 1999-2001, I was the editor of Current Research in French Studies.

I joined the Department of French at Sheffield in 2000.
Qualifications

University of Nottingham, PhD ('Sartre in Absentia')
University of Nottingham, BA Hons (French and Russian), First Class
Research interests

My research falls into three main areas: existentialist philosophy and fiction, prison writing and contemporary visual arts in France. In all three cases, I am particularly interested in the representation and practice of space (cityscapes and carceral environments) and the politics of mobility.

I am the director of the occursus research & public engagement project, which is a collaborative venture between the University of Sheffield and Site Gallery.

Current and Recent Research Projects

In December 2008, Nicolas Moulin and I received an artist in residence award from the Leverhulme Trust. The residency culminated in an exhibition which took place in June-August 2009 at Site Gallery. Nicolas also exhibited works he made in Sheffield at FIAC! (Paris, Carre du Louvre, 2009). A series of workshops, seminars and talks with the artist took place in 2009, and included talks by architect Christophe Egret, Councillor Tim Rippon, Terry O'Connor from Forced Entertainment, Dr Anna Jorgensen (Department of Landscape), Dr Stephen Walker (School of Architecture), Dr Steven Gartside (MIRIAD, MMU) and Dr Julia Dobson (Department of French).

In November 2008, I was commissioned by French artist Denis Darzacq to write the essay for his forthcoming book of recent photographic works, HYPER. The book was published by Filigranes Editions in February 2009.

At present, I am writing a book exploring the representation of urban and peri-urban spaces in contemporary visual arts from France, looking in particular at works by Zineb Sedira, Valérie Jouve, Yves Bélorgey, Denis Darzacq, Yto Barrada, Pierre Huyghe, Maud Haya Baviera, Alain Bublex, Nicolas Moulin, Stéphane Couturier, Mathieu Pernot and others.

My recent research has focussed on carceral spaces and the ways in which these can be seen to be practised and creatively (mis)used in works of art, fiction and autobiography.

In 2006 I completed a Knowledge Transfer project which culminated in an exhibition of works by established and emerging artists from France, the UK and Canada. The curatorial brief was to investigate the notion of a national artistic identity and to consider the extent to which art is a nomadic or settled practice (as well as the impact this has on artistic production). The exhibition provides the basis for my current research into new art from France, as well as cultural policy and strategy in the visual arts. I am currently finishing a book which explores the idea and practice of Knowledge Transfer, with particular reference to the exhibition project. This research is informed by the theoretical writings of Gilles Deleuze and Peter Sloterdijk's 'foam theory'.

I am preparing a series of articles and book chapters on contemporary artists from France and Algeria. These include Kader Attia, Mohamed Bourouissa, Rachida Azdaou, Marie Cool and Fabio Balducci.
Publications

Journal articles

Making common ground with strangers at Furnace Park. Social and Cultural Geography, 18(1), 92-108. View this article in WRRO
Retour/détour: Bruno Boudjelal's Jours intranquilles. Nottingham French Studies, 53(2), 201-215.
(Re-)appropriations: Architecture and modernity in the work of Kader Attia. Modern and Contemporary France, 19(2), 163-177.
'Cette poétique du politique': Political and Representational Ecologies in the Work of Yto Barrada. L'Esprit Créateur, 51(1), 53-67.
`Deux temps de lecture': Pellicule and pellicula in the Photographic Works of Natacha Lesueur. French Cultural Studies, 20(1), 83-98.
The style of engagement and the engagement of style: Sartre and the literary text. Romance Studies, 26(1), 21-31.

Chapters
Research group

Raffaele Zanotti, 'Recent Russian Writers Writing in French' (Successfully completed 2011)
Geraldine McIlwaine, 'The Figure, Space and Movement in the Works of Valérie Jouve and Jean Echenoz' (Successfully completed 2011)
Martin Elms, Contemporary Visual Arts in Algeria

I would be pleased to supervise research projects in the following areas:

Prison narratives, narratives of incarceration (and 'reform')
Jean-Paul Sartre : literary theory, fiction and art criticism
Space and travel in the works of Sartre and / or Simone de Beauvoir
Contemporary visual arts in France and/or Algeria
Grants

The occursus research and public engagement project is generously sponsored by DLA Piper.

December 2008: award of £12,500 from the Leverhulme Trust (Artist in Residence scheme) to invite internationally renowned artist Nicolas Moulin to the University of Sheffield for three months, commencing February 2009.
February 2008: award of £4030 from CILASS to explore the relationship between knowledge transfer and inquiry-based learning.
February 2008: £400 British Academy International Conference Travel award, to give paper at UMB conference, Building Bridges in the City (Baltimore, USA).
February 2006: £5000 from Arts Council England for Channel exhibition
February 2006: £2000 from University of Sheffield Alumni Foundation Innovation Fund for Channel exhibition
October 2005: Award of £8500 from Knowledge Transfer Opportunities scheme (HEIF 2) to conduct research with Cupola Contemporary Art (Sheffield) and for delivery of Channel exhibition
Teaching interests

I teach a range of undergraduate courses, including specialist modules on France in the post-war period and narratives of confinement. I contribute to the MA in French Cultural Studies and have contributed in the past to the MA in Translation Studies. I am particularly interested in the development of research-led teaching.
Teaching activities

FRE10/110 French Language & Communication Skills & French Studies
FRE239/240 Actualités françaises
FRE 249/250 Narratives of Confinement
FRE301/302 French Language and Communication Skills
FRE 365/366 Paris Post War
FRE343 Contemporary Visual Arts in France
Professional activities

Board member, Northern Arts and Science Network
Member of the Board of Directors and Trustee of Site Gallery (Centre for Contemporary Art), Sheffield.
www.sitegallery.org
External examiner for undergraduate programmes at Manchester Metropolitan University (2007-2011)
External Examiner for undergraduate programme JHS French, University of Derby (2009-2011)
Executive member of French Studies UK (1999-2001)

Departmental and University Responsibilities

Director of French Language Programme
Representative Member of University Court
Member of Senate Appeals Committee
Humanities Research Institute Management Committee
Member of Departmental Learning and Teaching Committee
Manager of research seminar series in French

Exhibitions

Richard Bartle and Ian Anderson, DLA Piper Sheffield, October 27 2011 - January 6 2011.
Paul Evans and Hondartza Fraga, DLA Piper Sheffield, July 5 - Oct 7 2011.
Nicolas Moulin, Blanklümdermilq. Site Gallery Centre for Contemporary Art. June - August 2009.
Channel. An exhibition of contemporary art by Lucy Orta, Djamel Tatah, Natacha Lesueur, Maud Haya Baviera, Isabelle Hayeur, Greyworld, Valérie Jouve. Sylvester Works, Sheffield (May 19th – June 10th 2006)