Professor Julia Dobson
BA, MA, PhD
School of Languages and Cultures
Professor in French Film and Performance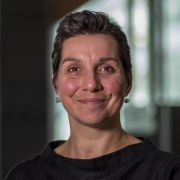 Profile

Julia Dobson read French and Russian at the University of Nottingham, where she continued postgraduate study an MA in Critical Theory and a PhD on the Theatre of Hélène Cixous and Marina Tsvetaeva.

The interdisciplinary nature of her research led her to work in French, Film Studies and Cultural Theory at the universities of Wolverhampton, Nottingham, Warwick and Leeds before joining the School of Languages and Cultures in Sheffield in 2004.

Julia has developed interdisciplinary links and structures within the university in teaching and research. She has a longstanding record of external engagement – working with film festivals, distributors, schools and diverse audiences to share and encourage engagement with French film.

Recent partners include Docfest, The London Comedy Film Festival, the BFI and the Institut Français. She is co-director of the Sheffield Centre for Research in Film and has held visiting research awards at the Forum des Images, Paris and the Institut international de la marionnette.
Qualifications

BA French and Russian, MA Critical Theory and Ph.D. (Nottingham)
Research interests

Julia is an active researcher across several fields – contemporary French film, cultural theory and contemporary performance. Her work across these fields engages with shifting dynamics of relationships between self and other and between discourses of the private and the public. Within such negotiations of identity, her research explores the representation of agency, voice and the body in contemporary theatre and shifting constructions of the private and the political in contemporary French film.

Her recent work in French film argues for close attention to the interactions between genre, gender and filmic discourses in the constructions of personal, social and political identities and is exemplified by her monograph: Negotiating the Auteur (Manchester University Press, 2012).

She has ongoing research interests in constructions of the 'auteur' in contemporary French film – with particular reference to the work of Jacques Audiard, the representation of adolescence in French cinema and the role of cinema in constructing spaces, co-editing Mapping Cinematic Norths (Peter Lang, 2016) with Jonathan Rayner.

Since the publication of her monograph The Scene of Writing: Hélène Cixous and the Theatre, (Bern: Peter Lang, 2002), she has continued to work on Hélène Cixous' theatre.

Her current book project is on object-based theatre, 'Performing objects: Puppets and beyond in contemporary French performance' (Liverpool University Press). Performing objects - puppets, mannequins, dolls, automata, robots, everyday objects and machines - are present at the foundations and frontiers of popular and avant-garde performance.

In a world of increasingly smart objects, artificial intelligences and commodified, enhanced bodies, the uncanny material presence and ambiguous agency of performing objects remains central to contemporary renegotiation of our understanding of otherness, of our relation to the material world and to what it means to be human. The book will create a coherent set of interdisciplinary discursive frameworks around the performing object, supported by detailed case studies to provide a timely critical insight into the diverse practices of material performance in France today.
Publications

Books

Edited books

Journal articles

Chapters

Book reviews
Research group

Julia welcomes research proposals on contemporary French film (including documentary film), French theatre and performance (post-1950), cultural theory and gender studies and Hélène Cixous.

Current PhD students

Victoria Pugh (URRD funded) 'Gender, Display and performance in the National Fairground Archive'
Bridget Coulter (with Music) 'Popular music and constructions of gender identity in girls',
Martin Elms 'Contemporary Algerian Visual Art'
Teaching interests

 
Teaching activities

Undergraduate

Language teaching at all levels.

FRE283/4 French Documentary Film (module leader)
FRE305/6 Contemporary French Cinema (module leader)
FRE373/4 Contemporary French Theatres (module leader)
MDL103 Introduction to European Cinema (lecturer)
FRE117/8 Understanding Modern France (lecturer)

Postgraduate

FRE6653/4 French Cultural Studies
FRE6656/7 Constructions of the City
IPA601 Introduction to Public Humanities
Professional activities

Chair, White Rose College of Arts and Humanities Languages and Linguistics subject cluster
Studies in French Cinema - Editor
Reviewer of publication submissions for: Edinburgh University Press, French Studies, Forum for Modern Languages Studies, Modern and Contemporary France, Modern Drama.
External examiner: Modern Languages, University of Exeter 2011 – 2015, University of Birmingham 2014 – 2017 and University of Newcastle 2016 – 2019 
External examiner for PhD theses: University of Cambridge, University College London, University of Edinburgh.
Society for French Studies - member
Co-director of Sheffield Centre for Research in Film

Current administrative duties

Faculty Student Review Panel
Advisory Board Medical Humanities Sheffield
Sheffield Creative Arts, committee member

Previous administrative duties

Julia led interdisciplinary projects including as Academic Lead of the Interdisciplinary Programmes Office (Faculty of Arts) 2012-2016 and as Director of the MA Public Humanities 2013-2016. She has been School Director of Postgraduate Affairs and Director of Research and Innovation and has served on many departmental, faculty and university bodies including: Faculty of Arts Learning and Teaching Committee, Faculty of Arts Postgraduate Committee and University Strategic Curriculum Change Steering Group.