Richard on why he chose Sheffield for his MA
Still living in Sheffield after studying for his BA Germanic Studies and MA Translation Studies, Richard also speaks highly about his internship we managed to source for him.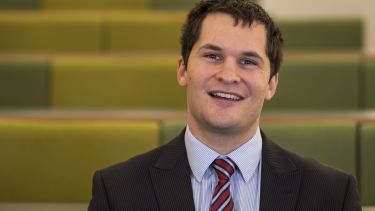 Please introduce yourself, your degree title and year of graduation, and your current job title and organisation.
My name is Richard, and I graduated with a BA Germanic Studies (2010), and MA Translation Studies (2013). I am currently a Translation Coordinator at ZOO Digital.
Thinking back, can you recall why you chose to study at Sheffield? Specifically why languages at Sheffield?
I studied at Sheffield at first because Sheffield Germanic Studies was the friendliest department of all I saw at open days I attended and I enjoyed my undergraduate degree. Sheffield was a natural choice for my MA, and the teaching on both courses was very good.
Where has life taken you since graduating from Sheffield?
On average I will have about 12 contact hours each week with more in French than with Business. Business usually has modules with two-hour lectures with tutorials fortnightly whereas French mostly has one-hour lectures or seminars.
Overall though, I find After my BA, I did a second year abroad as a teaching assistant to develop my language skills further. After that I worked in a German-speaking customer service role, then the MA before a couple of other short-term roles using German. From April 2014 I have worked at ZOO.
---
My course certainly helped my employability. The course had a good focus on translation as an industry as well as more academic modules.

Richard Lewis

MA Translation Studies
---
What sort of resources were available at Sheffield to help you develop the skills that got you the job, eg opportunities to teach, translate, manage projects?
The main thing that helped get my job was the Santander internship at ZOO offered by the university! But looking back I can see that the MA course was very helpful and vocational, offering realistic assignments which prepared me for the translation industry.
Did the course teach you how to be 'employable'? If so, how?
My course certainly helped my employability. The course had a good focus on translation as an industry as well as more academic modules.
How has studying language helped your career?
Studying languages helped my career, and I have always been keen to use my language in my work. I would say though, that a language degree is very useful in many fields.
What's your favourite memory of being at uni in Sheffield?
Thankfully I don't have to have good memories of Sheffield: I still live here. I like the feel of the city, not too big, not too small.
What advice do you have for current students?
The best advice I have for current students is that there are a lot of paths to take. Don't worry too much about where you will end up!
Explore all postgraduate courses
A masters from Sheffield means in-depth knowledge, advanced skills and the confidence to achieve your ambitions.