Santiago Fernandez Sanchez on why he chose Sheffield for his MA
Santiago is from Asturias, Spain, and is an MA student in the School of Languages and Cultures. He studied for his BA at the University of Oviedo, Spain.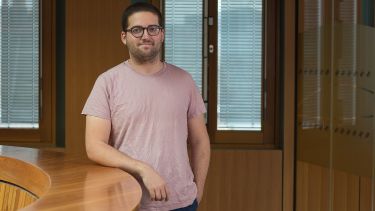 Why did you choose to study at the University of Sheffield?
After a few years teaching in secondary education I knew I wanted to expand my knowledge at postgraduate level in order to fulfil my researching vocation.
So after considering many programmes all around the country, I arrived at the decision that Sheffield's programme was the most balanced among the ones in the Russell Group Universities.
What made the University of Sheffield stand out for you?
I was particularly impressed by the flexibility of the programme, with modules that are tailored to help every MA student in reaching their research goals.
---
The whole experience has been brilliant. Both the university and the city are very welcoming and I cannot think of a better place to be an international student.

Santiago Fernandez Sanchez

MA student
---
What do you particularly enjoy about your MA? 
The School offers a great variety of research interests, so it gives a chance to learn about a lot of disciplines, from linguistics to cultural history. I think one of the main focuses of the school is interdisciplinarity, and you can perceive that on a daily basis.
What are you currently researching as part of your MA?
After having finished all my taught modules I am writing my dissertation, which is going to be focused on popular music as a catalyst of working-class identities during the period known as the Spanish transition (the late 70s and early 80s).
My main focus during all my MA period has been, precisely, on the intersection between popular music and politics, but I have also conducted research on literature, more specifically on Rafael Chirbes and Benito Pérez Galdós.
How did the School of Languages and Cultures help support you through the whole process from application to settling in?
I received help from the school on a great variety of issues, from how to write my research proposal to finding accommodation. The SLC has always been prompt in helping me through every possible process.
What are your top tips for any students thinking about studying Languages and Cultures in Sheffield?
You should take advantage of the events that take place in the SLC. As an MA student, you are likely to have quite a lot of hours of independent work, and you will be the one tailoring your own timetable: try to engage in research seminars, conferences, etc so you can get involved in the social aspect of the School.
What is your highlight of studying and/or living in Sheffield so far?
The whole experience has been brilliant. Both the university and the city are very welcoming and I cannot think of a better place to be an international student.
What do you know now about Sheffield that you didn't know before you came here?
The public image of Sheffield (at least in my experience as an international student) is still that of a grey, post-industrial town, and that is really far from its reality: it's a beautiful and really green and modern city, in which you can find a vibrant cultural scene and all the commodities of any other city of that size.
What are your plans after your MA?
I have accepted an offer of funding to do a PhD in the University of Kent that will develop further some of the work I've been doing during my MA.
Explore all postgraduate courses
A masters from Sheffield means in-depth knowledge, advanced skills and the confidence to achieve your ambitions.