Translation Studies MA student Silvia Caponio on why she chose Sheffield for her MA.
Silvia is from Italy and is an MA student in the School of Languages and Cultures. She studied her BA at the University of Bari, Italy.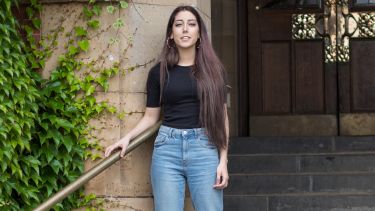 How did the School of Languages and Cultures help support you through the whole process from application to settling in?
Among the reasons for which I chose to pursue my postgraduate studies at the University of Sheffield was the School of Languages and Cultures' unstinting support.
Not only did they reply to all my queries prior to my submitting the application, despite the summer being quite a hectic period, but they also managed to review my application and make a decision in a short time.
As Welcome Week was approaching, I was worried I might not be able to qualify for a place on my chosen course, but, to my great pleasure, I heard back from the University in the second week of September.
Caroline Wordley, in particular, kept in touch regularly to make sure that everything ran smoothly, arranged a long-distance Russian translation entry test, and welcomed me personally on the first day.
I was absolutely pleased with the level of support offered by the School, and their help contributed to making my experience as a postgraduate student positive and valuable.
What are you currently researching as part of your MA?
My research is aimed at investigating the issues that arise upon approaching the translation of humour in audiovisual texts, with particular reference to the American comedy-drama Black-ish, a few episodes of which I intend to offer an annotated translation into Italian.
I find the transfer of humour to be one the most enticing challenges for a translator, because of its culturally-bound nature, and the absence of an Italian version of Black-ish provides an ideal opportunity for research in this regard.
What have you enjoyed about exploring Sheffield?
The city is just a little more than a stone's throw from the Peak District, one of Britain's most breathtaking national parks, which makes it a perfect place for students who like to explore nature between one paper and the other.
Explore all postgraduate courses
A masters from Sheffield means in-depth knowledge, advanced skills and the confidence to achieve your ambitions.